Medscape Medical News from the:
American Heart Association (AHA) 2013 Scientific Sessions
November 16 - 20, 2013; Dallas, Texas
This coverage is not sanctioned by, nor a part of, the American Heart Association.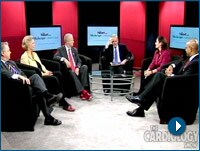 AHA 2013: Top Trial Hits and Misses from Dr Valentin Fuster and Panel
This year's Cardiology Show tackles ENGAGE-AF, STREAM, COAG, CTSN-MR, TOPCAT, and EU-PACT, but prevention with a personal touch is the key, according to Dr Fuster and panelists Drs Mega, Ohman, Harrington, Robinson, and Yancy.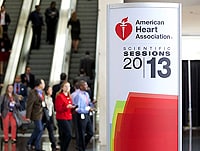 Top News From AHA 2013: Slideshow
Highlights include release of (and controversy) over the new ACC/AHA risk calculator, plus data from TOPCAT, CORAL, EU-PACT and COAG, ENGAGE-AF TIMI-48, and more.
Medscape Cardiology©  WebMD, LLC