When a medical practice isn't functioning well, the problems can quickly compound and lead to poor reviews, lack of communication, and negative attitudes. Patients might notice that follow-up calls don't happen, communication within the practice is haphazard, and the clinical staff seem to be in a perpetual bad mood.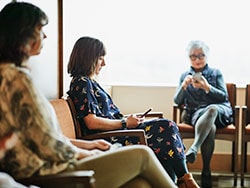 An inefficient practice can lead to a lack of boundaries, mistrust in one another, little to no support for growth, and poor working conditions, which leads to fatigue, burnout, and stress.
"An environment becomes toxic if there's a lack of clear expectations and employees aren't aligned around the vision of the practice," says Adrienne Lloyd, a healthcare consultant based in Chapel Hill, North Carolina. "Add this to such factors as a lack of accountability and this can lead to an extremely stressful work environment and high turnover."
So what's the best way to nip inefficiency issues as quickly as possible given the busy nature of running a practice, including rising patient volume, increased paperwork, and less and less time with each patient?
For starters, everyone has to work together as a team to improve the practice and the relationships between everyone who works there.
Here are six ways to turn an inefficient practice into a healthy one.
Huddle With Your Team Regularly
Though the frequency of these huddles isn't as important, consistency is. Hold them daily, weekly, or bi-weekly if that makes sense for your practice. "It helps if everyone comes into the office before the first patient is scheduled and checks in on each other," says Lisa McDonald, founder of Integrated Connections, a full-service medical practice growth consultancy specializing in staffing and operations in Fort Collins, Colorado. 
"This is the time for everyone to share concerns. The result: Your staff will feel supported, they'll feel like they're working together like a community, and they'll ultimately collaborate more." Longer meetings with the entire staff should take place often too, say, once a month. "Bring in lunch and talk about staffing changes taking place in the practice, new technologies being introduced, and anything else that might be pertinent," she says.
Regular practice meetings can change a practice culture from a one in which everyone is disconnected into one in which every staff member knows what's happening, can voice concerns, feels listened to, and can problem-solve issues together.
Always Express Appreciation For Co-Workers and Staff
If you notice that a co-worker seems unhappy, distracted, or short, start the conversation from a perspective of caring about that person, not criticizing them. "The first question I'm going to have when I pull a colleague aside for a tough conversation is 'Hey, how are you doing/how's work going?'" says Jimmy Turner, MD, an academic anesthesiologist at Wake Forest University School of Medicine and co-founder of Attend, a financial wellness company for physicians.
Maybe the staff member fought with a partner, has many personal problems, or just got into an awkward situation with a patient and they're processing it.
"Half the time, someone is going through something that has nothing to do with work, such as a divorce. If you show genuine care for someone, they will feel appreciated and they won't feel like they're in a transactional relationship." 
Get to the Root Cause of Issues
When you learn there's tension between employees (or between partners at the practice), first, gather information by doing a brief interview with one or both of the individuals involved. And instead of criticizing, pose a question about the situation. "Instead of saying 'Why is this happening,' ask the person for his or her ideas of how to shift this from a problematic interaction to a positive one." Lloyd says. 
"The reality is that this might be a misunderstanding, or the person needs more training — it's always best to be open to the fact that the person didn't do something intentionally."
Getting staff members who've had a negative interaction with one another to move on is the goal. Sometimes that means pairing them on projects; other times that may mean giving them some space. Your goal is fostering a more positive interaction between them so they can work together professionally. 
Institute a 'Zero Reset' Day
Once issues have been resolved, keep those problems in the past, Lloyd says. "In addition, this is the perfect time to set new rules of behavior," she says. "For example, 'From this point forward, we're not tolerating showing up late and we're not accepting negative comments; instead, here's the atmosphere we'd like to create in our office.'" 
Then, you can brainstorm how to get team members working together and taking ownership of small pieces of the practice.
Check Your Reviews
When an employee leaves your practice, they may post a review on Yelp, Google, or Glassdoor. Checking these write-ups is critical, McDonald says. "Any employee who has left can say damaging things about you," she says. "It's critical that you're aware of your online presence and if you sense a pattern in what your ex-employees are saying, you need to pay attention." 
Optimally, when an employee leaves, you should have an exit interview where they can share their experience working for the practice, discuss any weaknesses or problems they noticed, and be free to share how they wished things were handled. 
These interviews are invaluable for seeing the practice through the eyes of an employee and taking their words to heart to make any necessary changes.
Always Be Direct
To keep your practice healthy, it's just as important to know when it's time to let a person go because their behavior and competence can negatively affect your practice. In addition, keeping an employee who is not up to par usually affects the rest of the team negatively because they can become resentful and frustrated. 
This is especially true if you've had multiple discussions with an employee, and they haven't improved the problem. They should already know what the issues are and had an improvement plan to work on.
"When you fire someone, remind that person that you've discussed the applicable issues multiple times," Turner says. "Sometimes people aren't the best fit for your office and your employee may actually be relieved to be let go." Use direct language being honest and compassionate.
Turning an inefficient practice around can be challenging, but when you communicate with your team compassionately and regularly, get to the root of problems, and express appreciation and concern, inefficiency doesn't stand a chance. 
Lambeth Hochwald is a New York City–based journalist who covers health, relationships, trends, and issues of importance to women. She's also a longtime professor at NYU's Arthur L. Carter Journalism Institute.
For more news, follow Medscape on Facebook, Twitter, Instagram, and YouTube