Hi, everyone. I'm Dr Kenny Lin. I am a family physician and associate director of the Lancaster General Hospital Family Medicine Residency, and I blog at Common Sense Family Doctor.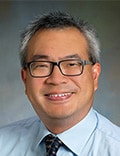 According to the US Preventive Services Task Force (USPSTF), screening for lung cancer with annual low-dose CT is recommended for persons aged 50-80 years with at least a 20 pack-year smoking history who have smoked in the past 15 years. Although I agree with the USPSTF and discuss screening with eligible patients, helping current smokers to quit remains my primary goal. Unlike screening, which has significant downsides and does not reduce the risk of developing lung cancer, smoking cessation is associated with lower lung cancer risk for each year since quitting. A 2020 meta-analysis found that 15 years after quitting, a former smoker retained only 27% of the increased lung cancer risk associated with past tobacco use; this figure fell to less than 20% by 20 years.
I have had the pleasure of informing several patients who quit more than 15 years ago that they have "graduated" from lung cancer screening. That doesn't mean that they won't develop cancer in the future, I caution them, but that the potential harms of continued screening, such as CT radiation–induced cancers and adverse effects of diagnostic procedures, outweigh the benefits of catching lung cancer earlier.
Admittedly, the 15 years since quitting (YSQ) threshold is somewhat arbitrary. For example, it's conceivable that someone with a 40 pack-year history who quit 18 years ago has a higher excess lung cancer risk than someone with a 20 pack-year history who quit 13 years ago, but the USPSTF guideline recommends screening for only the latter person.
In a recent guideline update, the American Cancer Society (ACS) sought to address this issue by doing away with the YSQ criterion and instead recommending that persons who begin lung cancer screening continue to get annual CT scans until age 80 or they develop "comorbid conditions that substantially limit life expectancy." A companion editorial estimated that this guideline expansion would make nearly 5 million more ex-smokers eligible for screening in the United States.
In the near term, the ACS guideline update is unlikely to change practice because private health insurers align lung cancer screening coverage with USPSTF recommendations, and screening eligibility for Medicare patients is also tied to the 15 YSQ threshold. But I am not convinced that the ACS made the right decision. Other studies have suggested that lung cancer screening programs could be more efficient if they target persons at the highest risk based on a risk calculator rather than using age and pack-year history alone; a helpful calculator that I sometimes use with patients is ShouldIScreen.com.
Instead, the ACS endorsed the less efficient strategy of expanding screening to patients who, while having a higher lung cancer risk than lifelong nonsmokers, have a lower risk than current smokers and recent quitters. Other than disease-modeling studies, no data have shown that conducting low-dose CT scans beyond the 15 YSQ benchmark does more good than harm.
Overall, the percentage of eligible adults who are up-to-date with lung cancer screening remains much lower than that for other cancer screening tests. Community-based health systems like my own are working hard to reach increased numbers of women, members of racial and ethnic minority groups, and individuals with lower socioeconomic status who became eligible for screening when the USPSTF lowered the start age from 55 to 50 and the smoking history criterion from 30 to 20 pack-years in 2021. For now, I plan to stick with the USPSTF screening criteria and continue advising my patients who stopped smoking more than a decade and a half ago that they can leave lung cancer screening in the rearview mirror.
Follow Medscape on Facebook, X (formerly known as Twitter), Instagram, and YouTube
Credits:
Headshot: Penn Medicine Lancaster General Health
Lead image: E+/Getty Images
Medscape Family Medicine © 2023 WebMD, LLC

Any views expressed above are the author's own and do not necessarily reflect the views of WebMD or Medscape.
Cite this: Why I'm Sticking With the USPSTF on Lung Cancer Screening - Medscape - Nov 13, 2023.