One of the most influential organizations in US medicine will use a new voluntary program to help hospitals reduce their greenhouse gas emissions, such as those produced by anesthesia and the energy needed to run operations.
The Joint Commission this week announced a sustainable healthcare certification program for US hospitals, which will begin next year. Amid hospital industry criticism, the group earlier this year dropped a proposal to require hospitals to report on some emissions to gain or keep accreditation.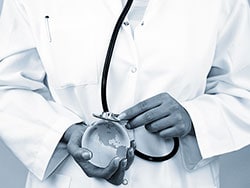 The nonprofit Joint Commission commands significant attention among hospital executives due to its role as a de facto gatekeeper for federal and state health programs, particularly Medicare. Hospitals must prove they meet certain standards of care in order to get paid for their services, with private organizations handling this screening and verification through a process known as accreditation. The Joint Commission is the leader in this field, as it accredits about 85% of US hospitals.
The Joint Commission said the sustainable healthcare certification program will be available to hospitals it has accredited and those it has not. To earn the certification, the hospitals must take several steps, including measuring three or more of the following greenhouse gas emissions:
energy use

purchased electricity (purchased grid electricity, district steam, chilled and hot water)

anesthetic gas use, including volatile agents and nitrous oxide

pressurized metered-dose inhaler use

fleet vehicle carbon-based fuel use

waste disposal, including product packaging, plastics, plastics from gloves, catheter bags, empty bottles, and used batteries
The Joint Commissions new voluntary program won praise from a physician who has long pushed for mandatory emissions-reporting standards.
"It's a fantastic step in the right direction," said Jodi Sherman, MD, an anesthesiologist and the director for the program on healthcare environmental sustainability at Yale Center on Climate Change and Health.
Many hospitals will find they already have work in progress that could help them meet the standards set for the Joint Commissions sustainable healthcare certification program, Sherman told Medscape. The program is flexible in allowing hospitals to choose the three emissions sources to be tracked.
"What it does is create some focus around sustainability efforts," Sherman said. "That is the first step. That's the entry point that all organizations need to get moving in the right direction."
The new voluntary Sustainable Healthcare Certification program will also help healthcare systems attract and retain clinicians, which has been increasingly challenging amid staff burnout, she said.
"Those organizations who are early adopters are going to be far more appealing to the whole generation that's aware that there is no time to lose," she said.
Kerry Dooley Young is a freelance journalist based in Washington, DC. Follow her on Mastodon and Threads as @kerrydooleyyoung.
For more news, follow Medscape on Facebook, X (formerly Twitter), Instagram, YouTube, and LinkedIn
Credit:
Images: iStock / Getty Images
Medscape Medical News © 2023 WebMD, LLC

Send news tips to news@medscape.net.
Cite this: Hospital Accreditor Takes Aim at Greenhouse Gas Emissions With Voluntary Reporting Certification - Medscape - Sep 21, 2023.