AMSTERDAM — For patients hospitalized for acute heart failure, initiating treatment with the SGLT2 inhibitor dapagliflozin (Farxiga, AstraZeneca) before hospital discharge was safe, it appeared to improve diuresis and natriuresis while reducing the administered diuretic dose, and it meant quicker initiation of guideline-directed therapy in a controlled study of 238 patients.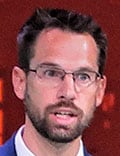 Treatment with dapagliflozin was begun for people with heart failure on their first day of hospitalization for an acute episode. Such treatment "can be safely started to optimize a key medication," Zachary Cox, PharmD, said at the 2023 Congress of the European Society of Cardiology. It improved fluid removal, as evidenced in the "totality of diuretic measures," it resulted in reduced doses of IV diuretics, and it shortened length of stay in the hospital.
In current US practice, about 80% of people hospitalized with heart failure do not initially receive treatment with a sodium-glucose cotransporter 2 (SGLT2) inhibitor during their hospital stay when they are not already taking an agent from the class, noted Cox, a professor of pharmacy at Lipscomb University College of Pharmacy in Nashville, Tennessee.
Physicians are often uncomfortable changing a patient's medications on the first day of a hospitalization, he noted. "Our results should embolden physicians" to begin treatment with an SGLT2 inhibitor early during hospitalization and to then continue it chronically, Cox said in a press briefing.
"Despite the messaging [from guidelines], we still see hesitancy. We hope more evidence of safety will improve uptake." The study's "key message is to start guideline-directed medical therapy early," prior to hospital discharge, Cox concluded.
"Some Support" for SGLT2 Inhibitors
The study results "provide some support for SGLT2 inhibitors facilitating decongestion and hospital discharge without observed safety issues," commented Stephen D. Wiviott, MD, designated discussant for the report and a cardiologist and professor at Harvard Medical School in Boston, Massachusetts.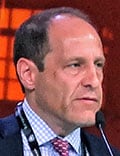 While initiation of an SGLT2 inhibitor during an acute heart failure hospitalization received endorsement as a top management priority in both the 2023 heart failure guidelines of the European Society of Cardiology and in 2022 US guidelines, evidence of the safety and efficacy of this approach has been scanty, Wiviott noted.
Two prior studies addressed the issue. The SOLOIST-WHF trial tested the combined SGLT1 and SGLT2 inhibitor sotagliflozin (Inpefa, Lexicon) for patients recently hospitalized for heart failure, but only 142 of the 596 participants who were randomly assigned to receive sotagliflozin began receiving it at least a day before hospital discharge; for the remaining 454, treatment with sotagliflozin began on their discharge day, noted Wiviott.
In the EMPULSE trial, 530 people hospitalized for acute heart failure were randomly assigned to initially receive empagliflozin (Jardiance, Boehringer Ingelheim and Lilly) or placebo during hospitalization. The primary endpoint was largely driven by an improvement in the patient-reported outcome, as assessed on the basis of the Kansas City Cardiomyopathy Questionnaire Total Symptom Score, Wiviott added.
The DICTATE-AHF study included 238 adults who were within 24 hours of first presenting to any of six participating US hospitals with hypervolemic acute heart failure. All patients underwent a standard treatment protocol with IV loop diuretics, and half received additional, open-label treatment with a daily 10-mg dose of dapagliflozin.
The average age of the patients was about 65 years, 71% had type 2 diabetes (the study excluded people with type 1 diabetes), and about half had a left ventricular ejection fraction of 40% or less.
Similar Weight Loss With Less Diuretics
The study's primary outcome was a measure of diuretic efficiency, calculated as a person's cumulative weight change divided by their cumulative dose of loop diuretics.
Both treatment arms experienced nearly identical weight loss, but for the people who received dapagliflozin, this occurred with a lower cumulative dose of diuretics. The diuretic efficiency with dapagliflozin produced comparable weight loss with a 35% lower amount of loop diuretic dose, a difference that fell just short of significance (P = .06).
However, treatment with dapagliflozin also significantly boosted 24-hour natriuresis and 24-hour diuresis, and it significantly shortened the time to stopping treatment with IV diuretics and to hospital discharge, Cox reported. Dapagliflozin initiation and ongoing treatment was also safe and well tolerated compared with usual care.
The fact that the primary endpoint fell short of significance was "largely related" to the study's relatively small size, Wiviott suggested. He noted that the DAPA ACT HF-TIMI 68 study, which is a much larger and potentially more definitive study of the safety and efficacy of dapagliflozin in comparison with usual care for patients with acute heart failure, is in progress. The study includes about 2400 patients.
The primary outcome is the combined rate of cardiovascular death or worsening heart failure during the 2 months following randomization. Results are expected in 2024.
DICTATE-AHF was sponsored by AstraZeneca, the company that markets dapagliflozin (Farxiga). Cox has received research funding from AstraZeneca and has been a consultant to Roche and Translational Catalyst. Wiviott has received research funding from AstraZeneca and from Merck and has been a consultant to Icon Clinical and Novo Nordisk.
For more news, follow Medscape on Facebook, X, Instagram, and YouTube.
Credits:
Lead image: ONOKY/Getty Images
Images 1 & 2: Mitchell Zoler for Medscape
Medscape Medical News © 2023 WebMD, LLC

Send news tips to news@medscape.net.
Cite this: SGLT2i Safety in Acute Heart Failure Confirmed by New Data - Medscape - Sep 06, 2023.