Eleven medical schools have eliminated or reduced tuition in the past 5 years. These schools include New York University (NYU), which canceled tuition for all medical students, to Geisinger Commonwealth School of Medicine, which waived tuition and fees for students who agreed to work in the organization for a certain number of years.
In addition, several other schools had already reduced or eliminated tuition in previous years. Will more of the nation's 154 MD and 38 DO schools follow this growing trend? It's too early to tell, but many physicians think the need is clearly there.
Almost half of medical school students cite their ability to pay off debts as a primary concern. "Tuition has gotten out of hand," said Jason Faucheux, DO. "It's way more expensive than it needs to be." Three years out of residency, the 38-year-old family physician in Biloxi, Mississippi, still owes $200,000 in medical school loans.
Even many mid-career physicians are still burdened by medical school debts. Mark R. Greenwood, MD, president of the Utah Medical Association, wrote in January that his medical school debts were a major reason for his decision to give up a small independent practice after 15 years.
"The extra hours I worked to pay my debt was a major contributor to my personal burnout," wrote Greenwood, who has gone on to became chief medical officer at Molina Healthcare.
Schools that Recently Eliminated Tuition
The trend to abolish medical school tuition started at least 15 years ago, when Cleveland Clinic Lerner College of Medicine at Case Western Reserve became tuition-free, but it really took off in 2018-2020, when 10 schools announced plans to eliminate or reduce tuition.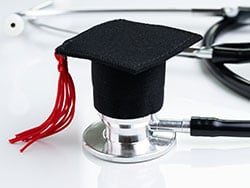 NYU was one of four New York City medical schools to abolish tuition in those years. Columbia and Cornell ended tuition for various percentages of the student body, and Mount Sinai capped debts for students in need at $75,000. While these schools cover expenses beyond tuition, NYU has eliminated tuition only.
In other parts of the country, Washington University in St Louis announced that half of new students will have free tuition. Stanford in California said it was doubling the amount of assistance it offers. And Geisinger is covering tuition and fees and providing a $2000 monthly stipend to qualifying medical students.
The trend also includes new schools. Like its parent school, NYU Long Island has eliminated tuition for all medical students. In California, Kaiser Permanente made a similar decision to waive tuition and fees for classes entering in the fall of 2020 through 2024. And the University of Houston waived tuition for its first class in 2018.
After a 3-year hiatus on new initiatives during the pandemic, Yale announced in February that it would pay all but $10,000 in loans for medical students in financial need.
To be sure, some of these programs were clearly temporary, and others will end when the donations paying for them run out. But this spurt of activity has put a spotlight on the sheer size of medical school tuitions today.
In addition to schools that eliminate or reduce tuition, many other medical schools offer a wide variety of scholarships. For example, about half the medical students at the University of Michigan receive some type of scholarship, ranging from a few hundred dollars to full tuition and housing.
More Schools May Reduce Tuition
The trend in cutting tuition is not over, asserts Robert Pearl, MD, a professor at Stanford University School of Medicine and Business and former CEO of the Permanent Medical Group. Pearl expects more medical schools will eliminate tuition, but they would only be a small fraction of the total, because most schools don't have the donor base or other funding sources to pay for it. He added that a growing group of for-profit medical schools would probably refuse to cut tuition because it would reduce their profit.
Others think more schools could join the trend. Daniel Barron, MD, a psychiatrist at Brigham and Women's Hospital in Boston, argues that most schools could cut tuition by belt-tightening and redirecting some existing funds. Indeed, he said schools have an obligation to keep tuition in check. Among the standards of the Liaison Committee for Medical Education, the accreditor of MD schools, Standard 12.1 directs schools to "minimize the impact of direct educational expenses (ie, tuition, fees, books, supplies) on medical student indebtedness."
So far, however, few schools have been interested in eliminating tuition within their budget. A reader commenting on Barron's article wrote that when he was a medical student, he proposed to the school's board of trustees a plan to eliminate tuition, pointing out it made up just 2.5% of the budget, but the board showed no interest.
What Is the Outcome of Current Tuition Cuts?
In the few years that have elapsed since NYU and other schools eliminated or reduced tuition, a few of these schools have reported a variety of positive effects. NYU said more Black students were accepted, Cornell reported that the number of applicants rose by 11%, and the number of lower-income students rose from 13% to 24%.
However, it's not clear yet whether more graduating seniors at these schools are going into primary care, which has been seeing a decline in interest. Also, accepting more lower-income and minority students into these schools doesn't mean that the overall pool of such students has grown, said Billy Thomas, MD, professor of pediatrics at the University of Arkansas for Medical Sciences.
Thomas also questions whether rising tuition is stopping low-income students from applying to medical school. As the son of a sharecropper applying to medical school in the late 1970s, he wasn't worried about the cost. "I was happy to be accepted and get the money in loans," he said. "Tuition is much higher now, but I think medical students basically have the same attitude."
Barron, on the other hand, thinks academic leaders like Robert Grossman at NYU took a necessary step when they eliminated tuition. "What I find admirable about Grossman," he said, "is that given the many, many things he could have done with his time, energy, and political capital, he chose to help students."
Has Tuition Gotten Out of Control?
Rising medical school tuition has been outpacing inflation for many years. According to the Education Data Initiative, it rises at an average rate of $1500 a year. In 2022, a typical first-year medical student paid $55,000 a year — more than double the amount paid 22 years ago, adjusted for inflation. For an out-of-state resident at a private medical school — the costliest category — the average cost of tuition for 4 years is currently $256,412.
Why is tuition so high, and why does it continuously get higher? Are schools providing more and better services to students? Barron believes that, with the possible exception of small-group learning replacing the lecture format, schools' costs don't seem to have changed that much.
Rather, Barron believes schools are simply charging what the market will bear. With applications running at about twice the acceptance rate, he said, schools aren't much concerned that raising the price will scare away applicants.
Applicants can always take out heftier government-backed loans to pay the higher price. In 2022, about three quarters of medical school graduates have loans and their average debt was $200,000 to $215,000, while 1 in 7 had borrowed more than $300,000. Current interest rates on this debt range from 5.2% to 13.6%, and the amount compounds constantly, adding more to the cost of the loan.
When Barron was a resident in 2018, deeply worried about the medical school debts that he and his physician-wife owed, he was intrigued with NYU's newly announced plan to eliminate tuition. Robert Grossman, MD, the NYU dean, agreed to meet with him and discuss it.
Barron wrote about the meeting in a Scientific American post. Grossman said eliminating tuition is a "moral imperative," and recalled his own experiences as an indebted medical student. The NYU dean said tuition income makes up just 0.25% of NYU's budget and suggested that medical schools could eliminate tuition simply by making operations more efficient. However, Grossman himself chose not to do that and instead raised money from donors, which took him 11 years and netted $650 million to pay for the elimination of tuition.
The Impact of High Tuition on Physicians
"Tuition can't keep rising without having unintended consequences," Pearl said. "The resulting debt is putting a massive amount of pressure on future generations of physicians." Pearl said high debt contributes to burnout and causes medical students to choose higher-paying specialties.
Another consequence of high debt is a reduction in doctors' commitment to serving the poor, according to Art Caplan, PhD, a medical ethicist at NYU. "High debt leaves the debt holder feeling abused, which may result in not wanting to work in programs for the poor," said Caplan. "Debt may also prompt some doctors to go into medical business careers rather than practicing medicine."
High debts may also be forcing new doctors to take employed positions rather than invest in an independent practice. Faucheux, the Mississippi family physician, has taken a job with the Air Force to help pay off his debts, but his dream is to open a solo direct primary care practice. However, that requires making an initial investment and working his way up from a small patient base.
"Having a financial burden makes this harder to realize," he said. Faucheux is married and a father of two young children. "I'm still living like a resident," he said. "We don't go on expensive vacations, we don't eat out much, and we buy used cars."
Officials at the AAMC, however, do not think the situation is desperate. "Borrowers have very flexible options to manage repayment," wrote Julie Fresne, senior director of the Student Financial and Career Advising Service at the AAMC, in an email to Medscape. She also pointed to a page on the AAMC website that lists 74 programs that help students with tuition or loans.
What's more, everyone agrees that medical school graduates can readily find jobs and pay off their debt eventually. That can take years, however. Currently, it takes medical students 13 years on average to repay their medical school debt, and this could lengthen as tuition rises. The AAMC reports that the maximum amount of time allowed by lenders is 20 to 25 years.
Conclusion
It remains unclear how many more medical schools will drop or reduce tuition, but the pressure on schools to do something about soaring costs is likely to grow as average tuitions continue to go up.
10 Medical Schools That Took Action on Tuition
From 2018 to 2020, 10 medical schools either eliminated or reduced tuition for some or all medical students.
New York University Grossman School of Medicine (2018)
In 2018, the New York University (NYU) Grossman School of Medicine became tuition-free. However, medical students must still pay for their living expenses, books, supplies, and fees, estimated to be about $24,000 a year.
Columbia University Vagelos College of Physicians and Surgeons
In 2018, Columbia launched a program to replace loans with scholarships for students who qualify for financial aid. As a result, about 20% of medical students receive full-tuition scholarships.
NYU Long Island School of Medicine
In 2019, NYU launched a 3-year medical school program focused on primary care at its Winthrop Hospital campus on Long Island, New York. As with NYU medical
school, the new program eliminates tuition.
Weill Cornell Medicine Medical College
In 2019, Weill Cornell began offering scholarships to cover tuition, housing and other living expenses. The program is based on $160 million in funding.
Icahn School of Medicine at Mount Sinai
Starting in 2019, Mount Sinai set a cap of $75,000 of debt over 4 years for students with demonstrated financial need. The cap includes tuition, fees, and housing.
Washington University School of Medicine
In 2019, the St. Louis-based school began offering grants that will allow up to one half future medical students to attend classes for free. It has committed $100 million over the next decade to this program.
Geisinger Commonwealth School of Medicine
In 2019, Geisinger Commonwealth School of Medicine began providing tuition-support plus a $2000-per-month stipend to students who commit to primary care and agree to work at Geisinger for a number of years, depending on the number of years of support. The program covers about one third of students.
Stanford University School of Medicine
In 2020, Stanford University School of Medicine announced a new scholarship program for students in financial need that will last for 10 years. The $90 million program doubles the amount of assistance that Stanford was offering.
Kaiser Permanente Bernard J. Tyson School of Medicine
Starting in 2020, the new Kaiser Permanente Bernard J. Tyson School of Medicine is covering full tuition for the first five cohorts of the program at a cost of $68,788. The program lasts through the class entering in 2024.
University of Houston College of Medicine (2020)
In 2020, all 30 students in the inaugural class at the University of Houston medical school received free tuition. The program, based on a $3 million gift, will cover all four years for these students.
For more news, follow Medscape on Facebook, Twitter, Instagram, YouTube, and LinkedIn
Credits:
Lead image: Medscape Illustration: Dreamstime
Image 1: Nuthawut Somsuk/Dreamstime
Medscape Medical News © 2023 WebMD, LLC

Send news tips to news@medscape.net.
Cite this: Are More Med School Tuition Cuts Likely to Come? - Medscape - Aug 01, 2023.