An Iowa neurosurgeon who was accused of harming a patient after misplacing a screw has triumphed at trial, defeating a $27 million malpractice claim.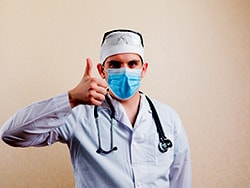 At the conclusion of a 2-week trial in May, jurors determined that David Boarini, MD, was not responsible for a patient's alleged pain and decreased mobility following spine surgery. The case rested on whether a screw that was placed by Boarini during surgery and that was malpositioned by 1 mm caused the "disabling leg pain" claimed by the patient.
During trial, Boarini's defense team proved that the screw was in the epidural space of the spine and had not touched any nerves, said LaMar Jost, a Denver-based attorney who represented Boarini at trial. The defense showed that the patient had long experienced back pain and had continued to experience pain after another surgeon removed the screw.
Boarini said he was grateful for the jury's verdict but noted the extreme toll that the 2-week trial took.
"Obviously, it is an enormous relief to prevail," he said. "But the system also creates an enormous drain on all sides as well. It is emotionally stressful and expensive. So even a win is still a losing proposition in some respects. I am thankful for my employer, insurance company, and lawyers who stood by and defended me."
Roxanne Barton Conlin, a Des Moines-based attorney for the plaintiff, expressed "disappointment" at the jury's verdict and said no further action is anticipated in the case.
What Triggered the Malpractice Claim?
The plaintiff first saw Boarini in December 2018 at the Iowa Clinic in Des Moines, where he conservatively treated her for bilateral weakness and pain in her lower extremities, according to court records. She later complained of ongoing pain and that there had been no improvement. Boarini planned a decompression and L 4 – 5 posterior interbody fusion for March 2019. The surgery was intended to stabilize vertebrae that had slipped and to remove a damaged disk.
Boarini performed the surgery, noting in the surgical report that there had been a medial breach of a pedicle screw at L4 on the left. According to the lawsuit, the plaintiff complained of severe pain in her left extremity immediately after the surgery. Later, when she was seen for staple removal, she complained of extreme pain in the left hip. The pain radiated to her knee. An MRI showed a pedicle screw encroaching on a nerve root, according to the plaintiff's lawsuit.
On April 15, 2019, the plaintiff underwent a CT scan of her thoracic and lumbar spine, which suggested deflection of a nerve root sheath structure, as well as postoperative fibrosis, according to the lawsuit. Boarini increased the patient's medications but made no effort to remove the screw, the suit alleged.
On April 30, the patient was seen at the University of Iowa Hospital in Iowa City by another neurosurgeon. Three days later, he performed a revision surgery in which he removed the screw and placed new hardware, according to court records.
Later that year, the patient returned twice to the second surgeon, complaining of significant left leg pain and weakness. She was told by the second surgeon that she had "chronic nerve root denervation from the misplaced screw," according to the lawsuit. The patient lost her job and now uses a walker. She experiences continuous, disabling leg pain, the suit claimed.
Boarini's defense team argued that the patient had had severe back pain for at least 5 years before she saw Boarini. She was diagnosed in 2013 with spondylolisthesis, degenerative disk disease, and spondylosis. In 2014, she was diagnosed with scoliosis. She had previously been diagnosed with degenerative disk disease, spinal stenosis in her cervical spine, and disk disease.
Before seeing Boarini, the patient had suffered work-related back injuries. She had fallen, had been in a vehicle accident, and was a smoker, which lowers the success rate of fusions, according to court transcripts.
The defense team emphasized that the medial breach of the pedicle screw was a 0- to 1-mm breach, about the size of a pencil tip. Boarini decided to leave the screw in position after determining that it was not touching any nerves and because the risks of harm from removal outweighed the benefit to the patient, the defense argued.
"Dr Boarini did not cause or contribute to [the patient's] pain because a suboptimally placed pedicle screw that extends zero to 1 millimeter into an open space, that epidural space, that start of the tunnel, the neural foramen, cannot cause harm," Jost said during trial. "Removal and replacement of the screw did not change anything, and [the patient] had the same pain before and after Dr Boarini's surgery from preexisting spine disease and chronic pain syndrome."
Jurors deliberated for about 4 hours before finding in favor of Boarini and the Iowa Clinic.
Nicholas Rowley, a Decorah, Iowa–based attorney who represented the plaintiff at trial, said he was not surprised by the jury's verdict. He said the plaintiff experienced a number of setbacks and trial challenges that contributed to the outcome.
"I don't lose very often. It's one of two defense verdicts I've had in the past 9 years," Rowley said. "I looked at this as a very difficult case because there's no guarantees when it comes to spine surgery, and misplacing a screw, in and of itself, is not negligence.
"The big issue here was that the surgeon left the screw in for as long as he did. The main witness who would have been able to tell the jury that leaving the screw in was the cause of permanent harm to the patient was the subsequent surgeon in Iowa City...and [he] wasn't willing to be a witness for his patient in the case after the defense hired [his] boss to be their expert witness."
According to University of Iowa records, the expert witness who testified for Boarini is the head of the department where the second surgeon works. Court records do not indicate why the second neurosurgeon did not testify. In general, witnesses can be compelled to testify through a subpoena and can be held in contempt if they fail to comply.
How Defense Wins Help Counter Mega Verdicts
The defense win is particularly significant because there have recently been several high verdicts in favor of plaintiffs in Iowa. Such verdicts can affect how much plaintiffs demand in future settlements and during trials, Jost said.
In March 2022, for instance, an Iowa family was awarded $97.4 million from an Iowa City hospital for a brain injury caused to their child during the baby's delivery. In November 2022, a jury awarded a Des Moines patient $27 million in damages after an urgent care clinic failed to diagnose a serious case of meningitis that resulted in brain damage.
"The plaintiffs' lawyers have really changed their settlement dynamic based on these big verdicts, even though they are statistical outliers," Jost said. "So if you have a case that is truly valued at $1 to $2 million, they are asking for $10 million. It really drove up the settlement demand on any case. In our medical-legal landscape, you have to have some defense wins to balance it out. Getting a complete defense verdict helps reset the calibration."
For more news, follow Medscape on Facebook, Twitter, Instagram, and YouTube.
Credits:
Images: Alexandr Yurtchenko/Dreamstime
Medscape Medical News © 2023 WebMD, LLC

Send news tips to news@medscape.net.
Cite this: Surgeon Beats $27 Million Malpractice Case After Contentious Trial - Medscape - Jul 26, 2023.