SINGAPORE — The majority of adolescents with vitiligo remained stable or continued to improve through 1 year of treatment with the JAK1/JAK2 inhibitor ruxolitinib, according to an analysis of adolescent data in phase 3 trials.
The analysis of pooled data from the phase 3 randomized clinical trials, TRuE-V1 and TRuE-V2, found that over half of the participants achieved at least a 50% improvement from baseline in the total Vitiligo Area Scoring Index (T-VASI50) at 52 weeks.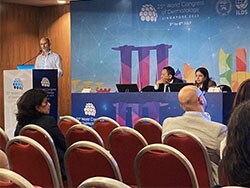 "This was greater than the improvement seen in the overall population," said Julien Seneschal, MD, PhD, professor of dermatology and head of the vitiligo and pigmentary disorders clinic at the University of Bordeaux, France, who presented the new data during a late-breaker session at the 25th World Congress of Dermatology (WCD).
The number of adolescents aged 12-17 years on twice-daily ruxolitinib who achieved a T-VASI 50 response at weeks 12, 24, and 52 were 11.5%, 26.9%, and 57.7%, respectively. The corresponding figures for the overall study population were 10.7%, 22.7%, and 44.4%, respectively.
"This suggests that younger patients can respond better to the treatment," said Seneschal. However, he pointed out, the number of adolescents in the studies was small.
A Steady Improvement
Vitiligo is a chronic autoimmune disease characterized by depigmentation of the skin, caused by the loss of melanocytes. It can occur at any age, but many patients experience initial onset before the age of 30.
Ruxolitinib cream 1.5%, marketed as Opzelura, is the first therapy to be approved by the US Food and Drug Administration (FDA) and the European Medicines Agency (EMA), in July 2022 and April 2023, respectively, for repigmentation in patients with nonsegmental vitiligo aged 12 years and older. Roughly 8 in 10 cases of vitiligo are nonsegmental.
Approval was based on the results of the double-blind, vehicle-controlled TRuE-V studies, which were conducted in 661 patients with nonsegmental vitiligo. Patients were randomly assigned 2:1 to receive either ruxolitinib or control twice daily for 24 weeks. Both groups then received ruxolitinib twice daily for 28 weeks.
A total of 72 patients (10.9%) in the TruE-V1 and TruE-V2 studies were adolescents, 55 of whom were randomly assigned to receive ruxolitinib therapy. The adolescents were ages 12-17 years (median age, 14 years), and the median duration of vitiligo was 5.1 years. Almost 53% were male, and 65.5% had Fitzpatrick skin types I to III. Baseline T-VASI score was 6.4 (standard deviation, [SD], 2.13).
Data from this adolescent subgroup was pooled and summarized using descriptive statistics for the new analysis. Patients who had non-missing evaluations at week 12 were included in the analysis; a total of 52 adolescents were analyzed.
By week 24, 26.9% of patients had achieved what was considered treatment success (T-VASI 50) — with 13.5% (n = 7) and 9.6% (n = 5) reporting a 50%-75% improvement and 75%-90% improvement from baseline in T-VASI scores, respectively; 3.8% (2 patients) achieved a T-VASI 90.
"There was a continuous improvement between week 24 and 52 in 59.6% of adolescent patients," said Seneschal. By contrast, 26.9% maintained stable responses, and 7.7% experienced a decrease in T-VASI scores during this period.
By week 52, 11.5% had a T-VASI 90, 9.6% had a T-VASI 75-<90, 36.5% had a T-VASI 50-<75, 23.1% had a T-VASI 25-<50, and 13.5% had a T-VASI <25. Data were missing in 5.8% patients.
Safety data revealed that ruxolitinib cream was well-tolerated, with no serious treatment-related adverse effects (AEs) or discontinuations reported. One patient suffered a grade 2 kidney contusion determined to be unrelated to therapy. In general, application site reactions were the most frequently reported AEs (20%) among adolescent patients, with pruritus (5.5%) acne (5.5%) and erythema (3.6%) at the application site the most common.
Promising but Costly
When approached for an independent comment about the new findings, Shital Poojary, MD, MBBS, head of the dermatology department at K.J. Somaiya Hospital and Research Center in Mumbai, India, told Medscape Medical News: "I think ruxolitinib is a very promising molecule and this study proves that."
"It's promising because it covers the entire JAK pathway," said Poojary, referring to the signaling pathway believed to drive inflammation involved in the pathogenesis and progression of vitiligo. Moreover, ruxolitinib offers the benefit of being a cream. "Topically, it's not going to create any major issues. Whereas if you're giving oral JAK inhibitors, then you have to be careful about the side effects."
However, she cautions that the limiting factor with ruxolitinib, especially in lower-income countries such as India, is its cost. "When you're talking about a topical application, if it's going to cost thousands of rupees, Indian patients are not going to pay that."
"But otherwise, it's a very promising molecule," said Poojary.
The study was funded by Incyte. Seneschal reports receiving grants and/or honoraria from ruxolitinib manufacturer Incyte, in addition to multiple other pharmaceutical companies. Poojary reports no relevant financial relationships.
25th World Congress of Dermatology (WCD): Presented July 7, 2023.
Sandy Ong is a freelance health and science journalist based in Singapore. On twitter: @sandyong_yx.
For more news, follow Medscape on Facebook, Twitter, Instagram, YouTube, and LinkedIn
Credits:
Lead image: Incyte
Image 1: Sandy Ong / Medscape
Medscape Medical News © 2023 WebMD, LLC

Send news tips to news@medscape.net.
Cite this: Responses to Ruxolitinib in Teens and Adults With Vitiligo Compared - Medscape - Jul 25, 2023.