SINGAPORE —Treatment with an investigational oral interleukin-23 receptor (IL-23R) antagonist peptide ­— currently known as JNJ-2113 — significantly improved skin lesions in patients with moderate-to-severe plaque psoriasis across all doses compared with placebo, according to results of the FRONTIER 1 trial.
In the 16-week phase 2b study, 255 adults with moderate to severe plaque psoriasis were randomly assigned into six treatment groups: placebo (n = 43), JNJ-2113 25 mg daily (n = 43), 25 mg twice daily (n = 41), 50 mg daily (n = 43), 100 mg daily (n = 43), or 100 mg twice daily (n = 42).
Of those who took the placebo, only 9.3% achieved the study's primary endpoint of a 75% or greater improvement in the Psoriasis Area and Severity Index (PASI-75) by week 16. This was compared with 78.6% in the group that took the highest dose.
"Additionally, the onset of action was fairly fast: at week 4, more than 20% of patients had achieved PASI 75," said Robert Bissonnette, MD, CEO of Innovaderm Research in Montreal, Canada, who presented the findings during a late-breaker session at the 25th World Congress of Dermatology meeting.
Patients in the remaining groups demonstrated a response that corresponded to dosing level: with 37.2%, 51.2%, 58.1%, and 65.1% achieving PASI-75 in the 25 mg daily, 25 mg twice-daily, 50 mg daily, and 100 mg daily groups, respectively.
"These results are very interesting because in terms of psoriasis treatment, if this is confirmed in phase 3, it would give us an oral alternative that would be selective for IL-23," said Bissonnette, referring to the signaling pathway that plays a critical role in the pathogenesis of several immune-mediated inflammatory diseases, including plaque psoriasis.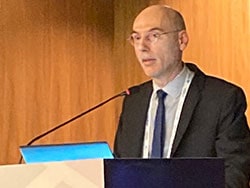 Although rarely life-threatening, the skin disorder is often intractable to treatment. In recent years, therapies that block IL-23 signaling and downstream inflammatory cytokine production have proven useful. "We have on the market a number of biological agents targeting IL-23 that we use on a regular basis," said Bissonnette. "However, there are currently no orally delivered therapies."
If successful, JNJ-2113 — a first-in-class oral IL-23 antagonist peptide developed by Janssen — could change the treatment paradigm for patients with moderate-to-severe plaque psoriasis. "When I was first introduced to the concept, I thought it wouldn't work as it's a peptide, that it would be digested by the stomach," he told the audience. "But because of its GI stability and its potency, when you administer it orally, you can detect pharmacological activity."
A Well-Tolerated Alternative
Participants in the FRONTIER 1 trial were on average about 44 years old and weighed 88.9 kg (195 lb). Most had been living with psoriasis for about 18 years, with a total PASI score of 19.05. In addition, 43.1% had been treated with phototherapy in the past, 22% with biologics, and 78.4% with systemics.
PASI 90 and 100 were among some of the secondary outcomes measured. Similar to the primary outcome of PASI 75, all treatment groups demonstrated a statistically significant dose-response in PASI 90 compared with placebo. For those on the highest dose of JNJ-2113, 59.5% and 40.5% achieved PASI 90 and PASI 100, respectively, by week 16. The corresponding figures for those receiving placebo were 2.3% and 0%.
The safety profile for JNJ-2113 across all doses was similar to that of placebo, with no evidence of a dose-dependent increase in the occurrence of adverse events (AEs). The most frequently reported AEs were COVID-19 and nasopharyngitis. There were three serious AEs (COVID-19, infected cyst, suicide attempt) among those on the active drug, but the investigators assessed that they were not related to the study intervention. No deaths, major adverse cardiac events, or malignancies were reported during the study.
Approached for an independent comment, Marius-Anton Ionescu, MD, PhD, from the University Hospital Saint Louis, Paris, France, who specializes in psoriasis, told Medscape Medical News that the new development with JNJ-2113 "is really promising."
Treatment for plaque psoriasis has improved to the point where some biologics, such as risankizumab (Skyrizi), only require patients to have "four shots a year," he says. "This is the future of psoriasis treatment; it might go down to two shots a year" — a regimen that will be easier than taking an oral medication once or twice a day.
"But it's good to have an oral option because you will always have some patients who say: 'Shots are not for me, I'm afraid,' " he says.
However, Ionescu noted that if JNJ-2113 were to pass phase 3 trials, it might face stiff competition from the selective tyrosine kinase 2 (TYK2) inhibitor deucravacitinib (Sotyktu), which the US Food and Drug Administration (FDA) approved for use in adults with moderate to severe plaque psoriasis last September. "It has very good results and is the first oral therapy that is comparable with biologics for plaque psoriasis," he says.
But Bissonnette remains hopeful for the future. "I think JNJ-2113 goes way beyond psoriasis because this type of strategy using oral peptide–blocking receptors could be used in other immune mediated diseases, including atopic dermatitis and other diseases outside of dermatology." In addition to a phase 3 study for moderate to severe plaque psoriasis, Janssen is planning to initiate a phase 2b clinical trial of JNJ-2113 in adults with ulcerative colitis.
The study was funded by Janssen. Bissonnette reports consulting and investigating for Janssen, and being on advisory panels and receiving research funding from multiple other pharmaceutical companies. Ionescu is an investigator for Psoriasis National Register France Psobioteq (no honoraria); and an investigator and speaker for Uriage cosmetics (honoraria).
25th World Congress of Dermatology (WCD) 2023: Presented July 4, 2023.
Sandy Ong is a freelance health and science journalist based in Singapore. @sandyong_yx
Credit:
Lead image: DermnetNZ
Image 1: Sandy Ong
Medscape Medical News © 2023 WebMD, LLC

Send news tips to news@medscape.net.
Cite this: Oral IL-23 Receptor Antagonist for Psoriasis Promising: Phase 2b Study - Medscape - Jul 06, 2023.