Transcatheter aortic valve implantation/replacement (TAVI/TAVR) is typically the domain of cardiac surgeons and interventional cardiologists.
In the UK, John Steele, an advanced nurse practitioner (ANP) at Glenfield Hospital, part of the University Hospitals of Leicester NHS Trust (UHL), was congratulated on Twitter as "the first nurse-ANP who has performed the whole TAVI procedure as the first operator true transformation addressing NHS needs...".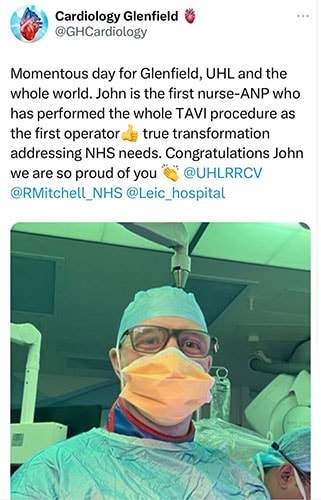 The now-deleted tweet from @GHCardiology is still visible in the Twitter thread of Mamas A. Mamas, a professor of interventional cardiology at Keele University, UK. "This is so inappropriate on so many levels," Mamas tweeted. "This is not safe for patients particularly given that there are numerous TAVI trained medically qualified operators in UK. You have also taken away training opportunities for medical / surgical trainees."
Other followers also responded, largely negatively.
"This is crazy. Is this @TheOnion???" tweeted Martha Gulati, MD, director of preventive cardiology in the Smidt Heart Institute at Cedars-Sinai, Los Angeles, California, in response to Mamas, referring to the popular satirical news outlet. "Seriously I can't see this as an actuality given the potential for so many other issues they wouldn't know how to deal with."
Could It Happen in the US?
Could a US-based NP perform TAVR? Possibly. Should they? No, says Andrew M. Goldsweig, MD, chair of the US Society for Cardiovascular Angiography and Interventions (SCAI) Structural Heart Council. "Experienced nurse practitioners who have participated as secondary operators in many TAVR procedures and have observed the primary physician operators likely know the technical steps involved in an uncomplicated transfemoral TAVR procedure," he told theheart.org | Medscape Cardiology.
"However, a physician's depth and breadth of training are absolutely required both to recognize and to address any periprocedural issues," said Goldsweig, who is also director of the cardiac catheterization laboratory and director of cardiovascular clinical research at Baystate Medical Center in Springfield, Massachusetts.
What It Takes to Do TAVR
Transcatheter aortic valves were first approved by the FDA in 2011 for use in patients with severe, inoperable, aortic stenosis. The procedure is now increasingly used as an alternative to surgical AVR in intermediate- and low-risk patients and has a longer history in Europe.
Goldsweig notes that "TAVR is a complex procedure with many potential challenges. Physicians are trained to diagnose and manage vascular access complications, heart failure and respiratory complications, rhythm disturbances, stroke, paravalvular leak, valve malpositioning/embolization, cardiogenic shock, and any other issues that may arise in the peri-TAVR period.
"Physicians can perform vascular imaging and interventions, transition to alternative access, manage intubation and ventilation, facilitate embolectomy, place a pacemaker, close a paravalvular leak, capture a misplaced valve, deploy mechanical circulatory support, and perform other diagnostic and interventional procedures as necessary that are required for TAVR operators and vastly exceed the training and scope of a nurse practitioner."
The 2023 ACC/AHA/SCAI advanced training statement on interventional cardiology defines select competencies for interventional cardiologists who choose to focus their career on peripheral, vascular, or structural heart interventions.
In a recent article in Structural Heart, Goldsweig and colleagues write, "Training in SHD [structural heart disease] has historically been fragmented and informal. Current modes of SHD training include unaccredited fellowship training, industry-sponsored forums and device-specific training, and training through on-site proctorship."
Such programs have grown "exponentially," they write, "despite the conspicuous absence of formalized training requirements."
In response to the John Steele uproar, the British Cardiovascular Intervention Society (BCIS) posted a statement on its website, noting, "As medicine has changed so there has increasingly been a role for allied health practitioners with advanced skills to take on responsibilities that were previously considered to be the domain of doctors….
"TAVI procedures however carry a mortality risk, and the responsibility for undertaking a successful TAVI procedure will always lie with a Cardiologist who has had the breadth of training to manage the various complications that may occur during or after a procedure. This requires years of training, and there is no short-cut, or substitute."
The BCIS promises a statement "later in the year [on] the expected training route for undertaking TAVI and other structural heart procedures."
Why It Matters: Scope Creep
Despite the current upheaval, it's not the first time that a nurse in the UK has performed a procedure normally performed by a medical doctor. A 3-year-old Reddit post on r/JuniorDoctorsUK points to a 2017 Guardian article titled, "Meet the nurse who will soon perform surgery on patients alone." Although the "surgical care practitioner" seems to be performing within the scope of her practice, people responding to the post say it's an example of "mid-level [scope] creep."
More recently, a Reddit post in the same group points to a congratulatory post for a "nurse-led radial access." One person commented, "Today they do the access. Tomorrow they do the full diagnostic. Day after they do the pressure wire. Next week they do the PCI [percutaneous coronary intervention]."
Broadly, "scope creep" refers to scope-of-practice expansions, but not turf wars, according to Rebekah Bernard, MD, a family physician in Fort Myers, Florida, who co-wrote, "Patients at Risk: The Rise of the Nurse Practitioner and Physician Assistant in Healthcare," with Niran Al-Agba, MD, a pediatrician in Silverdale, Washington.
The reasons behind UK scope creep aren't clear. Some believe it's money. Some say the system is broken and that doctors are being exploited.
In relation to the NP-TAVI case, the British Junior Cardiologist Association commented that it reflects a lack of support and advocacy for medical/surgical trainees who need the training opportunities that are going instead to allied health professionals.
In the US, scope creep is being taken seriously (some may say too seriously) by the American Medical Association (AMA). The AMA is lobbying to stop "inappropriate scope expansions," bolstered by its AMA Scope of Practice Partnership.
Pointing to a scope creep video produced by the AMA, one JuniorDoctorsUK Reddit post asks, "why isn't the BMA doing anything similar?"
Time for a Rethink?
Back to Glenfield Hospital. Not only has Cardiology Glenfield deleted the controversial tweet; it is now is backtracking on its congratulations to ANP Steele, tweeting, "We want to make clear that the lead operator for the procedure was a consultant structural interventionist. However, we are looking into the circumstances, including a review of clinical governance." From the responses, few clinicians are buying that explanation.
In response to a request for a comment from Glenfield, Andrew Furlong, UHL medical director, reiterated to theheart.org | Medscape Cardiology through communications manager Gareth Duggan, "We are investigating the circumstances of the procedure with our cardiology team and reviewing our governance processes."
Goldsweig participated in a past speaking engagement for Edwards Lifesciences.
Follow Marilynn Larkin on Twitter: @MarilynnL.
For more from the heart.org | Medscape Cardiology, follow us on Twitter and Facebook.
Credits:
Lead image: Stone/Getty Images
Image 1: Cardiology Glenfield/Twitter
Medscape Medical News © 2023 WebMD, LLC

Send news tips to news@medscape.net.
Cite this: TAVI Turmoil: Did An ANP Perform Transcatheter Aortic Valve Replacement in the UK? - Medscape - Jun 29, 2023.