The US Food and Drug Administration (FDA) has approved an injectable hyaluronic acid dermal filler for improvement of infraorbital hollowing, the manufacturer announced in a press release.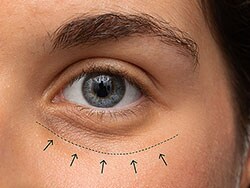 The product, which will be marketed by Galderma as Restylane Eyelight, is indicated for volume loss under the eyes in patients older than 21 years. The hyaluronic acid filler contains lidocaine for patient comfort.
Approval is based on a phase 3 trial that found that 87% of those treated showed improvement in under-eye hollows at 3 months. Improvement was defined as at least a 1-point improvement on a 4-point scale measuring the severity of the infraorbital hollows.
In addition, 92% of participants were pleased with the results at 3 months, and 84% were pleased at 12 months, according to the press release. As for safety, 87% of patients had no side effects; most (75%) adverse effects were mild, and there were no severe side effects, according to the release. The most common adverse effects were swelling, redness, tenderness, pain, bruising, itching, and lumps or bumps at the injection site. There were no cases of the Tyndall effect ― blue discoloration ― after treatment.
The company says the filler is the first formulated with NASHA ― a cross-linking technology that modifies hyaluronic acid into a firm gel.
Restylane Eyelight should not be used by people with severe allergies, those with a history of anaphylaxis, or those who are allergic to lidocaine or to gram-positive bacterial proteins used to make hyaluronic acid. It also should not be used by people prone to bleeding or those with a bleeding disorder. Safety for patients who are pregnant or breastfeeding has not been studied, according to Galderma.
The treatment will be available across the United States over coming months, the company said. The first Restylane hyaluronic acid-based filler was approved for use in the United States in 2003.
The clinical trial was sponsored by Galderma R&D.
Follow Medscape on Facebook, Twitter, Instagram, and YouTube.
Credits:
Images: iStock / Getty Images
Medscape Medical News © 2023

Cite this: FDA Approves Hyaluronic Acid Filler for Under-Eye Hollows - Medscape - Jun 06, 2023.