MILAN, Italy — The oral Janus kinase (JAK) 1/2 inhibitor baricitinib (Olumiant) demonstrated significantly better efficacy than cyclophosphamide infusions in the treatment of lupus nephritis in a small, independently funded, phase 3, double-blind clinical trial, Manal Hassanien, MD, reported at the European Alliance of Associations for Rheumatology (EULAR) 2023 Annual Meeting.
Baricitinib, licensed by Eli Lilly, has been recognized as a potential therapeutic option in systemic lupus, and is approved in the United States to treat rheumatoid arthritis, alopecia areata, and COVID-19 in certain hospitalized adults. It is also approved to treat atopic dermatitis in Europe. However, it previously yielded disappointing results in phase 3 clinical trials SLE-BRAVE-I and SLE-BRAVE-II for systemic lupus erythematosus. The trial results presented at EULAR suggest that baricitinib could be beneficial in the treatment of lupus nephritis, further establishing the role of JAK inhibitors in autoimmune disease therapy.

"Lupus nephritis typically develops within 5 years of initial lupus symptoms," said Hassanien, of the Rheumatology Research and Advanced Therapeutics Department at Assiut University, Assiut, Egypt. "Research has shown that up to 60% of lupus patients will eventually develop lupus nephritis. The management of proliferative lupus nephritis usually involves an initial phase focused on preventing the development of irreversible damage, followed by a maintenance phase to control lupus activity. Despite significant progress, lupus nephritis still carries an increased risk of end-stage renal disease and mortality."
The study's primary endpoint of 24-hour proteinuria response rate (≥50% reduction from baseline) at week 12 was significantly greater with baricitinib 4 mg daily, compared with monthly cyclophosphamide infusions at 0.7 mg/m2 (70% vs 43%; P < .0001). At week 24, 76.6% of the baricitinib group met the primary endpoint, compared with 50% in the cyclophosphamide group. Two multiplicity-controlled secondary endpoints, complement 3 (C3) serum level and the Systemic Lupus Erythematosus Disease Activity Index 2000 (SLEDAI-2K), also showed statistical significance at 12 weeks (P < .01).
The 6-month trial included 60 adult patients (age 18 years and older) with a clinical diagnosis of lupus nephritis fulfilling classification criteria for LN grade III and IV. Patients needed to demonstrate objective signs of active nephritis consistent with persistent proteinuria >0.5 g/day and/or cellular casts at screening to be included. Additional inclusion criteria were SLEDAI-2K > 4 and assessment of anti-dsDNA and C3 serum levels at study entry. The patients were randomly assigned to two equal-sized groups, with one group receiving baricitinib 4 mg daily and a monthly placebo saline infusion, and the other group receiving monthly cyclophosphamide infusions and oral placebo tablets.
The incidence of adverse events was comparable between the two treatment groups, with 48% of patients in the baricitinib group and 46% in the cyclophosphamide group experiencing adverse events. Only three serious adverse events, specifically serious infection or herpes zoster, were recorded, leading to treatment discontinuation.
Two patients (6.6%) in the baricitinib group and one patient (3.3%) in the cyclophosphamide group were affected. The researchers recorded no major adverse cardiovascular or venous thromboembolic events, which are known to occur at higher rates among some users of baricitinib and other JAK inhibitors. They noted that the safety profile of baricitinib was consistent with observations made in other inflammatory musculoskeletal diseases, and no new risks were identified.
However, there were some concerns expressed by audience members during the presentation.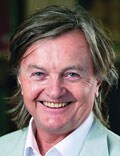 "The primary endpoint is limited at proteinuria, while biopsy is considered the gold standard for measuring efficacy," said Eric F. Morand, MD, head of the Monash Health Rheumatology Unit, Melbourne, Australia. This was not the only critical comment regarding the study that emerged during the discussion. The use of a 4-mg dosage regimen throughout the entire study duration (despite official recommendations suggesting a 2-mg dosage in the long run) and the positive outcomes observed in the control group treated with cyclophosphamide were also mentioned.
Hassanien acknowledged that this is a small and relatively short study and disclosed plans to extend the follow-up period to 1 year and conduct a renal biopsy.
Hassanien reports no relevant financial relationships. Assiut University funded the trial.
European Alliance of Associations for Rheumatology (EULAR) 2023 Annual Meeting: Abstract OP0053. Presented May 31, 2023.
Credits:
Lead image: Lilly
Image 1: Dr Manal Hassanien
Image 2: Monash University
Medscape Medical News © 2023 WebMD, LLC

Send news tips to news@medscape.net.
Cite this: Lupus Nephritis: Hopes, Questions Arise for Baricitinib - Medscape - Jun 01, 2023.