Internists experienced many of the usual ups and downs regarding nonclinical matters in 2022: Compensation was up, but satisfaction with compensation was down; the percentage of internists who would choose another specialty was up and time spent on paperwork and administration was down only slightly.
A year that began with the COVID-19 Omicron surge ended with many of the same old issues regaining the attention of physicians, according to those who responded to Medscape's annual compensation survey, which was conducted from Oct. 2, 2022, to Jan. 17, 2023.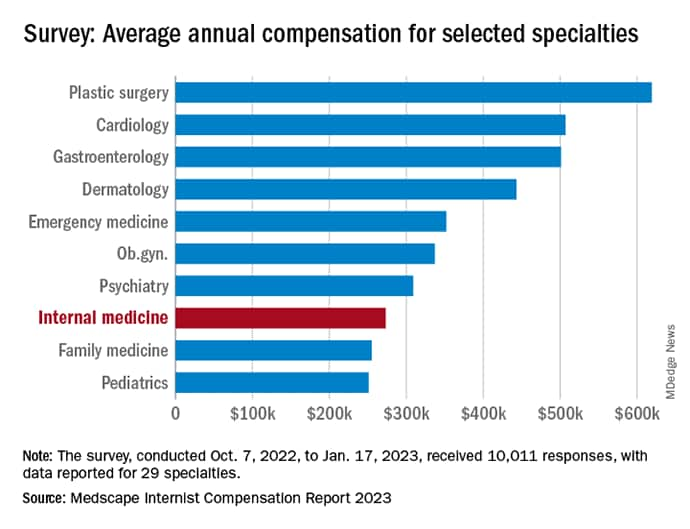 "Decreasing Medicare reimbursement and poor payor mix destroy our income," one physician wrote, and another said that "patients have become rude and come with poor information from social media." One respondent described the situation this way: "Overwhelming burnout. I had to reduce my hours to keep myself from quitting medicine completely."
For internists at least, some of the survey results were positive. For the 13% of the 10,011 respondents who practice internal medicine, average compensation went from $264,000 in 2021 to $273,000 in 2022, an increase of almost 4% that matched the average for all physicians. Among the other primary care specialists, pediatricians did almost as well with a 3% increase, but ob.gyns. and family physicians only managed to keep their 2022 earnings at 2021 levels.
Overall physician compensation for 2022 was $352,000, an increase of almost 18% since 2018. "Supply and demand is the biggest driver," Mike Belkin, JD, of physician recruitment firm Merritt Hawkins, said in an interview. "Organizations understand it's not getting any easier to get good candidates, and so for the most part, physicians are getting good offers."
The latest increase in earnings among internists also included a decline: The disparity between mens' and womens' compensation dropped from 24% in 2021 to 16% in 2022. The gap was slightly larger for all physicians in 2022, with men earning about 19% more than women, and larger again among specialists at 27%, but both of those figures are lower than in recent years, Medscape said.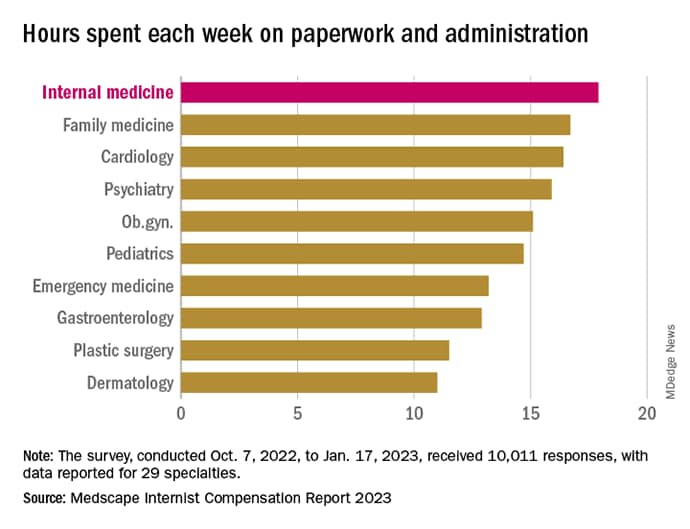 Satisfaction with their compensation, however, was not high for internists: Only 43% feel that they are fairly paid, coming in above only ophthalmology (42%) and infectious diseases (35%) and well below psychiatry (68%) at the top of the list, the Medscape data show. In the 2022 report, 49% of internists said that they had been fairly paid.
In another source of potential dissatisfaction, internist respondents reported spending an average of 17.9 hours each week on paperwork and administration, just below the survey leaders, physical medicine and rehabilitation (18.5 hours) and nephrology (18.1 hours) and well above anesthesiology, which was the lowest of the 29 specialties at 9.0 hours, and the 2022 average of 15.5 hours for all physicians, Medscape said. A small bright spot comes in the form of a decline from the internists' time of 18.7 hours per week in 2021.
When asked if they would choose medicine again, 72% of internist respondents and 73% of all physicians said yes, with emergency medicine (65%) and dermatology (86%) representing the two extremes. A question about specialty choice showed internists to be the least likely of the 29 included specialties to follow the same path, with 61% (down from 63% in 2022) approving their initial selection, versus 97% for plastic surgeons, Medscape reported.
Commenters among the survey respondents were not identified by specialty, but dissatisfaction on many fronts was a definite theme:
"Our costs go up, and our reimbursement does not."

"Our practice was acquired by venture capital firms; they slashed costs."

"My productivity bonus should have come to $45,000. Instead I was paid only $15,000. Yet cardiologists and administrators who were working from home part of the year received their full bonus."

"I will no longer practice cookbook mediocrity."
This story originally appeared on MDedge.com, part of the Medscape Professional Network.
Credits:
Lead image: Fizkes/Dreamstime
Image 1: MDedge News
Image 2: MDedge News
Medscape Medical News © 2023

Cite this: Internists in 2022: Increased Earnings Can't Stop Rising Dissatisfaction - Medscape - May 30, 2023.