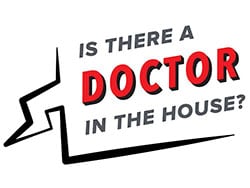 Emergencies happen anywhere, anytime, and sometimes medical professionals find themselves in situations where they are the only ones who can help. Is There a Doctor in the House? is a Medscape series telling these stories.

It was a quiet day. I got up around 3 o'clock in the afternoon for my ER shift at 6 PM. I was shaking off the cobwebs and making coffee at our front window that overlooked Brown Street in North Philadelphia. I looked out the window and saw a man stumbling down the street, grabbing his abdomen and yelling for help. There was nobody else around so I went outside to see what was going on.
He was in his fifties or sixties, bleeding and obviously in distress. I had him sit down. Then I ran back inside and grabbed a dish towel and some exam gloves that I had in the house.
I ran back out and assessed him. A bullet had gone through one of his hands, but he had other wounds. I had to expose him, so I trauma stripped him on the sidewalk. I got his pants and his shirt off and saw a gunshot going through his lower pelvis. He was bleeding out from there.
I got the towel and started applying deep pressure down into the iliac vein in case they hit something, which I found out later, they had. I held it there. The man was just lying there begging not to die.
I'm someone who is very calm, maybe abnormally calm, as people tell me. I try to use that during my resuscitations and traumas. Just keeping everybody calm makes the situation easier. Afterwards, people asked me, "Weren't you worried that you were going to get shot?" That does happen in North Philadelphia. But it didn't even cross my mind.
I didn't have to think at all about what I was doing. We saw so many gunshots, especially at Einstein Medical Center. We saw them daily. I'd sometimes get more than half a dozen gunshots in one shift.
So, I was holding pressure and some people started to come over. I got somebody to call 911 and asked the man about his medical history. I found out he had diabetes. Five or 10 minutes later, EMS showed up. They looked pretty stunned when I was able to give the handoff presentation to them. I told them what happened and his backstory. I wanted to make sure they would check his sugar and take extra precautions.
They got him on the stretcher, and he eventually made it to the hospital where he had surgery. They had to have a vascular surgeon work on him. I called later, and they told me, "Yeah, he's alive." But that's about the extent of the update I got.
After the ambulance left, it was kind of chaos. All the neighbors poured out of their houses. People were panicked, talking and getting excited about it. I didn't know, but everyone else had actually been home the whole time. They didn't come out until then.
I went back inside and tried to get ready for work. I wasn't planning on talking to the media, but my next door neighbor just walked the news camera crew over to my house and knocked on my door. I wasn't exactly dressed to be on TV, but they talked to me on camera, and it was on the news later that night.
I went to work and didn't say anything about it. To be honest, I was trying to avoid telling anyone. Our team had a close-knit bond, and we would often tease each other when we received any type of recognition.
Naturally one of my attendings saw it on the local news and told everybody. So, I got a lot of happy harassment for quite some time. Someone baked me a cake that said, "Hero of Fairmount" (the Philly neighborhood in which I live). Someone else printed out a photo of me that said, "Stop the Bleed Hero of Fairmount," and put it on every single computer screen.
The man came to see me about 2 weeks later (a neighbor told him where I lived). The man was very tearful and gave me a big hug. We just embraced for a while, and he said how thankful he was. He brought me a bottle of wine, which I thought was really nice.
He told me what happened to him: There was a lot of construction on our street and he was the contractor overseeing a couple of home remodels and demolitions. Sometimes he paid workers in cash and carried it with him. Somebody had tipped off somebody else that he was going to be there that day. The contractor walked into one of the houses and a guy in a ski mask waited there with a gun. The guy shot him and took the cash. The bullet went through his hand into his pelvis.
I had never had to deal with something that intense before outside of work. Most of it really comes down to the basics — the ABCs and bleeding control. You do whatever you can with what you have. In this case, it was just a dish towel, gloves, and my hands to put as much pressure as possible.
It really was strange that I happened to be looking out the window at that moment. I don't know if it was just a coincidence. The man told me he believed God had put somebody there at the right place at the right time to save his life. I just felt very fortunate to have been able to help him. I never saw him again.
I think something like this gives you a little confidence that you can actually do something and make a meaningful impact anywhere when it's needed. It lets you know that you're capable of doing it. You always think about it, but you don't know until it happens.
Benjamin Gammon, MD, now lives in Yuma, Arizona and is an emergency medicine physician at Envision Healthcare.
Are you a medical professional with a dramatic story outside the clinic? Medscape would love to consider your story for Is There a Doctor in the House? Please email your contact information and a short summary to access@webmd.net .
Read more in the series:
Doctor Saves Choking Girl at a Baseball Game, Field of Dreams-Style
A Baby Stops Breathing at a Grocery Store — an ICU Nurse Steps In
A Surfing PA Leads an Intense Beach Rescue
Emergency Birth on a Plane: Two Doctors Earn Their Wings
A Freak Impalement by a Model Rocket has This Doctor Scrambling
For more news, follow Medscape on Facebook, Twitter, Instagram, YouTube, and LinkedIn
Credits:
Lead image: Medscape
Image1: Erin Baas Pace
Medscape Medical News © 2023 WebMD, LLC

Send news tips to news@medscape.net.
Cite this: Doctor Spots a Gunshot Victim Staggering Down His Street - Medscape - May 10, 2023.