Despite a push toward work-life balance in the medical field, physicians continue to dedicate more time to work and less time to themselves, their loved ones, and their outside interests. On average, physicians reported in the Medscape Physician Compensation Report 2023 that they worked 50 hours per week. Five specialties, including critical care, cardiology, and general surgery reported working 55 or more hours weekly.
But there's a small segment of physicians that has bucked the norm. They've scaled back their hours to part-time, clocking in only 25-30 hours a week.
In 2011, The New England Journal of Medicine reported that part-time physician careers were rising. At the time, part-time doctors made up 21% of the physician workforce, up from 13% in 2005.
In a more recent survey from the California Health Care Foundation, only 12% of California physicians said they devoted 20-29 hours a week to patient care.
Amy Knoup, a senior recruitment advisor with Provider Solutions & Development (PS&D), has been helping doctors find jobs for over a decade, and she's noticed a trend.
"Not only are more physicians seeking part-time roles than they were 10 years ago, but more large healthcare systems are also offering part-time or per diem as well," says Knoup.
Who's Working Part-time, and Why?
Ten years ago, the fastest growing segment of part-timers were men nearing retirement and early-to-mid-career women.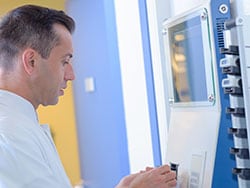 Pediatricians led the part-time pack in 2002, according to an American Academy of Pediatrics study. At the time, 15% of pediatricians reported their hours as part-time. However, the numbers may have increased over the years. For example, a 2021 study by the Department of Pediatrics, Boston Medical Center, and the School of Medicine, Boston University, found that almost 30% of graduating pediatricians sought part-time work at the end of their training.
At PS&D, Knoup says she has noticed a trend toward part-timers among primary care, behavioral health, and outpatient specialties such as endocrinology. "We're also seeing it with the inpatient side in roles that are more shift-based like hospitalists, radiologists, and critical care and ER doctors," she said.
Another trend Knoup has noticed is with early-career doctors. "They have a different mindset," she said. "Younger generations are acutely aware of burnout. They may have experienced it in residency or during the pandemic. They've had a taste of that and don't want to go down that road again, so they're seeking part-time roles. It's an intentional choice."
Tracey O'Connell, MD, a radiologist, always knew that she wanted to work part-time. "I had a baby as a resident, and I was pregnant with my second child as a fellow," she said. "I was already feeling overwhelmed with medical training and having a family."
O'Connell worked in private practice for 16 years on Mondays, Wednesdays, and Fridays, with no nights or weekends.
"I still found it completely overwhelming," she said. "Even though I had more days not working than working, I felt like the demands of medical life had advanced faster than human beings could adapt, and I still feel that way."
Today she runs a part-time teleradiology practice from home but spends more time on her second career as a life coach. "Most of my clients are physicians looking for more fulfillment and sustainable ways of practicing medicine while maintaining their own identity as human beings, not just the all-consuming identity of 'doctor,'" she said.
On the other end of the career spectrum is Lois Goodman, MD, an ob/gyn in her late 70s. After 42 years in a group practice, she started her solo practice at 72, seeing patients three days per week. "I'm just happy to be working. That's a tremendous payoff for me. I need to keep working for my mental health."
How Does Part-Time Work Affect Physician Shortages and Care Delivery?
Reducing clinical effort is one of the strategies physicians use to scale down overload. Still, it's not viable as a long-term solution, says Christine Sinsky, MD, AMA's vice president of professional satisfaction and a nationally regarded researcher on physician burnout.
"If all the physicians in a community went from working 100% FTE clinical to 50% FTE clinical, then the people in that community would have half the access to care that they had," said Sinsky. "There's less capacity in the system to care for patients."
Some could argue, then, that part-time physician work may contribute to physician shortage predictions. An Association of American Medical Colleges report estimates there will be a shortage of 37,800 to 124,000 physicians by 2034.
But physicians working part-time express a contrasting point of view. "I don't believe that part-time workers are responsible for the healthcare shortage but rather, a great solution," says O'Connell. "Because in order to continue working for a long time rather than quitting when the demands exceed human capacity, working part-time is a great compromise to offer a life of more sustainable well-being and longevity as a physician, and still live a wholehearted life."
Rachel Miller, MD, an ob/gyn, agrees. "Instead of quitting and coming up with something else to do, it [working part time] increases my longevity to practice medicine."
Pros and Cons of Being a Part-Time Physician
Pros
Less Burnout: The American Medical Association has tracked burnout rates for 22 years. By the end of 2021, nearly 63% of physicians reported burnout symptoms compared with 38% the year before. Going part-time appears to reduce burnout, suggests a study published in Mayo Clinic Proceedings.
Better Work-Life Balance: Rachel Miller, MD, an ob/gyn, worked 60-70 hours weekly for 9 years. In 2022, she went to work as an OB hospitalist for a healthcare system that welcomes part-time clinicians. Since then, she has achieved a better work-life balance, putting in 26-28 hours a week. Miller now spends more time with her kids and in her additional role as an executive coach to leaders in the medical field.
More Focus: "When I'm at work, I'm 100% mentally in and focused," said Miller. "My interactions with patients are different because I'm not burned out. My demeanor and my willingness to connect are stronger."
Better Health: Mehmet Cilingiroglu, MD, with CardioSolution, traded full-time work for part-time when health issues and a kidney transplant sidelined his 30-year career in 2018. "Despite my significant health issues, I've been able to continue working at a pace that suits me rather than having to retire," he said. "Part-time physicians can still enjoy patient care, research, innovation, education, and training while balancing that with other areas of life."
Errin Weisman, a DO who gave up full-time work in 2016, said cutting back makes her feel healthier, happier, and more energized. "Part-time work helps me to bring my A-game each day I work and deliver the best care," she said. She's also a life coach encouraging other physicians to find balance in their professional and personal lives.
Cons
Cut in Pay: Obviously, the number one con is you'll make less working part-time, so adjusting to a salary decrease can be a huge issue, especially if you don't have other sources of income. Physicians paying off student loans, those caring for children or elderly parents, or those in their prime earning years needing to save for retirement may not be able to go part-time.
Diminished Career: The chance for promotions or being well known in your field can be diminished, as well as a loss of proficiency if you're only performing surgery or procedures part-time. In some specialties, working part-time and not keeping up with (or being able to practice) newer technology developments can harm your career or reputation in the long run.
Missing Out: While working part-time has many benefits, physicians also experience a wide range of drawbacks. Goodman, for example, says she misses delivering babies and doing surgeries. Miller said she gave up some aspects of her specialty, like performing hysterectomies, participating in complex cases, and no longer having an office like she did as a full-time ob/gyn.
Loss of Fellowship: O'Connell says she missed the camaraderie and sense of belonging when she scaled back her hours. "I felt like a fish out of water, that my values didn't align with the group's values," she said. This led to self-doubt, frustrated colleagues, and a reduction in benefits.
Lost Esteem: O'Connell also felt she was expected to work overtime without additional pay and was no longer eligible for bonuses. "I was treated as a team player when I was needed, but not when it came to perks and benefits and insider privilege," she said. There may be a loss of esteem among colleagues and supervisors.
Overcoming Stigma: Because part-time physician work is still not prevalent among colleagues, some may resist the idea, have less respect for it, perceive it as not being serious about your career as a physician, or associate it with being lazy or entitled.
Summing it Up
Every physician must weigh the value and drawbacks of part-time work, but the more physicians who go this route, the more part-time medicine gains traction and the more physicians can learn about its values vs its drawbacks.
Credits:
Images: Auremar/Dreamstime
Medscape Medical News © 2023 WebMD, LLC

Send news tips to news@medscape.net.
Cite this: Part-Time Physician: Is It a Viable Career Choice? - Medscape - May 09, 2023.