CHICAGO — Infliximab (multiple brands) was associated with fewer discontinuations for lack of efficacy than vedolizumab (Entyvio) during the maintenance phase of ulcerative colitis treatment, an updated meta-analysis of randomized clinical trials reveals.
At 1 year, 2% of people taking the anti-tumor necrosis factor (TNF) agent infliximab discontinued for lack of efficacy, compared with 24% of patients taking vedolizumab, an integrin receptor antagonist.
The safety profile of each agent is also important.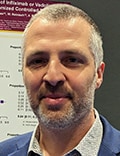 "We know that vedolizumab has less safety risks than an anti-TNF agent, but we also have the gut feeling that the anti-TNF agents are more efficacious," lead author Marc Ferrante, MD, told Medscape Medical News.
"Of course, I don't think we can really say that vedolizumab is the safest and infliximab is not safe, but there is some difference," added Ferrante, a professor in the department of gastroenterology and hepatology, University Hospitals Leuven in Leuven, Belgium.
The study was presented as a poster on May 6 at Digestive Disease Week (DDW) 2023.
Researchers conducted a pooled analysis of six randomized controlled trials from the past 10 years. They analyzed the NOR-SWITCH IV Q8W, the NCT02883452 SC Q2W, and LIBERTY-UC SC Q2W studies for infliximab, and the VISIBLE 1 SC Q2W, GEMINI 1 IV Q4W, and VARSITY IV Q8W trials for vedolizumab.
Their work expands on a meta-analysis by Ferrante and colleagues presented at DDW 2022. They added the 1-year results from the Phase 3 LIBERTY-UC study to increase the number of participants taking infliximab or an infliximab biosimilar.
"Luckily, the results are very similar," Ferrante said, and noted that they support previous findings that discontinuation of infliximab was lower than that of vedolizumab.
Most of the patients in the infliximab group were taking an infliximab biosimilar, whereas the vedolizumab group received the originator. Ferrante noted that the economic considerations involved in deciding between a biosimilar and an originator were not part of the research but that "there will be a difference in costs."
Same Mechanism, Different Route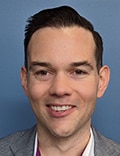 The novel finding from the study includes the subcutaneous form of infliximab, which is not yet available in the United States, noted Joshua M. Steinberg, MD, director of inflammatory bowel disease at Gastroenterology of the Rockies in Denver, Colorado, when asked to comment on the study. Currently, infliximab and vedolizumab administered by IV are available in the United States.
A better comparator in the future would be looking at subcutaneous forms of both agents, especially "with the impending launch of subcutaneous vedolizumab in the United States," said Steinberg, who is also a clinical instructor of medicine at the University of Colorado School of Medicine.
He added that it's reassuring overall that with a newer mode of administration but same mechanism of action, it is still feasible and durable for at least 1 year.
"The general consensus is that in terms of our biologics, vedolizumab is the safest because of its targeted mechanism of action. But sometimes the 'safest choice' isn't the best choice," Steinberg said. "I think in the right patient, the most effective treatment is going to be the one that works the best, and that's not going to be universal."
The study was sponsored by Celltrion, which makes an infliximab biosimilar. Ferrante receives honoraria as a consultant and speaker for Celltrion. Steinberg reports no relevant financial relationships.
Digestive Disease Week (DDW) 2023. Abstract Sa1144. Presented May 6, 2023.
Damian McNamara is a staff journalist based in Miami. He covers a wide range of medical specialties, including infectious diseases, gastroenterology and critical care. Follow Damian on Twitter: @MedReporter.
For more news, follow Medscape on Facebook, Twitter, Instagram, YouTube, and LinkedIn
Credits:
Lead image: iStock/Getty Images
Image 1: Damian McNamara, MA/Medscape Medical News
Image 2: Damian McNamara, MA/Medscape Medical News
Medscape Medical News © 2023 WebMD, LLC

Send news tips to news@medscape.net.
Cite this: Fewer Discontinuations With Infliximab vs Vedolizumab for UC Maintenance Therapy - Medscape - May 08, 2023.