MANCHESTER, England — The use of NSAIDs may mask the true level of inflammation of the sacroiliac joint (SIJ), as seen on MRI, among people with axial spondyloarthritis (axSpA), according to results of the DyNAMISM study.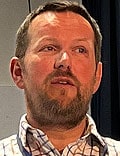 "We've found that in about 1 in 4 patients, NSAIDs make a difference to the scan results," Gareth T. Jones, PhD, said at the British Society for Rheumatology (BSR) 2023 Annual Meeting.
A total of 23% of patients whose MRI results were positive for sacroiliitis when no NSAIDs had been used for a couple of weeks received negative MRI results 6 weeks after the NSAIDs were reinstated.
"This is important in terms of diagnosis, in terms of disease classification, and may be important in terms of future treatment decisions," added Jones, who is professor in epidemiology at the Aberdeen Centre for Arthritis and Musculoskeletal Health at the University of Aberdeen, Aberdeen, Scotland.
"Our recommendation from these results is that if a patient is willing to attempt to wash out [NSAIDs] prior to an MRI, we would recommend that they do so," Jones said.
NSAIDs and AxSpA Inflammation
"NSAIDs are often used as the first-line treatment for axial spondyloarthritis due to their ability to effectively reduce pain and stiffness associated with the condition," Denis Poddubnyy, MD, who was not involved in the research, told Medscape Medical News.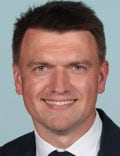 "However, there is still a question as to whether NSAIDs have a true anti-inflammatory effect on the axial inflammation, as detected by MRI," added Poddubnyy, who is head of rheumatology at Charité–Universitätsmedizin Berlin in Germany.
With an absence of randomized, controlled trials, it remains "uncertain how much of the observed reduction in inflammation is attributable to the natural course of the disease and spontaneous resolution of inflammation rather than the effect of NSAIDs," Poddubnyy said.
The DyNAMISM Study
"Sacroiliitis is a painful inflammatory condition. This is investigated looking for the evidence of inflammation on MRI, but many patients are taking anti-inflammatory medication," Jones said at the meeting.
"So perhaps patients are taking drugs [that are] hiding the very thing that we're looking for," he added. Hence, the DyNAMISM study (Do Non-steroidal Anti-inflammatory Drugs Mask Inflammation in Spondyloarthritis on MRI) was conceived.
The researchers recruited 311 adults with suspected or established axSpA who were taking daily NSAIDs such as ibuprofen or diclofenac across 34 centers in England and Scotland. Patients taking other anti-inflammatory medications that could not be stopped were excluded, as were patients who were currently taking or had recently taken tumor necrosis factor inhibitors.
The study used a standardized MRI protocol. Two independent readers experienced in scoring SIJ scans were employed; a third was used when the two disagreed. The primary outcome was meeting the Assessment of Spondyloarthritis international Society criteria for a positive result on MRI.
The average age of the study subjects was 42 years, 62% were men, and 87% were White. The median duration of symptoms was 9 years, and the median time since diagnosis was 1 year.
The study design required that patients stop NSAID use over a period of 1–2 weeks before undergoing an MRI scan, which 286 did. Of these, 146 received MRI results that were positive for SIJ inflammation; those patients continued in the study. The 140 patients with negative scans were excluded. Patients could then resume taking NSAIDs before being scanned again around 6 weeks later. In all, 129 patients underwent both MRI scans.
How Much Might Fluctuating Inflammation Matter?
'It's a shame you didn't scan the negative people, because the natural history is a fluctuating inflammation," Fraser Birrell, MBChB, PhD, of Newcastle University, Newcastle upon Tyne, England, pointed out in discussion.
"Nonsteroidals are modestly effective and probably made no difference," he argued. "I would have expected a certain proportion of the negatives are positive."
The study had a pragmatic design, Jones countered. "We had enormous debate before the study; it would have been nice to do a sort of a randomized, crossover design, but it would have resulted in a lot of inefficiency."
Regarding the duration of the NSAID washout period, Jones noted that they saw little difference between shorter or longer washout periods and that the data showed that "a 2-week washout is a reasonable target."
Performing the second scan 6 weeks after NSAIDs were reinstated "exceeds the period where clinical benefits should be expected. It may be that if we'd waited longer, the proportion would have gone up. So, we would argue that actually, if anything, that 23% may be an underestimate of the real effect."
Although some patients may have declined to participate in the study because they did not want to stop taking NSAIDs, Jones noted that a good proportion did stop taking them, and so the study shows that patients can tolerate washout. Around 45% of patients reported experiencing disease flares during this time, but this did not have any significant effect on validated disease activity or pain measures, Jones reported.
So, if patients are willing to stop NSAIDs before a scan, "they should be counseled that they may experience a small increase in disease activity and spinal pain, but also to be counseled that the majority of patients can tolerate this," Jones suggested.
Trials are needed, Poddubnyy said: "Future randomized, controlled studies are needed to conclusively determine the efficacy of NSAIDs in reducing inflammation in the axial skeleton of axSpA patients."
Poddubnyy added: "It would also be valuable to assess in a randomized setting whether the use of NSAIDs impacts the diagnostic performance of MRI, which takes into account not only inflammatory but also structural changes, which are not influenced by NSAIDs."
The DyNAMISM study was funded by Arthritis Research UK and was run by the University of Aberdeen in conjunction with NHS-Grampian, Scotland. Jones has disclosed no relevant financial relationships. Poddubnyy has received research support, consulting, and speaker fees from AbbVie, Eli Lilly, Merck Sharp & Dohme, Novartis, and Pfizer. He has also received consulting fees from Biocad, Galapagos, Gilead, GlaxoSmithKline, Janssen, Moonlake, Novartis, Samsung Bioepis, and UCB and speaker fees from Bristol-Myers Squibb, Janssen, Medscape, Peervoice, and UCB.
British Society for Rheumatology (BSR) 2023 Annual Meeting: Abstract OA14. Presented April 26, 2023.
Sara Freeman is a medical journalist based in London, United Kingdom.
For more news, follow Medscape on Facebook, Twitter, Instagram, and YouTube.
Credits:
Lead image: The National Institutes of Health
Image 1: Sara Freeman
Image 2: Dr Denis Poddubnyy
Medscape Medical News © 2023

Cite this: NSAID Use May Mask MRI Findings in a Quarter of Spondyloarthritis Cases - Medscape - Apr 28, 2023.