UPDATED May 10, 2023 // Editor's note: After publication, we were informed that Dr Dmochowski has a financial relationship with BlueWind Medical, for whom he is the consulting chief medical officer. This article has been updated to reflect the new information.
Wireless tibial neurostimulation devices that are implanted to treat urinary incontinence appear to be effective at reducing the urge to void, according to new findings presented today at the 2023 annual meeting of the American Urological Association (AUA).
As many as half of women in the United States aged 60 and older will experience urinary incontinence. Of those, roughly 1 in 4 experience urge urinary incontinence, marked by a sudden need to void that cannot be fully suppressed.
Researchers studied the benefits of the RENOVA iStim (BlueWind Medical) implantable tibial neuromodulation system for the treatment of overactive bladder in the OASIS trial.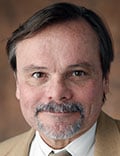 Study investigator Roger Dmochowski, MD, MMHC, professor of urology and surgery and associate surgeon-in-chief at Vanderbilt University Medical Center in Nashville, Tennessee, and consulting chief medical officer at BlueWind Medical, said the first-line treatment of urinary incontinence is lifestyle changes to retrain the bladder or physical therapy, including pelvic floor and Kegel exercises, per AUA guidelines. He said the success rate is about 30% and is not sustained. Second-line treatments include medications, which most (60%) patients stop taking by 6 months.
More than three quarters of the 151 women who received the device responded to therapy at 1 year, and 84.6% of the patients showed improvement, according to Dmochowski.
The participants (mean age, 58.8) demonstrated a mean baseline of 4.8 urge incidents per day (standard deviation [SD] 2.9) and 10 voids/day (SD 3.3). No device or procedure-related serious adverse events were reported at 12 months. Half of the women no longer had symptoms on three consecutive days, Dmochowski said.
Because urge urinary incontinence is a chronic condition, "treatment with the BlueWind System will be ongoing, with frequency determined based on the patient's response," Dmochowski said. "The patient is then empowered to control when and where they perform therapy."
"The device is activated by the external wearable. It's like an on-off switch. It has a receiver within it that basically has the capacity to be turned on and off by the wearable, which is the control device. The device is in an off-position until the wearable is applied," he said.
He said the device should be worn twice a day for about 30 minutes, with many patients using it less.
Only one implanted tibial neuromodulation device has been approved by the US Food and Drug Administration — eCOIN (Valencia Technologies). The RENOVA iStim is an investigational device under review by the FDA, Dmochowski said.
In installing the device, Dmochowski said urologists use a subfascial technique to enable direct visualization of the tibial nerve and suture fixation that increases the possibility of a predictable placement. Patients use an external wearable, which activates the implant, without concern for battery longevity or replacement.
"This therapy is not associated with any adverse effects and may be beneficial for patients who do not respond to other treatments for OAB such as medications or Botox," said Carol Bretschneider, MD, a urogynecologic and pelvic surgeon at Northwestern Medicine Central DuPage Hospital, outside Chicago. "Neurostimulators can be a great advanced therapy option for patients who do not respond to more conservative treatments or cannot take or tolerate a medication."
The devices do not stimulate or strengthen muscles but act by modulating the reflexes that influence the bladder, sphincter, and pelvic floor, added Bretschneider, who was not involved in the study.
Other treatments for urge incontinence can include acupuncture, or percutaneous tibial nerve stimulation, to target the posterior tibial nerve in the ankle, which shares the same nerve root that controls the bladder, according to Aron Liaw, MD, a reconstructive urologist and an assistant professor of urology at Wayne State University in Detroit, Michigan. This treatment has been shown to be at least as effective as available medications, but with fewer side effects, he said.
But regular stimulation is necessary to achieve and preserve efficacy, he said.
Liaw, who was not involved in the neuromodulation study, said the benefits of a device like Renova iStim are that implantation is relatively easy and can be performed in office settings, and patients can then treat themselves at home. However, because the new study did not compare the device to other treatments or a placebo device, its relative benefits are unclear, he said,
Other treatments for urge urinary incontinence, such as bladder Botox and sacral neuromodulation, also are minimally invasive and have proven benefit, "so a device like this could well be less effective with little other advantage," he said.
"Lifestyle changes can make a big difference, but making big lifestyle changes is not always easy," added Liaw. "I have found neuromodulation [to be] very effective, especially in conjunction with lifestyle changes."
BlueWind Medical Ltd. funds the OASIS trial. Dmochowski is the consulting chief medical officer for BlueWind Medical Ltd. Bretschneider and Liaw report no relevant financial relationships.
American Urological Association 2023 Annual Meeting: Abstract LBA01-05. Presented April 30, 2023.
Howard Wolinsky is a Chicago-based medical freelancer and a patient diagnosed with low-risk prostate cancer who has been on active surveillance since 2010. He is the editor of the Substack newsletter, TheActiveSurveillor.com.
For more news, follow Medscape on Facebook, Twitter, Instagram, YouTube, and LinkedIn
Credits:
Lead Image: Media Ngiamsanguan/Dreamstime
Image 1: Vanderbilt University Medical Center
Medscape Medical News © 2023 WebMD, LLC

Send news tips to news@medscape.net.
Cite this: Wireless Neurostimulation Safe for Urge Incontinence - Medscape - Apr 30, 2023.