Physician compensation continued to rise in 2022 after suffering a dip in 2020, according to the Medscape Physician Compensation Report 2023: Your Income Versus Your Peers'. In addition, gender-based pay disparity among primary care physicians shrank, and the number of physicians who declined to take new Medicare patients rose.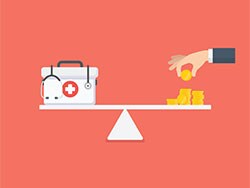 The annual report is based on a survey of more than 10,000 physicians in over 29 specialties who answered questions about their income, workload, challenges, and level of satisfaction.
Average compensation across specialties rose to $352,000 — up nearly 17% from the 2018 average of $299,000. Fallout from the COVID-19 public health emergency continued to affect both physician compensation and job satisfaction, including Medicare reimbursements and staffing shortages due to burnout or retirement.
"Many physicians reevaluated what drove them to be a physician," says Marc Adam, a recruiter at MASC Medical, a Florida physician recruiting firm.
Adam cites telehealth as an example. "An overwhelming majority of physicians prefer telehealth because of the convenience, but some really did not want to do it long term. They miss the patient interaction."
The report also revealed that the gender-based pay gap in primary physicians fell, with men earning 19% — down from 25% more in recent years. Among specialists, the gender gap was 27% on average, down from 31% last year. One reason may be an increase in compensation transparency, which Adam says should be the norm.
Income increases will likely continue, owing in large part to the growing disparity between physician supply and demand.
The projected physician shortage is expected to grow to 124,000 by 2034, according to the American Association of Medical Colleges. Federal lawmakers are considering passing the Resident Physician Shortage Reduction Act of 2023, which would add 14,000 Medicare-funded residency positions to help alleviate shortages.
Patient Needs, Medicare Rules Continue to Shift
Specialties with the biggest increases in compensation include oncology, anesthesiology, gastroenterology, radiology, critical care, and urology. Many procedure-related specialties saw more volume post pandemic.
Some respondents identified Medicare cuts and low reimbursement rates as a factor in tamping down compensation hikes. The number of physicians who expect to continue to take new Medicare patients is 65%, down from 71% 5 years ago.
For example, Medicare reimbursements for telehealth are expected to scale down in May, when the COVID-19 Public Health Emergency, which expanded telehealth services for Medicare patients, winds down.
"Telehealth will still exist," says Adam, "but certain requirements will shape it going forward."
Medicare isn't viewed negatively across the board, however. Florida is among the top-earning states for physicians — along with Indiana, Connecticut, and Missouri. One reason is Florida's unique healthcare environment, explains Adam, whose Florida-based firm places physicians nationwide.
"Florida is very progressive in terms of healthcare. For one thing, we have large aging population and a large Medicare population." Several growing organizations that focus on quality-based care are based in Florida, including ChenMed and Cano Health. Add to that the fact that owners of Florida's healthcare organizations don't have to be physicians, he explains, and the stage is set for experimentation.
"Being able to segment tasks frees up physicians to be more focused on medicine and provide better care while other people focus on the business and innovation."
If Florida's high compensation ranking continues, it may help employers there fulfill a growing need. The state is among those expected to experience the largest physician shortages in 2030, along with California, Texas, Arizona, and Georgia.
Side Gigs Up, Satisfaction (Slightly) Down
In general, physicians aren't fazed by these challenges. Many reported taking side gigs, some for additional income. Even so, 73% say they would still choose medicine, and more than 90% of physicians in 10 specialties would choose their specialty again. Still, burnout and stressors have led some to stop practicing altogether.
More and more organizations are hiring "travel physicians," Adam says, and more physicians are choosing to take contract work ("locum tenens") and practice in many different regions. Contract physicians typically help meet patient demand or provide coverage during the hiring process as well as while staff are on vacation or maternity leave.
Says Adam, "There's no security, but there's higher income and more flexibility."
According to CHG Healthcare, locum tenens staffing is rising — approximately 7% of US physicians (around 50,000) filled assignments in 2022, up 88% from 2015. In 2022, 56% of locum tenens employers reported a reduction in staff burnout, up from 30% in 2020.
The Medscape report indicates that more than half of physicians are satisfied with their income, down slightly from 55% 5 years ago (prepandemic). Physicians in some of the lower-paying specialties are among those most satisfied with their income. It's not very surprising to Adam: "Higher earners generally suffer the most from burnout.
"They're overworked, they have the largest number of patients, and they're performing in high-stress situations doing challenging procedures on a daily basis — and they probably have worse work-life balance." These physicians know going in that they need to be paid more to deal with such burdens. "That's the feedback I get when I speak to high earners," says Adam.
"The experienced ones are very clear about their [compensation] expectations."
For more news, follow Medscape on Facebook, Twitter, Instagram, and YouTube.
Credits:
Images: iStock/Getty Images
Medscape Medical News © 2023

Cite this: Physician Compensation Continues to Climb Amid Postpandemic Change - Medscape - Apr 17, 2023.