NEW ORLEANS — The efficacy and safety of Janus kinase (JAK) inhibitors for hair regrowth in adults with alopecia areata were reinforced by new results from clinical trials of two drugs presented at a late-breaker research session at the annual meeting of the American Academy of Dermatology (AAD).
Based on phase 3 studies that document robust hair growth in about one third of patients, deuruxolitinib (CTP-543), an inhibitor of the JAK1 and JAK2 enzymes, has the potential to become the second JAK inhibitor available for the treatment of alopecia areata. If approved, it will join baricitinib (Olumiant), which received US approval almost 1 year ago.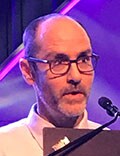 In his talk on THRIVE-AA2, a phase 3 trial of the investigational medicine deuruxolitinib, the principal investigator, Brett A. King, MD, PhD, displayed several before-and-after photos and said, "The photos tell the whole story. This is why there is so much excitement about these drugs."
THRIVE-AA2 was the second of two phase 3 studies of deuruxolitinib. King was a principal investigator for both pivotal trials, called THRIVE-AA1 and THRIVE AA-2. He characterized the results of the two THRIVE trials as "comparable."
King also was a principal investigator for the trials with baricitinib, called BRAVE-AA1 and BRAVE AA-2, which were published last May in the New England Journal of Medicine. The trials for both drugs had similar designs and endpoints.
Deuruxolitinib and the Thrive Studies
In the THRIVE-AA2 trial, 517 adult patients were enrolled with moderate to severe alopecia areata, defined as a SALT (Severity of Alopecia Tool) score of ≥ 50%, which signifies a hair loss of at least 50%. Like THRIVE-AA1, patients participated at treatment centers in North America and Europe. About two thirds were female. The mean age was 39 years. The majority of patients had complete or near complete hair loss at baseline.
"Many of these patients are the ones we have historically characterized as having alopecia totalis or universalis," King said.
Participating patients were randomly assigned to 8 mg deuruxolitinib twice daily (BID), 12 mg deuruxolitinib twice daily, or placebo. The primary endpoint was a SALT score of ≤ 20% at week 24.
At 24 weeks, almost no patients in the placebo group (1%) vs 33% and 38% in the 8 mg and 12 mg twice-daily groups, respectively, met the primary endpoint. Each active treatment group was highly significant vs placebo.
Of the responders, the majority achieved complete or near complete hair growth as defined by a SALT score of ≤ 10%, King reported.
Based on a graph that showed a relatively steep climb over the entire 24-week study period, deuruxolitinib "had a really fast onset of action," King said. By week 8, which was the time of the first assessment, both doses of deuruxolitinib were superior to placebo.
The majority of patients had complete or significant loss of eyebrows and eye lashes at baseline, but more than two thirds of these patients had regrowth by week 24, King said. Again, no significant regrowth was observed in the placebo arm.
On the Satisfaction of Hair Patient Reported Outcomes (SPRO), more than half of patients on both doses reported being satisfied or very satisfied with the improvement when evaluated at 24 weeks.
"The patient satisfaction overshot what one would expect by looking at the SALT scores, but a lot of subjects were at the precipice of the primary endpoint, sitting on SALT scores of 21, 25, or 30," King said.
High Participation in Extension Trial
More than 90% of the patients assigned to deuruxolitinib completed the trial and have entered an open-label extension (OLE). King credited the substantial rates of hair growth and the low rate of significant adverse events for the high rate of transition to OLE. Those who experienced the response were motivated to maintain it.
"This is a devastating disease. Patients want to get better," King said.
There were no serious treatment-emergent adverse events associated with deuruxolitinib, including no thromboembolic events or other off-target events that have been reported previously with other JAK inhibitors in other disease states, such as rheumatoid arthritis. Although some adverse events, such as nasopharyngitis, were observed more often in those taking deuruxolitinib than placebo, there were "very few" discontinuations because of an adverse event, he said.
The data of THRIVE-AA2 are wholly compatible with the previously reported 706-patient THRIVE-AA1, according to King. In THRIVE-AA1, the primary endpoint of SALT ≤ 20% was reached by 29.6%, 41.5%, and 0.8% of the 8 mg, 12 mg, and placebo groups, respectively. Patient satisfaction scores, safety, and tolerability were also similar, according to King.
The experience with deuruxolitinib in the THRIVE-AA phase 3 program is similar to the experience with baricitinib in the BRAVE-AA trials. Although they cannot be compared directly because of potential differences between study populations, the 4 mg dose of baricitinib also achieved SALT score ≤ 20 in about 35% of patients, he said. The proportion was lower in the 2 mg group but was also superior to the placebo group.
"JAK inhibitors are changing the paradigm of alopecia areata," King said. Responding to a question about payors reluctant to reimburse therapies for a "cosmetic" condition, King added that the effective treatments are "changing the landscape of how we think about this disease." King believes these kinds of data show that "we are literally transforming lives forever."
Baricitinib and the BRAVE Studies
When baricitinib received regulatory approval for alopecia areata last year, it was not just the first JAK inhibitor approved for this disease, but the first systemic therapy of any kind, according to Maryanne Senna, MD, an assistant professor of dermatology at Harvard Medical School and the director of the Lahey Hair Loss Center of Excellence, Burlington, Massachusetts. Senna was a clinical investigator of BRAVE-AA1, as well as of THRIVE-AA2.
Providing an update on the BRAVE-AA program, Senna reported 104-week data that appear to support the idea of a life-changing benefit from JAK inhibitor therapy. This is because the effects appear durable.
In the data she presented at the AAD, responders and mixed responders at 52 weeks were followed to 104 weeks. Mixed responders were defined as those without a SALT response of ≤ 20 at week 52 but who had achieved this degree of hair regrowth at some earlier point.
Of the responders, 90% maintained their response at 104 weeks. In addition, many of the mixed responders and patients with a partial response but who never achieved a SALT score ≤ 20% gained additional hair growth, including complete or near complete hair growth, when maintained on treatment over the 2 years of follow-up.
"The follow-up suggests that if you keep patients on treatment, you can get many of them to a meaningful response," she said.
Meanwhile, "there have been no new safety signals," Senna said. She based this statement not only of the 104-week data but on followup of up to 3.6 years among patients who have remained on treatment after participating in previous studies.
According to Senna, the off-target events that have been reported previously in other diseases with other JAK inhibitors, such as major adverse cardiovascular events and thromboembolic events, have not so far been observed in the BRAVE AA phase 3 program.
Baricitinib, much like all but one of the JAK inhibitors with dermatologic indications, carries a black box warning that lists multiple risks for drugs in this class, based on a rheumatoid arthritis study.
The FDA has granted deuruxolitinib Breakthrough Therapy designation for the treatment of adult patients with moderate to severe alopecia areata and Fast Track designation for the treatment of alopecia areata, according to its manufacturer Concert Pharmaceuticals.
King reports financial relationships with more than 15 pharmaceutical companies, including Concert Pharmaceuticals, which provided the funding for the THRIVE-AA trial program, and for Eli Lilly, which provided funding for the BRAVE-AA trial program. Senna reports financial relationships with Arena pharmaceuticals, Follica, and both Concert Pharmaceuticals and Eli Lilly.
American Academy of Dermatology (AAD) 2023 Annual Meeting: Late-breaker session S042. Presented March 18, 2023.
For more news, follow Medscape on Facebook, Twitter, Instagram, YouTube, and LinkedIn
Credit:
Lead image: iStock/Getty Images
Image 1: Ted Bosworth
Medscape Medical News © 2023 WebMD, LLC

Send news tips to news@medscape.net.
Cite this: New JAK Inhibitor Study Data Confirm Benefit in Alopecia Areata - Medscape - Mar 23, 2023.