Emergency nurse Stephanee Beggs, RN, BSN, has made more than $2 million in three years selling her hand-written guides to study for the National Council Licensure Examination (NCLEX).
Beggs, 28, sells one-page study sheets or bundles of sheets, sometimes with colorful drawings, conversation bubbles and underlining, that boil down concepts for particular conditions into easy-to-understand language.

The biggest seller on Beggs' online marketplace Etsy site, RNExplained, is a bundle of study guides covering eight core nursing classes. The notes range in price from $2 to $150. More than 70,000 customers have bought the $60 bundle, according to the website.
Beggs' business developed in a "very unintentional" way when COVID hit with just months left in her nursing program at Mount Saint Mary's University in Los Angeles, she told Medscape Medical News.
Classes had switched to Zoom, and she had no one to study with as she prepared to take her board exams.
"The best way I know how to study is to teach things out loud. But because I had nobody to teach out loud to, I would literally teach them to the wall," Beggs said. "I would record myself so I could play it back and teach myself these topics that were hard for me to understand."
Just for fun, she says, she posted them on TikTok and the responses started flowing in, with followers asking where she was selling the sheets. She now has more than 660,000 TikTok followers and 9 million likes.
Beggs said that every sheet highlights a condition, and she has made 308 of them.
Traditional classroom lessons typically teach one medical condition in 5 to 6 pages, Beggs said. "I go straight to the point."
One reviewer on Beggs' Etsy site appreciated the hand-written notes, calling them "simplified and concise." Another commented: "Definitely helped me pass my last exam."
Beggs says that her notes may seem simple, but each page represents comprehensive research.
"I have to go through not just one source of information to make sure my information is factual," Beggs says. "What you teach in California might be a little different than what you teach in Florida. It's very meticulous. The lab values will be a little different everywhere you go."
She acknowledges her competition, noting that there are many other study guides for the NCLEX and nursing courses.
Nursing Groups Weigh In
Medscape asked professional nursing organizations for their perspective on Beggs' enterprise.
Dawn Kappel, spokesperson for the National Council of State Boards of Nursing (NCSBN), which oversees NCLEX, told Medscape Medical News that "NCSBN has no issue with the current content of Stephanee Beggs' business venture."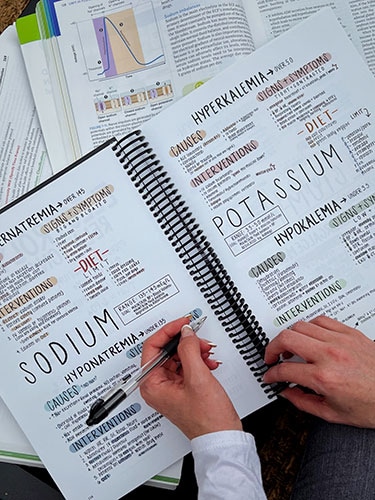 Nurse Stephanee Beggs sells one-page study sheets or bundles of sheets that boil down
concepts for particular conditions into easy-to-understand language. "I go straight to the point," she said.
For many students, the study guides will be helpful, especially for visual learners, said Carole Kenner, PhD, RN, dean and professor in the School of Nursing and Health Sciences at The College of New Jersey.
But for students "who are less confident in their knowledge, I would want to see a lot more in-depth explanation and rationale," Kenner said.
"Since the NCLEX is moving to more cased-based scenarios, the next-gen unfolding cases, you really have to understand a lot of the rationale."
The notes remind Kenner of traditional flash cards. "I don't think it will work for all students, but even the fanciest of onsite review courses are useful to everyone," she said.
"Not Cutting Corners"
As an emergency nurse, Beggs said, "I have the experience as a nurse to show people that what you are learning will be seen in real life."
"The way I teach my brand is not to take shortcuts. I love to teach to understand rather than teaching to memorize for an exam."
She said she sees her guides as a supplement to learning, not a replacement.
"It's not cutting corners," she says. "I condense a medical condition that could take a very long time to understand and break it into laymen's terms."
Beggs said when people hear about the $2 million, they often ask her whether she plans to give up her shifts in the emergency department for the more lucrative venture.
The answer is no, at least not yet.
"Aside from teaching, I genuinely love being at the bedside," Beggs said. "I don't foresee myself leaving that for good for as long as I can handle both." She acknowledged, though, that her business now takes up most of her time.
"I love everything about both aspects so it's hard for me to choose."
Marcia Frellick is a freelance journalist based in Chicago. She has previously written for the Chicago Tribune, Science News, and Nurse.com, and was an editor at the Chicago Sun-Times, the Cincinnati Enquirer, and the St. Cloud (Minnesota) Times. Follow her on Twitter at @mfrellick
For more news, follow Medscape on Facebook, Twitter, Instagram, YouTube, and LinkedIn
Credits:
Lead image: Zach Beggs
Image 1: Zach Beggs
Image 2: Yanina Vaysman
Medscape Medical News © 2023 WebMD, LLC

Send news tips to news@medscape.net.
Cite this: Nurse Makes Millions Selling Her Licensing Exam Study Sheets - Medscape - Mar 22, 2023.