Medical school graduates around the US took to social media after last week's Match Day to share their joy ― or explore their options if they did not match.
Take this post Sunday on Twitter: "I went unmatched this year; looking for research position at any institute for internal medicine."
Most of the fourth-year medical students Medscape Medical News has followed in the runup to Match Day found success, including an international medical graduate who matched into his chosen specialty after multiple disappointments.
"I've waited for this email for 8 years," Sahil Bawa, MD, posted on Twitter on Match Monday last week. A few days later, when he learned about his residency position, he posted: "I'm beyond grateful. Will be moving to Alabama soon #familymedicine."
Bawa, who matched into UAB Medicine Selma, graduated from medical school in India in 2014. He told Medscape Medical News that he has visited the US periodically since then to pass medical tests, obtain letters of recommendation, and participate in research.
Over the years he watched his Indian colleagues give up on becoming American doctors, find alternative careers, or resolve to practice in their native country. But he held onto the few success stories he saw on social media. "There were always one to two every year. It kept me going. If they can do it, I can do it."
International medical graduates (IMGs) like Bawa applied in record numbers to Match2023, according to the National Resident Matching Program (NRMP), which announced the results last week of its main residency match and the Supplemental Offer and Acceptance Program (SOAP) for unfilled positions or unmatched applicants.
Overall, 48,156 total applicants registered for the match, which was driven by the increase of non-US IMG applicants and US osteopathic (DO) seniors over the past year, NRMP stated in its release. US MD seniors had a match rate of nearly 94%, and US DO seniors, nearly 92%. US IMGs had a match rate of nearly 68%, an "all-time high," and non-US IMGs, nearly 60%, NRMP stated.
Three specialties that filled all of their 30 or more available positions were orthopedic surgery, plastic surgery (integrated), radiology – diagnostic, and thoracic surgery. Specialties with 30 or more positions that filled with the highest percentage of US MD and DO seniors were plastic surgery (integrated), about 92%; internal medicine-pediatrics, 90.5%; obstetrics-gynecology; and orthopedic surgery, 90%.
The number of available primary care positions increased slightly, NRMP reported. Considering "a serious and growing shortage of primary care physicians across the US," there were 571 more primary care positions than 2022. That's an increase of about 3% over last year and 17% over the past 5 years. Primary care positions filled at a rate of 94%, which remained steady from last year.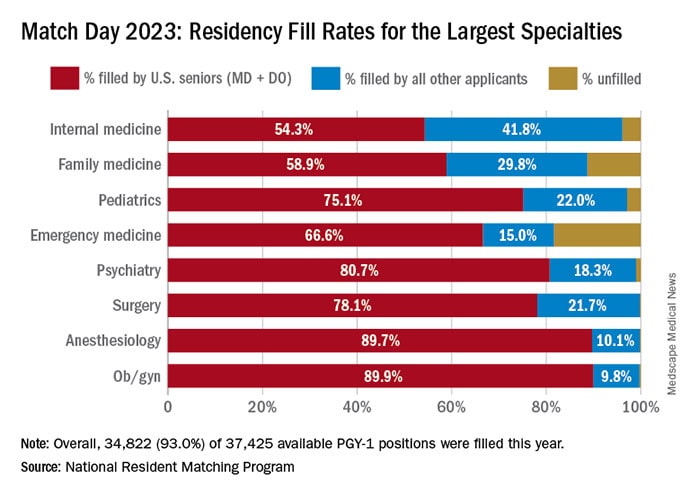 NRMP also pointed out specialties with increases in the number of positions filled by US MD seniors of more than 10% and 10 positions in the past 5 years: anesthesiology, child neurology, interventional radiology, neurology, pathology, physical medicine and rehabilitation, plastic surgery (integrated), psychiatry, radiology-diagnostic, transitional year, and vascular surgery.
Bryan Carmody, MD, MPH, a pediatric nephrologist known for his medical school commentaries, told Medscape that the most competitive specialties he noted this year were radiology, pathology, and neurology.
"The surgical specialties are always competitive, so it wasn't a surprise that orthopedics, plastic surgery, and thoracic surgery filled all of their positions. But I was surprised to see diagnostic radiology fill every single one of their positions in the match. And although pathology and neurology aren't typically considered extremely competitive specialties, they filled over 99% of their positions in the Match this year."
On Carmody's blog about the winners and losers of Match Day, he said that despite the record number of primary care positions offered, family medicine programs suffered. "Only 89% of family medicine programs filled in the Match, and graduating US MD and DO students only filled a little more than half of all the available positions," he wrote.
For a record number of applicants that match each year, and "the most favorable ratio in the past two decades" of applicants-to-positions this year, there are still a lot unmatched, Carmody said. "It's a tough thing to talk about. The reality is the number of residency positions should be determined by the number of physicians needed."
One student followed by Medscape, Asim Ansari, didn't match into a traditional residency or through SOAP. It was his fifth attempt. He was serving a transitional-year residency at Merit Health Wesley in Hattiesburg, Mississippi, and when he didn't match last week, he accepted a child and adolescent psychiatry fellowship at KU Medical Center in Kansas City.
He said he was "relieved and excited" to have found a program in his chosen specialty. Still, in 2 years, Ansari must again try to match into a traditional psychiatry residency.
Meanwhile, Bawa will prepare for his 3-year residency in Alabama after completing his interim research year in the surgery department at Wayne State University in Detroit in May.
Despite his years in limbo, Bawa told Medscape, "I have no regrets, no complaints. I am still very happy."
Roni Robbins is an editor/writer for Medscape Business of Medicine. She's been published in WebMD, HuffPost, Forbes, NY Daily News, BioPharma Dive, MNN, Adweek, Healthline, and others. She's also the author of Hands of Gold: One Man's Quest to Find the Silver Lining in Misfortune, www.ronirobbins.com.
For more news, follow Medscape on Facebook, Twitter, Instagram, and YouTube.
Medscape Medical News © 2023

Cite this: After the Match: Next Steps for New Residents, Unmatched - Medscape - Mar 21, 2023.