Digital therapeutics (DTx), which provide evidence-based interventions through software programs, could benefit patients with nonalcoholic fatty liver disease (NAFLD), according to a new review.
Few studies have directly focused on DTx for NAFLD, but recent research about lifestyle interventions delivered via smartphone apps or web-based platforms could point to future possibilities, the authors write.
"Although lifestyle interventions have been shown to result in positive outcomes among patients with NAFLD, the success rate of the interventions and the sustainability of a healthy lifestyle for patients are issues that need to be addressed," Junping Shi, MD, PhD, a professor of medicine at the Affiliated Hospital & Institute of Hepatology and Metabolic Disease at Hangzhou Normal University in China, and colleagues, write.
"DTx overcome the shortcomings of traditional treatment by remotely providing patients with personalized lifestyle guidance, real-time monitoring, and management, providing an emerging treatment for the growing number of patients with NAFLD," they write.
Shi and colleagues explore the key concepts, clinical value, practical applications, and research related to DTx for NAFLD. They also discuss current barriers and provide recommendations for developing high-quality, standardized, and efficient DTx products.
Their review was published online in Clinical and Translational Gastroenterology.
The Case for DTx
The prevalence of NAFLD is on the rise, but there are currently no pharmacologic therapies approved by the US Food and Drug Administration to treat the condition, the authors write. The most established treatments are lifestyle interventions that involve structured modification of diet and exercise.
However, long-term weight loss treatments can be boring for patients, and healthcare professionals may struggle to provide real-time supervision and psychological support, they write. The combination can lead to treatment failure, especially among patients with poor self-management skills.
Traditional interventions' reliance on face-to-face visits also can interfere with treatment adherence if consultation times are inconvenient or if patients face high transportation costs. The COVID-19 pandemic disrupted patient access to traditional lifestyle interventions and aggravated the progression of the disease, the authors add.
DTx, which are indicated for chronic diseases related to lifestyle, could be used independently or alongside clinical treatment to make services more efficient and effective for patients, the authors write.
On the clinical side, these programs can provide remote monitoring, supervision, psychological intervention, and health education. On the patient side, DTx can provide easy access to personalized, refined, and fun weight loss management strategies, as well as reduce complications and costs and improve quality of life.
DTx Research Landscape
DTx has been explored for other conditions, such as irritable bowel syndrome, and could be effective for NAFLD. Although the research on DTx for NAFLD still appears to be in the exploratory stage, the findings seem promising, the authors write.
A prospective study in Germany found that an 8-week web-based exercise program appeared to be effective for patients with NAFLD. On the basis of individual feedback, the platform could adjust the weekly exercise program to help patients with strength and endurance training, and progressive exercise loading. A communication module allowed patients to contact physicians for guidance and connect with other participants for peer support.
The study results showed an increase in peak oxygen uptake of 2.4 mL/kg/min and a 1-kg reduction in body weight.
"Remote exercise therapy not only helped patients with their physical condition but also improved their motivation for treatment," the authors write.
In the United States, researchers conducted a 6-month structured mobile technology intervention trial for diet and exercise among patients with NAFLD. Patients received a customized weekly diet plan based on the Mediterranean or carbohydrate-control diet principles. At 3 months, patients received phone follow-up and additional guidance for dietary status and disease symptoms. Participants wore a fitness tracker, and researchers monitored their exercise data via wireless app. They provided patients with personalized instructions, adjusted exercise regimens, and encouraged adherence via email or phone.
After 6 months, about 50% of patients had a reduction in weight, triglycerides, and FibroScan liver stiffness, and 75% had improvements in controlled attenuation parameters and physical function.
"Several studies have shown similar results that pilot lifestyle interventions based on mobile technology are feasible and acceptable for patients with NAFLD, and this treatment modality has the potential to be scaled up to large-scale applications," the authors write.
In a study in China, researchers provided professional management and guidance using platforms such as Weibo, QQ, and WeChat.
After 1 year, liver ultrasound results of 51.7% of patients in the intervention group showed improvement, whereas only 21.7% of patients in the control group had improved liver outcomes. Body mass index, total cholesterol, and triglycerides improved more significantly in the intervention group.
"It is important to integrate disease knowledge and psychological guidance into medical services so that patients can maintain a positive attitude and improve their compliance," the authors write.
Providing Recommendations
Although the potential benefits of DTx are profound, its value for patients with NAFLD is limited by such factors as product design, personalization of guidance, professionalism of the intervention content, patient compliance, accuracy of data recording, applicability to NAFLD, and cost issues, Shi and colleagues write.
Several DTx products are available, but their target population aren't specific. Shi and colleagues recommend development of a solution tailored to patients with NAFLD.
DTx for NAFLD should feature multiple modules that integrate both physiology and psychology, including diet guidance, exercise management, medication reminders, sleep management, psychological guidance, counseling services, knowledge science, and real-time assessment, they write. It should be created by multidisciplinary teams and consider patient preferences based on age, gender, income, and internet availability.
The necessary data — collected through wearable devices, smart apps, and measurement tools — should feed directly into the DTx, the authors write. Through a "combination of machine learning, deep learning algorithms, and the advice of remote professionals, a visual analysis of patients' clinical characteristics and personalized treatment plans can be presented to ensure a comprehensive understanding of physical health conditions and the treatment program offered," they add.
Filling a Gap
Traditional lifestyle interventions can be limited by the availability of clinicians and insurance coverage issues, Naim Alkhouri, MD, director of the Fatty Liver Program at Arizona Liver Health, told Medscape Medical News.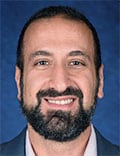 "We need an approach that can be scalable and help patients achieve their goals, which is where digital therapeutics may come in and save the day," he said.
Alkhouri, who wasn't involved with this review, led the LivVita Study, which tested a prescription-based app with cognitive-behavioral therapy among patients with NAFLD. The study reported no adverse events; had high engagement rates; and led to reductions in liver fat fraction, liver enzymes, and FAST scores. The app will be tested in a phase 2 trial.
"We're seeing a revolution in lifestyle interventions to treat obesity, metabolic syndrome, and NAFLD," Alkhouri said. "It's important to understand the capabilities of these devices, but I'm optimistic that we're getting to a point where we may be able to manage patients through a digital platform and virtual visits."
The review was supported by the Key Project of Hangzhou Medical and Health Science and Technology Plan, as well as the Basic Public Welfare Research Program of Zhejiang Province. The authors reported no competing interests. Alkhouri reported no relevant disclosures for this review.
Clin Transl Gastroenterol. Published online March 1, 2023. Abstract
Carolyn Crist is a health and medical journalist who reports on the latest studies for Medscape, MDedge, and WebMD.
For more news, follow Medscape on Facebook, Twitter, Instagram, and YouTube
Credits:
Lead image: Fizkes/Dreamstime
Image 1: Arizona Liver Health
Medscape Medical News © 2023 WebMD, LLC

Send news tips to news@medscape.net.
Cite this: Digital Lifestyle Intervention Tools May Help Patients With NAFLD - Medscape - Mar 20, 2023.