Emergency medicine physicians feel trapped by noncompete agreements, unable to move on to new job opportunities or realize their true earning potential, according to a recent industry survey.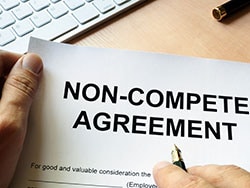 Earlier this year, the American College of Emergency Physicians (ACEP) collected anonymous feedback from its members about their experiences with noncompete agreements. Of the 75 emergency physician respondents, 90% said the restrictive clauses make it more challenging to switch employers, and 59% said they would seek a different job locally if not limited by such agreements.
Of the respondents who identified as employers using noncompete clauses, 79% said a federal ban would positively or minimally impact their group's operations. Just 10% anticipated a negative impact and cited fears of a mass exodus of employees.
In January, the Federal Trade Commission (FTC) announced a proposed rule banning noncompete agreements in employment contracts, calling it an "exploitative" practice that impedes competition. If passed, the broad move would allow physicians to more easily exit contracts and change jobs.
ACEP members also answered open-ended questions, and their responses suggest the clauses take a hefty emotional and financial toll:
"Not being able to leverage a contract or even moonlight at a nearby facility over a holiday weekend forces me into continued financial strain. No one should get to say what I do or where I work in my free, unscheduled time."
"It penalizes underserved areas for which a doctor might stay if able to make a lateral move to a hospital in the same area but will leave because of the penalty in the noncompete clause."
Other emergency physicians expressed frustration with the lack of autonomy. They described being forced to choose between staying in unfulfilling and unsafe workplaces or uprooting their families, often at great personal and professional expense.
Physicians shared similar sentiments online, with one Reddit user stating: "Hospitals will actually have to incentivize physician recruitment and retention by making their hospital a desirable place to work instead [of] enslaving physicians [through] contracts."
Historically, noncompete clauses offer employers some assurance that physicians leaving a hospital or practice won't take their panel of patients with them to a competitor. But these concerns do not apply to emergency medicine physicians, who don't establish ongoing relationships with patients and must "take everyone who comes through the door," Henry Pitzele, MD, ACEP spokesperson, told Medscape Medical News.
The survey findings, among other concerns, prompted Christopher S. Kang, MD, ACEP president, to last week issue a letter to the FTC, urging the committee to finalize the proposed rule "to help address the current anti-competitive conditions in the emergency medicine labor market."
The public initially had 60 days to submit comments on the proposal before the final ruling, but last week, the FTC voted unanimously to extend the public commenting deadline. Comments can now be submitted until April 19 at Regulations.gov.
No Consensus Among Groups
Supporters of the ban, like ACEP and the American Academy of Family Physicians, argue that noncompete agreements and the geographic restrictions they typically contain unnecessarily inhibit physician mobility and wages, disrupt the continuity of care, and exacerbate stress and burnout amid already unparalleled staffing shortages.
Still, opposition to the proposed rule remains. In a letter to the FTC, Melinda Reid Hatton, secretary and general counsel for the American Hospital Association, questioned the legality of the committee's ruling and cautioned against implementing "one fell regulatory swoop."
Instead, Hatton suggested that any rule should exempt hospitals and health systems and "more narrowly focus its attention on lower-skilled, lower-wage workers who have genuinely unequal bargaining power vis-à-vis their employers," according to the letter.
Although ACEP fully supports the ban, the organization takes issue with some aspects of the proposed rule. As written, nonprofit hospitals would be exempt, making a ban largely ineffective because so many hospitals fall under this umbrella, said Pitzele. In addition, eradicating restrictive clauses could further disrupt staffing in rural and underserved areas — something Kang, in his letter, requested the FTC closely monitors.
Ultimately, a shift away from noncompete agreements could change the landscape of emergency medicine and, ideally, prompt employers to improve workplace dynamics and emphasize physicians' mental health and well-being.
"Those are costly measures, and what makes working a positive experience and not a negative experience," said Pitzele. "Large employers aren't going to just offer all those things on the table because they're running a business."
Steph Weber is a Midwest-based freelance journalist specializing in healthcare and law.
For more news, follow Medscape on Facebook, Twitter, Instagram, YouTube, and LinkedIn
Credits:
Images: Designer491/Dreamstime
Medscape Medical News © 2023 WebMD, LLC

Send news tips to news@medscape.net.
Cite this: Emergency Med Docs Feel 'Trapped' by Noncompete Policies: Survey - Medscape - Mar 15, 2023.