With 3 years of the COVID-19 experience now past, it's safe to say that SARS-CoV-2 changed American society in ways that could not have been predicted when the first U.S. cases were reported in January of 2020.
Who would have guessed back then that not one but two vaccines would be developed, approved, and widely distributed before the end of the year? Or that those vaccines would be rejected by large segments of the population on ideological grounds? Could anyone have predicted in early 2020 that schools in 21 states would be forbidden by law to require COVID-19 vaccination in students?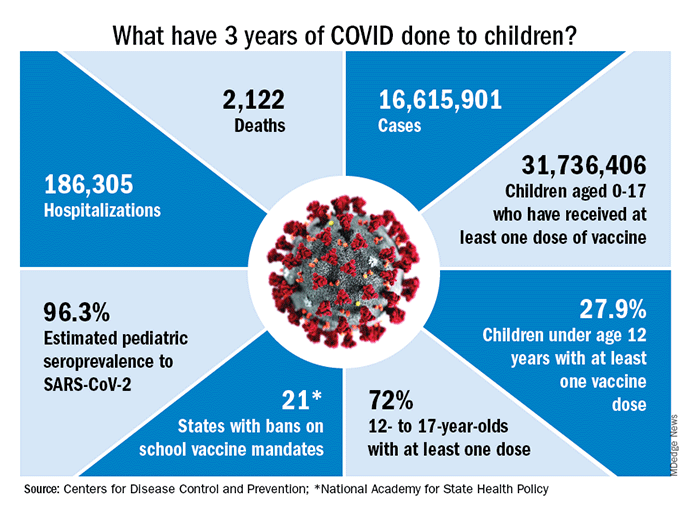 Vaccination is generally considered to be an activity of childhood, but that practice has been turned upside down with COVID-19. Among Americans aged 65 years and older, 95% have received at least one dose of vaccine, versus 27.9% of children younger than 12 years old, according to the Centers for Disease Control and Prevention.
The vaccine situation for children mirrors that of the population as a whole. The oldest children have the highest vaccination rates, and the rates decline along with age: 72.0% of those aged 12-17 years have received at least one dose, compared with 39.8% of 5- to 11-year-olds, 10.5% of 2- to 4-year-olds, and 8.0% of children under age 2, the CDC said on its COVID Data Tracker.
The youngest children were, of course, the last ones to be eligible for the vaccine, but their uptake has been much slower since emergency use was authorized in June of 2022. In the nearly 9 months since then, 9.5% of children aged 4 and under have received at least one dose, versus 66% of children aged 12-15 years in the first 9 months (May 2021 to March 2022).
Altogether, a total of 31.7 million, or 43%, of all children under age 18 had received at least one dose of COVID-19 vaccine as of March 8, 2023, according to the most recent CDC data.
Incidence: Counting COVID
Vaccination and other prevention efforts have tried to stem the tide, but what has COVID actually done to children since the Trump administration declared a nationwide emergency on March 13, 2020?
16.6 million cases.

186,035 new hospital admissions.

2,122 deaths.
Severe illness has been less of an issue in children, who represent 3.1% of all new hospitalizations with diagnosed COVID and just 0.2% of all deaths, despite being 22.3% of the overall U.S. population. Even the proportion of total COVID cases in children, 17.2%, is less than might be expected, given their relatively undervaccinated status.
Seroprevalence estimates seem to support the undercounting of pediatric cases. A survey of commercial laboratories working with the CDC put the seroprevalance of SARS-CoV-2 antibodies in children at 96.3% as of late 2022, based on tests of almost 27,000 specimens performed over an 8-week period from mid-October to mid-December. That would put the number of infected children at 65.7 million children.
Since Omicron
There has not been another major COVID-19 surge since the winter of 2021-2022, when the weekly rate of new cases reached 1,900 per 100,000 population in children aged 16-17 years in early January 2022 – the highest seen among children of any of the CDC's age groups (0-4, 5-11, 12-15, 16-17) during the entire pandemic. Since the Omicron surge, the highest weekly rate was 221 per 100,000 during the week of May 15-21, again in 16- to 17-year-olds, the CDC reports.
The widely anticipated surge of COVID in the fall and winter of 2022 and 2023 ― the so-called "tripledemic" involving influenza and respiratory syncytial virus ― did not occur, possibly because so many Americans were vaccinated or previously infected, experts suggested. New-case rates, emergency room visits, and hospitalizations in children have continued to drop as winter comes to a close, CDC data show.
This article originally appeared on MDedge.com, part of the Medscape Professional Network.
Credits:
Lead image: Medscape Illustration/Getty Images
Image 1: MDedge News
© 2023 Frontline Medical Communications Inc.

Cite this: Children and COVID: A Look Back as the Fourth Year Begins - Medscape - Mar 15, 2023.