HONOLULU – With so many kids missing childhood vaccinations during the acute phase of the COVID-19 pandemic, think measles in patients who present with high fever, cough, and a maculopapular eruption.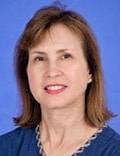 "Measles is one of the most contagious of human viruses, and we are seeing a resurgence," Adelaide A. Hebert, MD, professor of dermatology and pediatrics, and chief of pediatric dermatology at the Universtiy of Texas, Houston, said at the Hawaii Dermatology Seminar provided by MedscapeLIVE! "This is a re-emerging viral infection that dermatologists must recognize. Measles often starts behind the ears, and the eruption can look a lot like a drug eruption," she noted. "Many of my pediatric colleagues have never seen a case of measles before because we have had a vaccine since 1963. Measles can almost entirely be prevented with vaccination. You get herd immunity if both doses have been administered to 95% of the population."
In 2021, the World Health Organization estimated that 25 million children worldwide missed the measles vaccine. This caused 9 million cases of measles and 128,000 deaths in 22 countries, mainly from viral pneumonia, secondary bacterial pneumonia, and postviral encephalitis. According to the Centers for Disease Control and Prevention, 1,274 measles cases occurred in 31 states in 2019, mostly in individuals who were not vaccinated against it. Reported cases fell to 13 in 2020 but rose to 49 cases in 2021 and to 121 cases in 2022. As of Feb. 28, 2023, three cases have been reported in the United States.
"Measles spreads through direct contact with an infected person and through airborne transmission," said Dr. Hebert, who recommended an article published in The Lancet for background on the topic. "Unlike COVID-19, measles has not mutated, so the original measles vaccine will work very well."
Common clinical signs of measles include a generalized, maculopapular eruption lasting for 3 days or more, a temperature above 101° F plus cough, coryza, or conjunctivitis. Confirmation of measles can be made by PCR for viral RNA. Clinicians can also send a blood draw to the state public health lab for analysis. The serologic standard is a fourfold rise or fall in IgG titer with a paired sample sent 10-14 days after the initial collection.
"You can administer immune globulin up to 6 days after exposure to potentially prevent measles or decrease severity [in] immunocompromised hosts not previously vaccinated," she said. The recommended intramuscular dose is 0.5 mL/kg, up to a dose of 15 mL/kg. Treatment is supportive and focused on relieving common symptoms and providing nutritional support. Administration of vitamin A is currently recommended for all children with acute measles.
Vitamin A supplements are available either as capsules (50,000 IU; 100,000 IU; 200,000 IU) or in liquid form. Parenteral formulations are also available. "Capsules need to be cut open and the contents squeezed into the mouths of children younger than 2 years," Dr. Hebert said. "Capsules have the advantage that they can be given to mothers for administration at home."
The recommended dosage of vitamin A in children is as follows, she said:
Aged 12 months or older: 200,000 IU daily for 2 days.

Aged 6 to 11 months: 100,000 IU daily for 2 days.

Aged 6 months or younger: 50,000 IU daily for 2 days.
The American Academy of Pediatrics recommends a third dose given 2-4 weeks later to children with clinical signs and symptoms of vitamin A deficiency.
In an interview following the meeting, Moise L. Levy, MD, professor of internal medicine and pediatrics at the University of Texas, Austin, emphasized that when clinicians evaluate pediatric patients with viral symptoms such as fever, cough, and skin eruption, "measles should be in the differential diagnosis." The 2022 uptick in measles cases "would be another reason to engage in regular vaccinations."
Dr. Hebert disclosed that she is a consultant or advisor for AbbVie, Almirall, Amryt Pharma, Arcutis Biotherapeutics, Beiersdorf, Dermavant Sciences, Galderma Laboratories, L'Oreal, Novan, Ortho Dermatologics, Pfizer, and Verrica.
Credits:
Lead image: CDC
Image 1: Dr Adelaide Hebert
© 2023 Frontline Medical Communications Inc.

Cite this: Be Vigilant for Measles, Pediatric Dermatologist Advises - Medscape - Mar 07, 2023.