ATLANTA ― The Centers for Disease Control and Prevention (CDC) has issued a Health Alert Network (HAN) health advisory notifying clinicians and public health officials of a confirmed measles case in an individual who for 2 days (February 17–18) attended a large religious gathering that was attended by an estimated 20,000 people at Asbury University in Wilmore, Kentucky.
Given that large numbers of people might have been exposed to the attendee (who was not vaccinated) and that the individual had a history of recent international travel, the CDC has encouraged clinicians to be vigilant for patients presenting with symptoms that meet the measles case definition. A steady increase in measles cases from 49 in 2021 to 121 in 2022 in children who were not fully vaccinated ― coupled with outbreaks in Ohio and Minnesota ― underscores the potential gravity of the CDC advisory as well as the need to mitigate the risk of ongoing or secondary transmission.
Currently, little is known about the individual who contracted measles other than the fact that he is a resident of Jessamine County, Kentucky, according to a news release issued by the Kentucky Department of Public Health. It is the third confirmed case in Kentucky over the past 3 months. State and national health officials are concerned that the individual might have transmitted measles to attendees visiting from other states.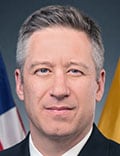 David Sugerman, MD, MPH, a medical officer in CDC's Division of Viral Diseases and lead for the Measles, Rubella, and Cytomegalovirus Team, noted that the timing of the alert coincides with the period in which persons who had had contact with the initial case patient might be expected to develop symptoms.
For clinicians, "It's really about considering measles in any un- or undervaccinated patient that arrives at a clinic and recently traveled internationally," Sugerman told Medscape Medical News. He explained that "when doctors are seeing patients, they're not going to necessarily share that information off the bat when they present with fever or rash, or if their child has fever and rash, or that they traveled internationally. So, eliciting that history from the patient or their parents is really critical."
The CDC recommends that measles be considered in anyone presenting with a febrile illness and symptoms that are clinically compatible with measles (eg, rash, cough, coryza, or conjunctivitis), as well as in patients who have recently traveled abroad, especially to countries with ongoing outbreaks, including India, Somalia, and Yemen.
"In general, if they've traveled internationally and they are undervaccinated, measles should be part of the differential diagnosis," Sugerman said. He also emphasized the need to follow airborne isolation precautions in addition to general infection control measures.
Immediate triage is critical, especially since overcrowded waiting rooms might be filled with patients who are not yet eligible for vaccination or are not up to date or fully vaccinated.
"Measles is under airborne isolation criteria and precautions, and therefore, [patients] need to be placed as soon as possible into a negative pressure or airborne infection isolation room ― and that should be a single room," he explained. He noted, "In some settings, there may not be a negative pressure room, eg, an outpatient pediatrics or family medicine office."
Sugerman said that in these circumstances, patients should be placed in a room with masked healthcare providers who have received two doses of measles, mumps, and rubella (MMR) vaccine and that they should wear an N95 mask when entering the room and interviewing the patient.
Clinicians should follow CDC's testing recommendations and collect a nasopharyngeal or throat swab or a urine specimen for PCR testing and a blood specimen for serology. In addition, they should immediately report cases to local and state public health authorities.
For all patients, it's critical to be up to date on MMR vaccines, especially persons who are going to be traveling internationally. "We recommend that when they've got infants traveling with them who are 6 to 11 months of age, that they get a first dose (which we consider a zero dose), because they need a routine dose at 12 to 15 months, and then 4 to 6 years," said Sugerman. He said that it's safe for adults who are unsure of their status to receive an MMR dose as well.
Sugerman stressed that despite major strides, "we just don't have enough coverage in all individuals in this country. Because people are traveling as often as they are, it can be imported. Until measles is eliminated globally, there's going to be an ongoing risk of importation and potential spread amongst others in their household or community, especially amongst individuals who are not fully vaccinated and, in particular, amongst those who are unvaccinated," he said.
Sugerman reports no relevant financial relationships.
Liz Scherer is an independent journalist specializing in infectious and emerging diseases, cannabinoid therapeutics, neurology, oncology, and women's health.
For more news, follow Medscape on Facebook, Twitter, Instagram, and YouTube.
Credits:
Lead image: Wellesenterprises/Dreamstime
Image 1: CDC
Medscape Medical News © 2023

Cite this: Measles Exposures in Kentucky Have CDC on Alert - Medscape - Mar 06, 2023.