SAN DIEGO — A new wearable device detects, with a high degree of precision, various types of visual dysfunction which eventually affects most patients with multiple sclerosis (MS).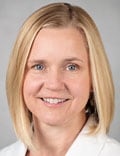 The device uses advanced digital technology to stimulate the retina and the occipital cortex while also stimulating the eye tracking system, and reports out this data, one of its developers, Jennifer Graves, MD, PhD, director of neuroimmunology research, University of California San Diego, told Medscape Medical News.
"In one paradigm of testing, we can get both sets of information" which eliminates the complicated equipment set-up by neuro ophthalmologists, and makes eye assessments much readily available, she said.
"We can make this accessible for more clinicians and more patients, even eventually having it in an emergency setting or an outpatient clinic setting."
Graves discussed this and other next generation digital tools here at the Americas Committee for Treatment and Research in Multiple Sclerosis (ACTRIMS) Forum 2023.
Currently, patients with MS can use accelerometers that determine overall activity level and devices that detect heart rate variability. They can also access mobile apps that track symptoms and medication adherence.
Limited Sensitivity of Current Tools
However, current tools used to determine disability in MS are limited. The classification of MS subtypes is largely retrospective, and the gold standard Expanded Disability Status Scale (EDSS) is problematic, said Graves.
For example, she said, the EDSS lacks sensitivity to short-term changes, depends on ambulation, and only poorly captures upper extremity disability. "We know our patients are experiencing change and we know the tools we have now aren't capturing that."
She used the example of a pianist who can no longer play well with her right hand, but this can't be detected with current tools. A device that uses technology from the gaming and computer control industry "can quantify that" change, said Graves.
She added that tools in development can detect not only motor and visual dysfunction but also cognitive dysfunction, potentially aiding clinical care and facilitating more rapid trials of disease modifying agents in MS. "Rather than having descriptive terms, these digital tools will help us quantitate change so we can take action."
The new sensing devices use multiple sensors, including accelerometers, gyroscopes, and surface electrical signals in muscles to capture very precise temporal and textural information related to movement. Their development uses traditional signal processing as well as artificial intelligence approaches.
Graves' device, the MSight, captures afferent and efferent visual function with a single mobile brain computer interface.
At least 80% of patients with MS have some measurable dysfunction in the afferent system that oversees how light from the environment is turned into images in the brain, explained Graves. The efferent visual system that controls eye movements is also "profoundly impacted by MS" with, again, up to 80% of patients with MS experiencing related dysfunction, she said.
Her new visual system corelates with burden of MS disease, said Graves. "Having efferent and eye tracking problems corelates with overall disability and walking function."
The information collected by this new device "tends to be really helpful even in people who don't appear to be disabled with MS because it's literally a window into the brain to let us see what's happening," said Graves.
She and her colleagues are testing the MSight device in clinical trials and have a provisional patent for it.
Finger and Foot Taps
Another device her team is developing detects minute changes over several months in finger and toe tap movements that are very difficult for the human eye to capture.
Graves reported on a cross sectional validation study of 17 patients with MS showing the foot and finger tap measures strongly correlated with the EDSS and patient-reported outcomes (P < .0001). A longitudinal analysis of 68 patients with MS found information on finger and foot taps distinguished those with progressive from those with relapsing MS.
"We found that in progressive patients, the information in the signal we were capturing was changing, whereas someone with relapsing had a little bit of that but much less," said Graves.
These and other novel, self-contained devices "will provide a set of neurological vital signs that we can put in the hands of clinicians and patients" with MS, as is currently being done in other specialties, for example cardiology, said Graves.
Intriguing, Exciting
Commenting for Medscape Medical News, David Gosselin, PhD, associate professor, Department of Molecular Medicine, Université Laval, Quebec City, Canada, who co-chaired the session featuring next-generation digital tools, said more sensitive monitoring technologies coming down the pipeline are "intriguing and exciting."
While the devices are still in early development, "the eventual integration of such non-invasive technology that measures subtle limb muscle function has the potential to redefine clinical practice," said Gosselin.
"The idea of sampling a patient's ability to move about on a frequent basis, perhaps even daily, and to generate data profiles over time, certainly hold promise with respect to tracking disease evolution and responses to treatments on a scale not accessible before."
A more immediate and comprehensive overview of a patient's response to a treatment "could yield more rapid insights into the effectiveness of novel therapies tested in clinical trials," said Gosselin. "This could have profound implications."
Future digital devices may facilitate monitoring of patients in more remote communities, too, said Gosselin.
However, before these technologies can be introduced on a broad level, several outstanding issues will have to be addressed, the most important being the streams of data they generate, said Gosselin.
"This clearly has the potential to overwhelm neurologists in the assessment of their patients' conditions," said Gosselin. "Which information, and in which analyzed forms, truly provides meaningful insights into patients' conditions will need to be identified, and this will take time."
Privacy may be an issue, too, said Gosselin. Some patients may be less inclined to comply with a procedure "that can capture and record their life so extensively."
And how healthcare insurance providers can interface with these comprehensive profiles of patients' lives will also have to be considered, he said.
Graves has a provisional patent on MSight device; has received research support from MMSS, Octave, Biogen EMD Serono, Novartis, ATARA Biotherapeutics, and ABM; has served on advisory boards for Bayer, Genentech, and TG therapeutic and pediatric clinical trial steering committee for Novartis; and has consulted for Google. Gosselin reports no relevant financial relationships.
Americas Committee for Treatment and Research in Multiple Sclerosis (ACTRIMS) Forum 2023. Session 4.3. Presented February 24, 2023.
For more Medscape Neurology news, join us on Facebook and Twitter
Credits:
Lead image: Teeraphat Sirisatonpun/Dreamstime
Image 1: University of California, San Diego
Medscape Medical News © 2023 WebMD, LLC

Send news tips to news@medscape.net.
Cite this: New Digital Tools Promising in MS - Medscape - Mar 03, 2023.