An incisionless surgical procedure that uses focused ultrasound ablation (FUSA) to target the globus pallidus internus of patients with Parkinson's disease (PD) significantly reduced tremors and improved mobility for those with advanced disease, new research shows.
The technique requires no sedation or brain implants. Surgeons use MRI to identify the globus pallidus internus, a part of the basal ganglia involved in movement disorders, and a focused ultrasound beam to heat and destroy the tissue.
Investigators performed the procedure with a device called Exablate Neuro, which was first approved by the US Food and Drug Administration in 2016 to treat essential tremor.
On the basis of the results of a multicenter, randomized, sham-controlled trial, the agency expanded the indication in 2021 to include unilateral pallidotomy to treat advanced PD for patients with mobility, rigidity, or dyskinesia symptoms.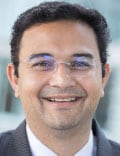 "In some patients with Parkinson's disease, you get dyskinesias, and ablation of the globus pallidus significantly reduces those dyskinesias and motor impairment," lead investigator Vibhor Krishna, MD, associate professor of neurosurgery at the University of North Carolina at Chapel Hill, told Medscape Medical News. "It could be used to treat patients when other surgical procedures can't be applied."
The study was published online February 23 in The New England Journal of Medicine.
Strong Response
For the study, 94 patients with advanced PD who had dyskinesias or motor fluctuations and motor impairment in the off-medication state wore transducer helmets while lying in an MRI scanner. Patients were awake during the entire procedure.
The treatment group received unilateral FUSA on the side of the brain with the greatest motor impairment. The device initially delivered target temperatures of 40° to 45° Celsius. Ablative temperatures were gradually increased following evaluations to test for improvement of motor symptoms. The maximum temperature used was 54.3° Celsius.
Patients in the control group underwent an identical procedure with the sonication energy disabled.
The primary outcome was a response to therapy at 3 months, defined as a decrease of at least three points from baseline either in the score on the Movement Disorders Society–Unified Parkinson's Disease Rating Scale (MDS-UPDRS), part III, while off medication or in the score on the Unified Dyskinesia Rating Scale (UDRS) while on medication.
At 3 months, 69% of the treatment group reported a response, compared to 32% of the control group (P = .003).
When researchers analyzed MDS-UPDRS scores, they found that 29% of the treatment group and 27% of the control group showed improvement. For UDRS scores, 12% of the treatment group demonstrated improvement. In the control group, there was no improvement on this score. Improvements in both scores were reported in 28% of the treatment group and 5% of the control group.
Among those who reported a response at 3 months, 77% continued to show a response at 12 months.
"Unforgiving" Area of the Brain
While the response rate was a promising sign of this finding, it was not what interested Krishna the most.
"The most surprising finding of this trial is how safe focused ultrasound pallidotomy is in treating patients with Parkinson's disease," he said.
The globus pallidus internus is an area of the brain that Krishna calls "unforgiving."
"One side is motor fibers, and any problem with that can paralyze the patient, and just below that is the optic tract, and any problem there, you would lose vision," Krishna said. "It is a very tough neighborhood to be in."
By using MRI-guided ultrasound, surgeons can change the target and temperature of the ultrasound beam during the procedure to allow more precise treatment.
Pallidotomy-related adverse events in the treatment group included dysarthria, gait disturbance, loss of taste, visual disturbance, and facial weakness. All were mild to moderate, Krishna said.
More Study Needed
Dyskinesia is a challenge in the management of PD. Patients need antiparkinsonian medications to slow deterioration of motor function, but those medications can cause the involuntary movements that are a hallmark of dyskinesia.
The most common treatment for this complication, deep-brain stimulation (DBS), has its own drawbacks. It's an open procedure, and there is a low-level risk for intracranial bleeding and infection. In addition, the electrode implants require ongoing maintenance and adjustment.
But the findings of this study show that for patients who aren't candidates for other therapies, such as DBS and ablative radiofrequency, FUSA may be an alternative, writes Anette Schrag, PhD, professor of clinical neurosciences at the University College London, in an accompanying commentary.
"The results confirm that it is effective in reducing motor complications of Parkinson's disease, at least in the short term," Schrag writes.
However, more long-term studies are needed, she adds.
One third of patients in the treatment group had no response to the treatment, and investigators aren't sure why. Krishna noted that the benefits of the procedure waned in about a quarter of patients within a year of treatment.
Investigators plan to probe these questions in future trials.
"The results of this trial are promising," Schrag writes, "but given the nonreversible nature of the intervention and the progressive nature of the disease, it will be important to establish whether improvements in motor complications are maintained over longer periods and whether treatment results in improved over all functioning and quality of life for patients."
The study was funded by Insightec. Disclosure forms Krishna and Schrag are provided on the journal's website.
N Engl J Med. Published online February 23, 2023. Abstract
Kelli Whitlock Burton is a reporter for Medscape Medical News covering neurology and psychiatry.
For more Medscape Neurology news, join us on Facebook and Twitter.
Credits:
Lead image: Vampy1/Dreamstime
Image 1: University of North Carolina at Chapel Hill
Medscape Medical News © 2023

Cite this: Focused Ultrasound Ablation Reduces Dyskinesia in Parkinson's - Medscape - Mar 03, 2023.