When the Food and Drug Administration first approved the da Vinci Surgical System (Intuitive Surgical, Sunnyvale, Calif.) for adult use in 2000, it altered the face of minimally invasive surgery across a multitude of specialties. Improved three-dimensional visualization and enhanced instrument articulation facilitates complex dissections and intracorporeal suturing. While the standard of care for gender-affirming vaginoplasty remains the single-stage penile inversion vaginoplasty, robotic procedures are quickly emerging as alternative options for both primary and revisional surgeries.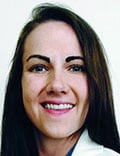 The single-stage penile inversion vaginoplasty requires an adequate amount of penoscrotal tissue not only to line a neovaginal canal that measures 12-15 cm, but also to create external vulvar structures. While this is often sufficient in most candidates, there is an increasing number of patients who are receiving puberty blockers, resulting in penoscrotal hypoplasia.
Alternatively, there are patients who experience loss of vaginal depth and vaginal stenosis who seek revisional surgeries. Additional donor sites for skin grafting are available and include the lower abdomen and thighs, although patients may not want these donor site scars. With these donor sites, there is also concern about graft contracture, which could lead to recurrent vaginal stenosis.[1] Robotic peritoneal vaginoplasty and robotic enteric vaginoplasty can serve as additional options for patients seeking revisional surgery or who have insufficient genital skin. One benefit of using peritoneal flaps is that they are hairless and are well vascularized with minimal donor site morbidity.[1] Currently, there are two predominant techniques that utilize peritoneal flaps: the modified Davydov procedure and the tubularized urachus-peritoneal hinge flap.
The modified Davydov technique, which originated in the treatment of congenital vaginal agenesis in cisgender women, involves the creation of anterior and posterior peritoneal flaps. This type of peritoneal vaginoplasty is more commonly utilized for primary cases.
Ideally, there is a robotic surgeon (typically a urologist) working in tandem with the perineal surgeon. The robotic surgeon makes a horizontal incision along the peritoneal ridge at the rectovesical junction and continues the dissection within Denonvilliers fascia, between the prostate and rectum, to the pelvic floor. This dissection is like that performed in a robot-assisted laparoscopic prostatectomy.
Simultaneously, the perineal surgeon will break through the pelvic floor with assistance of the robotic view. Peritoneal flaps are raised from the anterior rectum and posterior bladder.[2,3] In primary cases, the penoscrotal flap is introduced into the abdomen from the perineum and sutured to the anterior and posterior peritoneum to create a circumferential canal. At the apex of the neovagina, these anterior and posterior flaps are then sutured together.[2,3]
The tubularized urachus-peritoneal hinge flap technique is predominantly used for revision cases in patients who experienced neovaginal shortening and desire increased neovaginal depth. As peritoneal reach is limited, candidates for this procedure must have both adequate width and neovaginal canal depth.[4] Once intra-abdominal access is achieved, an anterior peritoneal flap is mobilized to the level of the bladder and rotated 180 degrees inferiorly.[4] The superior aspect of the flap is flipped is mobilized and is sutured to the peritoneum at the apex of the neovaginal canal.
The main benefit of these procedures, compared with traditional techniques, is increased neovaginal depth. The average vaginal length in patients undergoing peritoneal vaginoplasties is 14.2 cm, compared with 11.6 cm achieved in those using skin grafts.[1,3] However, many surgeons report achieving 14-15 cm of depth with the traditional vaginoplasty. There are insufficient short- and long-term data for the peritoneal technique to recommend this as a first-line procedure.
Complications for peritoneal vaginoplasty procedures are similar to those of single-stage penile inversion vaginoplasty cases but with additional operative risks associated with laparoscopic/robotic surgery. These risks include injury to viscera and major vessels during initial intra-abdominal access, intra-abdominal adhesions, port site hernias, need to convert to an open procedure, and equipment malfunction.[2] Additional postoperative risks include pelvic abscess formation, dehiscence of the peritoneal-vaginal incision, and peritoneal perforation during dilation.[2,3] Surgeons and institutions must also weigh the cost of using the robot versus the cost of additional revisional surgical procedures. While initial studies evaluating robotic peritoneal vaginoplasty procedures have yielded promising preliminary results, additional studies are warranted.
Dr. Brandt is an ob.gyn. and fellowship-trained gender-affirming surgeon in West Reading, Pa.
This article originally appeared on MDedge.com, part of the Medscape Professional Network.
Follow Medscape on Facebook, Twitter, Instagram, and YouTube
Credits:
Lead image: Roman Zaiets/Dreamstime
Image 1: Dr K. Ashley Brandt/MDedge
© 2023 Frontline Medical Communications Inc.

Any views expressed above are the author's own and do not necessarily reflect the views of MDedge or its affiliates.
Cite this: Robotic Peritoneal Vaginoplasty - Medscape - Mar 22, 2023.