The often-delayed diagnosis of isolated nail psoriasis (NP), along with the possibility of a "reciprocal relationship" with psoriatic arthritis, "should serve as an impetus for dermatologists to improve their diagnostic accuracy," investigators said in a research letter.
Diagnosis of isolated NP was delayed by almost 3 years among the 87 cases recorded and "arthritis was most often diagnosed concurrently with NP," at a major nail referral center between Jan. 1, 2001, and Dec. 21, 2022, Michelle J. Chang of Drexel University, Philadelphia, and associates reported.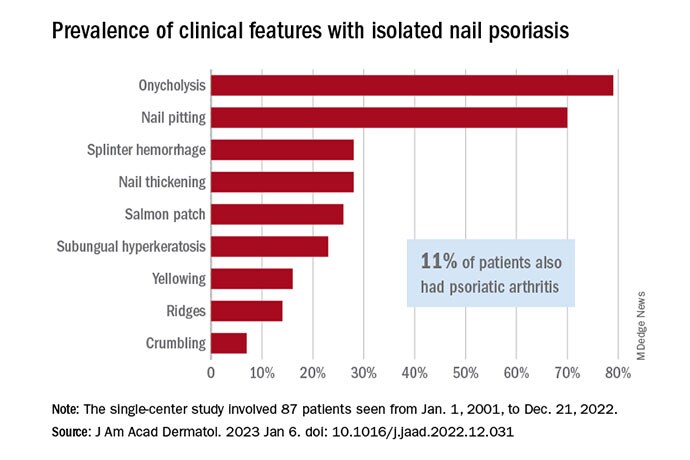 In what the authors say is, "the largest study documenting clinical and histologic features in patients with isolated NP," the two most common clinical features were onycholysis and nail plate pitting, seen in 79% and 70% of cases, respectively. No other single feature had a prevalence higher than 28%.
The most frequent clinical dyad was onycholysis and pitting in 66% of patients, followed by onycholysis/nail thickening in 33% and onycholysis/splinter hemorrhage in 32%. The most common histologic features were parakeratosis in 79% and neutrophil infiltration in 48%, the investigators said.
Psoriatic arthritis (PsA), a focus of the study, occurred in 10 (11%) of the 87 individuals with isolated NP. Considering this finding, and "the close proximity between the nail apparatus and joint, we hypothesize a reciprocal relationship, with nail unit inflammation precipitating PsA," Ms. Chang and associates wrote.
Senior author, Shari Lipner, MD, PhD, of the department of dermatology, Weill Cornell Medicine, New York, is a consultant for Ortho-Dermatologics, Hoth Therapeutics, and BelleTorus. Ms. Chang and the two other investigators had no conflicts of interest to declare.
This article originally appeared on MDedge.com, part of the Medscape Professional Network.
Credits:
Lead image: iStock/Getty Images
Image 1: J Am Acad Dermatol/MDedge
© 2023 Frontline Medical Communications Inc.

Cite this: Isolated Nail Psoriasis May Be a Sign of Psoriatic Arthritis - Medscape - Feb 28, 2023.