To address the growing workforce shortage in rheumatology, medical educators will have to adapt and learn how to train a new generation of rheumatologists, according to a speaker at the 2023 Rheumatology Winter Clinical Symposium.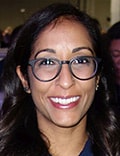 Anisha B. Dua, MD, an associate professor of rheumatology at Northwestern University, Chicago, told attendees she is "heavily invested in the training of our future rheumatologists" and strives to help them "operate at the top of the level across the spectrum."
"They're carrying forward our field," Dr. Dua said. "We need to propagate our field and we need them to go out and serve and continue to make rheumatology awesome."
The American College of Rheumatology's 2015 workforce study estimates that by 2030, there will be a shortage of more than 4,000 rheumatologists in the United States.
Rheumatology may have inadvertently created the problem through rheumatologists diagnosing disease earlier and prescribing better treatments, with patients subsequently living longer with disease, she noted. Compounding the problem is an increasing number of rheumatologists looking to retire over the next decade and the continued need for care in rural areas where there are few practicing rheumatologists.
Interest in rheumatology is increasing
The good news is there is increasing interest in the field. "This has really shifted, I would say, from about 10 years ago when I was looking at fellowships," Dr. Dua said. "It's not really an interest problem. But the issue is that the training programs and slots don't necessarily exist to fill the gap of the people who are leaving the field."
The key to bringing more people into rheumatology is to understand how Millennials and Generation Z differ from generations that came before them. In general, members of Generation Z "tend to prefer an à la carte approach to education" with hands-on experiences, and they prefer customized feedback that is actionable, Dr. Dua explained.
"As a medical educator, there are different demands, and these are changing over time, so we have to figure out how we can best serve them and educate them," she said.
This also means connecting with younger generations on social media. A research letter published in JAMA Network Open in 2021 found a minority of 650 physicians across 14 specialties had a presence on social media platforms, with 44.9% of physicians surveyed present on LinkedIn, 23.4% on Facebook, 18.6% of on Twitter, and 14.9% on ResearchGate. "There is a lot of room to grow, and this is where some of our future teaching is headed," Dr. Dua said.
Future of rheumatology education
Does this mean rheumatologists should start dancing in TikTok videos? Maybe not, but Dr. Dua noted there are ways to bring understanding, recall, comprehension, and behavioral change through active learning, spaced learning, case-based modules, podcasts, videos, and other educational strategies.
"We need to find ways to engage our learners and connect with them and teach them," she said.
Rheumatologists are already bringing innovation to the education space with initiatives like educational podcasts, remote learning developed during the COVID-19 pandemic, development of rheumatology Objective Structured Clinical Examinations using challenging patient scenarios, and other virtual learning opportunities. "We really have been forced to push the envelope," Dr. Dua said.
"The future of medical education is here. It's exciting. Embrace it," she said.
Training nurse practitioners and physician assistants?
Commenting on the shortage of rheumatologists, Philip J. Mease, MD, clinical professor at the University of Washington and director of rheumatology research at Swedish Medical Center, both in Seattle, said one answer to the problem may be training more nurse practitioners (NPs) and physician assistants (PAs) to bridge the gap.
"Some are suggesting that part of the answer to the deficiency of rheumatologists will be having two NPs or PAs to every single rheumatologist that there is out there," he said. "I work with three, and the issue of ... getting access to them when they are in school to demonstrate how sexy rheumatology is, is something that is deficient, way deficient." Rheumatologists should be putting themselves out there with preceptorships and lectures to recruit more NPs and PAs to rheumatology, he explained. "That's a 24/7 process."
Dr. Dua, who is cochair of the E-Learning Subcommittee within the ACR Workforce Solutions Steering Committee, said the subcommittee's focus has been connecting with primary care doctors, pediatricians, NPs, and PAs to "expand who can provide some rheumatologic care."
Lindsay Orme, MD, a family medicine doctor from Caldwell, Idaho, shared her experience serving as faculty for a family medicine residency program, training family medicine doctors in rural areas.
"Our curriculum hasn't had a section for what trainees are expected to learn in rheumatology. When I did the same program years ago in Idaho, it was very well defined: What I should know how to do without consulting a cardiologist, what I should know how to do without consulting an obstetrician, what I should be able to manage in terms of [chronic kidney disease] before referring to nephrology," she explained. "No one ever taught me what I could manage in rheumatology.
"I do think we need to find some defined areas that we're more comfortable teaching primary care doctors to manage because there is no one – there are no rheumatologists in Boise or any of the surrounding towns that accept Medicaid patients now. They are all expected to go 250 miles away," she said.
"That's a major, major problem," Dr. Dua acknowledged. "Really, for me, the goal is to develop resources that you can tap into to be able to at least figure out where things stand, and at least bide time until they can get in with that rheumatologist 250 miles away and make sure that you're getting the training, or feel comfortable with whatever it is you're forced to manage from a rheumatologic sense."
More engagement, more adaptation
Roy M. Fleischmann, MD, clinical professor of medicine at the University of Texas and codirector of the Metroplex Clinical Research Center, both in Dallas, said one thing he's noticed over the years is that, as time spent in the hospital has decreased, the time residents and fellows spend with practitioners in front of patients has also decreased. "It just isn't there, and that's where you really learn," he said.
"You are 100% correct the two generations are different. What I think is important in life is very different than what the fellows think is different in life at this point, and how much work I'm willing to put in or how much work they're willing to put in, in the same way, is very different," he explained. "What they want to spend their time on, I don't, and vice versa. We do have to adapt, but I do think that they need more time in front of patients with very experienced physicians."
Jack Cush, MD, a rheumatologist based in Dallas and executive editor of RheumNow.com, said if education is to move forward, "it's got to change dramatically."
"The competencies aren't always knowledge," he said. "Knowledge has now been replaced by everything at your fingertips. I don't need to know all the formulas and everything right now."
Engagement should be the "main statistic that we need to be striving for," Dr. Cush explained. "Engagement as the measure of ... education's value, I think, is where it has to go."
Dr. Dua reported being a consultant and serving on an advisory board for Sanofi, Novartis, AbbVie, and Chemocentryx/Amgen.
This story originally appeared on MDedge.com, part of the Medscape Professional Network.
Credits:
Lead image: E+/Getty Images
Image 1: M. Alexander Otto/MDedge News
Cite this: Training Adaptations Vital to Alleviating Rheumatologist Shortage - Medscape - Feb 23, 2023.