SAN DIEGO – When parents bring their children to Caroline Piggott, MD, to evaluate a suspicious mole on the scalp or other body location, the vast majority turn out to be benign, because the incidence of melanoma is rare, especially before puberty.
"Only 1%-2% of all melanomas in the world are in children, so most of my job is to provide reassurance," Dr. Piggott, a pediatric dermatologist at Scripps MD Anderson Cancer Center, San Diego, said at the annual Cutaneous Malignancy Update. "Few pediatric studies exist. Why? Because children are excluded from most melanoma clinical trials. Our management is based mainly on adult National Comprehensive Cancer Network guidelines."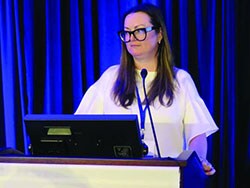 To help parents identify melanoma, clinicians typically recommend the "ABCDE" rule, for Asymmetry, Border irregularity, Color variation (especially dark or multiple colors), Diameter greater than 6 mm, and Evolving (is it changing, bleeding or painful?).
While Dr. Piggott considers the standard ABCDE rules as important – especially in older children and teenagers – researchers led by Kelly M. Cordoro, MD, professor of dermatology at the University of California, San Francisco, proposed a modified ABCD criteria based on evaluating a cohort of 60 children who were diagnosed with melanoma and 10 who were diagnosed with ambiguous melanocytic tumors treated as melanoma before age 20 years at UCSF from 1984 to 2009.
The researchers divided patients into two groups: those aged 0-10 years (19; group A) and those aged 11-19 years (51; group B), and found that 60% of children in group A and 40% of those in group B did not present with conventional ABCDE criteria for children. Of the 60 melanoma patients, 10 died. Of these, 9 were older than age 10, and 70% had amelanotic lesions. Based on their analysis of clinical, histopathologic, and outcomes data, Dr. Cordoro and colleagues proposed additional ABCD criteria in which A stands for stands Amelanotic; B for Bleeding or Bump; C for Color uniformity, and D for De novo or any Diameter.
"This doesn't mean you throw the old ABCDE criteria out the window," Dr. Piggott said. "It means that you use this modified criteria in conjunction with the conventional ABCDE rules."
Risk factors for melanoma in children are like those in adults, and include a family history of melanoma, large/giant congenital nevi, the presence of many atypical appearing nevi, having Fitzpatrick skin types I or II, a history of blistering sunburns, and the presence of genetic anomalies such as xeroderma pigmentosum.
According to an analysis of data from the Surveillance, Epidemiology, and End Results (SEER) Program, melanoma incidence increased in all individuals in the United States aged 0-19 years from 1973 to 2009. Key risk factors included White race, female sex, and living in a SEER registry categorized as low UVB exposure. Over the study period, boys experienced increased incidence rates of melanoma on the face and trunk, while girls experienced increased incidence rates of melanoma on the lower limbs and hip.
More recently, researchers extracted data from 988,103 cases of invasive melanoma in the 2001-2015 SEER database to determine the age-specific incidence of melanoma in the United States. In 2015, 83,362 cases of invasive melanoma were reported for all ages. Of these, only 67 cases were younger than age 10, while 251 were between the ages of 10 and 19 and 1,973 were young adults between the ages of 20 and 29.
In other findings, between 2006 and 2015, the overall incidence of invasive melanoma for all ages increased from 200 million to 229 cases per million person-years. "However, there were statistically significant decreases in melanoma incidence for individuals aged 10-19 years and for those aged 10-29 years," said Dr. Piggott, who was not involved with the study. "The hypothesis is that public health efforts encouraging against sun exposure and tanning bed use may be influencing melanoma incidence in younger populations. What is interesting, though, is that young adult women have twice the melanoma risk as young adult men."
In a separate study, researchers prospectively followed 60 melanoma-prone families for up to 40 years to evaluate the risk of pediatric melanoma in those with and without cyclin-dependent kinase inhibitor 2A (CDKN2A) mutations. Regardless of their CDKN2A status, the percentage of pediatric melanoma cases was 6- to 28-fold higher among melanoma-prone families, compared with the general population. In addition, families who were CDKN2A positive had a significantly higher rate of pediatric melanoma cases compared with those who were CDKN2A negative (11.1% vs. 2.5%; P = .004).
As for treating pediatric melanoma, the standard of care is similar to that for adults: usually wide local surgical excision of the primary lesion, depending on depth. Clinicians typically follow adult parameters for sentinel lymph node biopsy, such as lesion depth and ulceration.
"We know that a positive sentinel node does have prognostic value, but there is great debate on whether to do a lymph node dissection if the sentinel lymph node is positive," Dr. Piggott said at the meeting, which was hosted by Scripps MD Anderson Cancer Center. "This is determined on a case-by-case basis. We consider factors such as, are the nodes palpable? Is there evidence on ultrasound? But there are no formal guidelines."
Limited studies of systemic therapy in children exist because this population is excluded from most melanoma clinical trials. "In the past, interferon was sometimes used," she said. "But in recent years, as with adults, we have started to use targeted immunologic therapy. This is usually managed by a tertiary academic oncology center."
The chance of surviving pediatric melanoma is good if caught early. As in adults, the stage correlates strongly with survival, and distant metastases carry a poor prognosis.
In 2020, researchers published a retrospective, multicenter review of 38 cases of fatal pediatric melanoma between 1994 and 2017. The analysis was limited to individuals 20 years of age and younger who were cared for at 12 academic medical centers. Of the 38 patients, 42% were male, 58% were female, and 57% were White. In addition, 19% were Hispanic, "which is a larger percentage than fatalities in adult [Hispanic] populations with melanoma," said Dr. Piggott, who was not involved in the study.
The mean age at diagnosis was 12.7 years, the mean age at death was 15.6, and the mean survival time after diagnosis was about 35 months. Of the 16 cases with known identifiable subtypes, 50% were nodular, 31% were superficial spreading, and 19% were spitzoid melanoma. In addition, one-quarter of melanomas arose in association with congenital melanocytic nevi.
"The good news is that there are only 38 total cases of fatal pediatric melanoma between 12 academic centers over a 23-year period," Dr. Piggott said. "Thanks goodness the number is that low."
Dr. Piggott reported having no relevant disclosures.
This story originally appeared on MDedge.com, part of the Medscape Professional Network.
Credits:
Lead image: The National Institute of Health
Image1: Doug Brunk/MDedge News
Cite this: Pediatric Melanoma: Incidence, Risk Factors, and the ABCDE Rule - Medscape - Feb 17, 2023.