Physician groups saw staff-to-physician ratios decline even as their workforce expenses rose between 2019 and 2021, according to recent reports from the American Medical Group Association (AMGA) and the Medical Group Management Association (MGMA).
As patients started to return to doctors' offices in 2021 as the pandemic eased, physician groups found it increasingly difficult to recruit and retain lower-level clinicians, including medical assistants and LPNs, officials from both associations told Medscape Medical News. Many clinics had to raise their pay scales to be competitive with employers in other fields, and some had to hire higher-priced RNs to keep their practices running.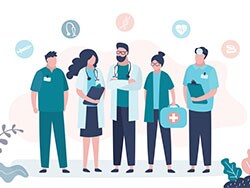 The AMGA report was based largely on data from groups of over 500 physicians, mostly affiliated with health systems. According to a news release accompanying the report, the ratio between full-time equivalent (FTE) clinic staff and healthcare professionals in direct patient care dropped by 11.3% between 2019 and 2021. The ratio of medical assistants (MAs) to clinicians declined by a greater percentage.
In the MGMA report, which represented about 4000 practices ranging from very small (two doctors) to very large groups, total support staff per FTE primary-care physician dropped by 18% from 2019-2021 in independent groups and by 13% in hospital-affiliated groups. The ratios decreased by smaller amounts in surgical practices.
In contrast, nonsurgical specialty groups under both types of ownership saw their staffing ratios rise slightly.
Although it's unclear why medical specialties increased their staff while other types of specialties lost employees, Ron Holder, MHA, chief operating officer of MGMA, said that some specialists may have opened more ancillary facilities and hired new employees to recoup revenue lost during the pandemic.
Expenses Rise Sharply
The AMGA report found that staffing expenses for the surveyed groups increased by 15% between 2019 and 2021.
"We saw a decrease in staff and an increase in expenses during that time period, and there are a few reasons for that," Rose Wagner, RN, chief operating officer of AMGA, said. "Groups increased salaries to maintain staff. We also saw lower-paid staff find other jobs outside of healthcare. For example, medical assistants and receptionists could find jobs outside of healthcare that paid more. [Open positions] got back-filled with other higher paid staff such as RNs doing lower skilled jobs."
MGMA's Holder added that rising wages in other sectors made leaving physician groups more attractive for employees.
"Three years ago, there weren't many positions in a medical practice where you were competing with Chick-fil-A or Taco Bell," he said. In Denver, where Holder is based, "every restaurant in town is now advertising $17-$19 [hourly] starting pay just to do fast food. That causes practices to either lose employees or pay more for the employees they have. So that raises per-employee expense significantly," he said.
Holder noted that inflation also has driven up wages as employees demand higher pay to keep up with the cost of living.
Unusual Exodus of Employees
Fred Horton, MHA, president of AMGA Consulting, said he has never seen so many people leaving healthcare for other occupations.
Some exits resulted from practices laying people off early in the pandemic, but most staff members who left practices were seeking higher pay, he said. In addition, Wagner noted, some staff members didn't want to be exposed to COVID at work.
"There was an exodus from healthcare that was different from what we'd experienced in the past," Horton added. "It's still extremely challenging to get up to the staffing levels that are appropriate."
MGMA's Holder, however, said that the situation is slowly improving. "Healthcare is fairly recession-proof, because people need it. So when you see companies in other industries closing shop or reducing their head count, that actually helps healthcare recruiting in some jobs. And people are coming back to the workplace who previously were worried about COVID or didn't want to get the vaccine."
Paying More for Nurses
In 2021, groups adopted a variety of tactics to adapt to the pandemic and respond to patient demand, the AMGA survey shows. Forty percent of system-affiliated groups and 18% of independent practices changed registered nurses' responsibilities, in many cases having them do the work of medical assistants who were in short supply.
Some practices hired RNs, who have historically been utilized less by primary care than by surgical specialties, Holder noted. Other clinics paid temp agencies to supply nurses at a steep cost.
"When you're short staffed, you end up paying more overtime, you end up paying temporary agencies at higher dollars, and you hire higher skilled people to do lower-skilled work," Wagner said.
Meanwhile, many physician groups tried to cope with the physician shortage by bringing on more advanced practice clinicians (APCs), including nurse practitioners (NPs) and physician assistants (PAs). Seventy percent of the AMGA groups used this strategy, the report revealed.
"The use of APCs has been steadily increasing as groups try to adopt a lower- cost care model in the midst of a nationwide physician shortage," Wagner said in the press release.
Changes in Patient Care
About half of the groups in the AMGA survey said they changed their staff structure to allow APCs to carry their own patient panels. Although most of these clinicians were probably under physician supervision, nearly half of the states now allow NPs to practice autonomously.
AGMA Consulting's Horton cautioned that APCs can't fully substitute for physicians and require the same support staff that doctors do if they have their own panels. In primary care groups, Holder noted, the average salary of an APC "is continuing to rise, and there isn't a huge difference between what they and doctors make."
Nevertheless, he added, "There are more NPs and PAs being added to the marketplace all the time, whereas [physician] residency programs aren't really growing. There are caps on the number of residency positions, and some physicians are retiring. So the clock is ticking to the point where someday doctors will be grossly outnumbered by NPs."
For more news, follow Medscape on Facebook, Twitter, Instagram, YouTube, and LinkedIn
Credit:
Lead image: iStock / Getty Images
Image1: iStock / Getty Images
Medscape Medical News © 2023 WebMD, LLC

Send news tips to news@medscape.net.
Cite this: Physician Group Staffing Down, Expenses Up, New Reports Show - Medscape - Feb 13, 2023.