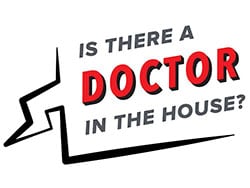 Emergencies happen anywhere, anytime, and sometimes physicians find themselves in situations where they are the only ones who can help. Is There a Doctor in the House? is a Medscape series telling these stories.
I was coming off a 48-hour shift plus a day of doing outpatient sedation at Sparrow Hospital in Lansing. It was December and Michigan-cold. The roads were fine — no snow — but I noticed an unusual amount of traffic on the freeway. Then I saw smoke coming from an overpass up ahead.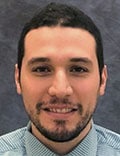 I drove on the side of the road where I wasn't really supposed to and got closer. An SUV had crashed into one of the big concrete structures under the bridge. I saw people running around but wasn't able to spot EMS or any healthcare workers. From where I was, I could identify four kids who had already been extricated and one adult still in the driver's seat. I estimated the kids' ages were around 7, 5, 3, and an infant who was a few months old. I left my car and went to help.
I was able to peg the ages correctly because I'm a pediatric critical care physician. As a specialty, we're not commonly known. We oversee patient care in intensive care units, except the patients are children. Part of the job is that we're experts at triaging. We recognize what's life-threatening and less so.
The kids were with some adults who kept them warm with blankets. I examined each of them. The infant was asleep but arousable and acting like a normal baby. The 3-year-old boy was vomiting and appeared very fatigued. The 5-year-old boy had a forehead laceration and was in and out of consciousness. The 7-year-old girl was screaming due to different injuries.
While all of the children were concerning to me, I identified one in particular: the 5-year-old boy. It was obvious he needed serious medical attention and fast. So, I kept that little guy in mind. The others had sustained significant injuries, but my best guess was they could get to a hospital and be stabilized.
That said, I'm a trauma instructor, and one of the things I always tell trainees is: trauma is a black box. On the outside, it may seem like a patient doesn't have a lot of injuries. But underneath, there might be something worse, like a brain injury. Or the chest might have taken a blunt impact affecting the heart. There may be internal bleeding somewhere in the belly. It's really hard to tease out what exactly is going on without equipment and testing.
I didn't even have a pulse oximeter or heart rate monitor. I pretty much just went by the appearance of the child: pulse, heart rate, awareness, things like that.
After the kids, I moved to look at the man in the car. The front end had already caught fire. I could see the driver — the kids' father, I guessed — unconscious and hunched over. I was wondering, Why hasn't this guy been extricated?
I approached the car on the front passenger side. And then I just had this feeling. I knew I needed to step back. Immediately.
I did. And a few seconds later, the whole car exploded in flames.
I believe God is in control of everything. I tried to get to that man. But the scene was unsafe. Later I learned that several people, including a young nurse at the scene, had tried to get to him as well.
When EMS came, I identified myself. Obviously, these people do very, very important work. But they may be more used to the 60-year-old heart attack, the 25-year-old gunshot wound, the occasional ill child. I thought that four kids — each with possible critical poly-traumatic injuries — posed a challenge to anyone.
I told them, "This is what I do on a daily basis, and this is the kid I'm worried about the most. The other kids are definitely worrisome, but I would prioritize getting this kid to the hospital first. Can I ride with you?" They agreed.
We got that boy and his older sister into the first ambulance (she was in a lot of pain, the result of a femur fracture). The two other kids rode in the second ambulance. The hospital where I had just left was 10 minutes away. I called the other pediatric critical care doctor there, my partner. He thought I was calling for a routine issue — no such luck. I said, "I'm with four kids who are level-1 traumas in two ambulances and I'm heading to the hospital right now, ETA 10 minutes."
En route, I thought the little boy might lose consciousness at any moment. He needed a breathing tube, and I debated whether it should be done in the ambulance vs waiting until we got to the emergency room. Based on my judgment and his vital signs, I elected to wait to have it done it in a more controlled environment. Had I felt like he was in immediate need of an airway, I would've attempted it. But those are the tough calls that you must make.
My partner had alerted the trauma and emergency medicine teams at the hospital. By the time we arrived, my partner was down in the ER with the trauma team and ER staff. Everyone was ready. Then it was like divide and conquer. He attended to one of the kids. The ER team and I were with the little guy I was really worried about. We had his breathing tube in within minutes. The trauma team attended to the other two.
All the kids were stabilized and then admitted to the pediatric intensive care unit. I'm happy to say that all of them did well in the end. Even the little guy I was worried about the most.
I must say this incident gave me perspective on what EMS goes through. The field medicine we do in the United States is still in its infancy in a lot of ways. One of the things I would love to see in the future is a mobile ICU. After a critical illness hits, sometimes you only have seconds, minutes, maybe hours if you're lucky. The earlier you can get patients the treatment they need, the better the outcomes.
I like taking care of critically ill children and their families. It fits my personality. And it's a wonderful cause. But you have to be ready for tragic cases like this one. Yes, the children came out alive, but the accident claimed the life of their father in a horrible way. And there was nothing I could do about it.
Critical care takes an emotional, psychological, and physical toll. It's a roller coaster: some kids do well; some kids don't do well. All I can do is hold myself accountable. I keep my emotions in check, whether the outcome is positive or negative. And I do my best.
Mohamed Hani Farhat, MD, is a pediatric critical care physician at the University of Michigan C.S. Mott Children's Hospital in Ann Arbor and Sparrow Hospital in Lansing, Michigan.
Are you a physician with a dramatic medical story outside the clinic? Medscape would love to consider your story for Is There a Doctor in the House? Please email your contact information and a short summary of your story to access@webmd.net .
Read more in the series:
A Freak Impalement by a Model Rocket has This Doctor Scrambling
A Remote Mountain Bike Crash Forces a Doctor to Take Knife in Hand
A Doctor Saves a Drowning Family in a Dangerous River
A Hiking Accident Becomes a Helicopter Disaster
A Beach Drowning and Car Crash Rescue – Back to Back
Half Marathon Heart Crisis – Times Two
A Post-Super Bowl Airplane Emergency
A Plane Crash Interrupts a Doctor's Vacation
For more news, follow Medscape on Facebook, Twitter, Instagram, YouTube, and LinkedIn
Credits:
Lead Image: WebMD Illustration
Image 1: Dr Mohamed Hani Farhat
Medscape Medical News © 2023 WebMD, LLC

Send news tips to news@medscape.net.
Cite this: A Doctor Intervenes in a Fiery Car Crash - Medscape - Feb 09, 2023.