A new "smart patch" composed of microneedles that can detect proinflammatory markers via simulated skin interstitial fluid (ISF) may help diagnose neurodegenerative disorders such as Alzheimer's disease (AD) and Parkinson's disease (PD) very early on.
Originally developed to deliver medications and vaccines via the skin in a minimally invasive manner, the microneedle arrays were fitted with molecular sensors that, when placed on the skin, detect neuroinflammatory biomarkers such as interleukin (IL)-6 in as little as 6 minutes.
The literature suggests that these biomarkers of neurodegenerative disease are present years before patients become symptomatic, study investigator Sanjiv Sharma, PhD, told Medscape Medical News.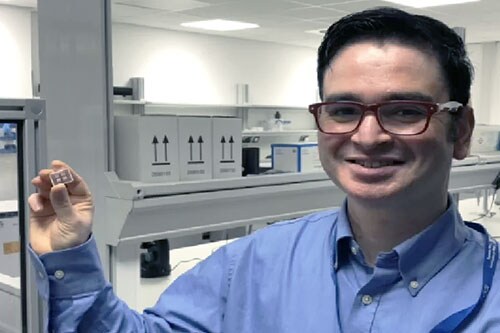 Sanjiv Sharma, PhD, holds new "smart patch" he has developed to test for neurodegenerative diseases.
"Neurodegenerative disorders such as PD and AD are caused due to progressive loss in nerve cell and brain cells, which leads to memory problems and a loss of mental ability. That is why early diagnosis is key to preventing the loss of brain tissue in dementia, which can go undetected for years," added Sharma, lecturer in medical engineering at Swansea University in Wales, United Kingdom.
Sharma developed the patch with scientists at the Polytechnic of Porto School of Engineering in Portugal. Last year, they designed, and are currently testing, a microneedle patch that will deliver the COVID vaccine.
The investigators describe their research on the patch's ability to detect IL-6 in an article published in ACS Omega.
At-Home Diagnosis?
"The skin is the largest organ in the body ― it contains more skin interstitial fluid than the total blood volume," Sharma noted.
"This fluid is an ultrafiltrate of blood and holds biomarkers that complement other biofluids, such as sweat, saliva, and urine. It can be sampled in a minimally invasive manner and used either for point-of-care testing or real- time using microneedle devices," he added.
Sharma and his team tested the microneedle patch in artificial ISF that contained the inflammatory cytokine IL-6. They found that the patch accurately detected IL-6 concentrations as low as 1 pg/mL in the fabricated ISF solution.
"In general, the transdermal sensor presented here showed simplicity in designing, short measuring time, high accuracy, and low detection limit. This approach seems a successful tool for the screening of inflammatory biomarkers in point of care testing wherein the skin acts as a window to the body," the investigators report.
Sharma noted that early detection of neurodegenerative diseases is crucial, as once symptoms appear, the disease may have already progressed significantly, and meaningful intervention is challenging.
The device has yet to be tested in humans, which is the next step, said Sharma.
"We will have to test the hypothesis through extensive preclinical and clinical studies to determine if bloodless, transdermal (skin) diagnostics can offer a cost-effective device that could allow testing in simpler settings such as a clinician's practice or even home settings," he noted.
Early Days
Commenting on the research for Medscape Medical News, David K. Simon, MD, PhD, professor of neurology at Harvard Medical School in Boston, said it is "a promising step regarding validation of a potentially beneficial method for rapidly and accurately measuring IL-6."
However, he added, "many additional steps are needed to validate the method in actual human skin and to determine whether or not measuring these biomarkers in skin will be useful in studies of neurodegenerative diseases."
He noted that one study limitation is that inflammatory cytokines such as IL-6 are highly nonspecific, and levels are elevated in various diseases associated with inflammation.
"It is highly unlikely that measuring IL-6 will be useful as a diagnostic tool. However, it does have potential as a biomarker for measuring the impact of treatments aimed at reducing inflammation. As the authors point out, it's more likely that clinicians will require a panel of biomarkers rather than only measuring IL-6," he said.
The study was funded by Fundação para a Ciência e Tecnologia, IP. The investigators have disclosed no relevant financial relationships.
ACS Omega. 2022;7:39039-39044. Full text
For more Medscape Neurology news, join us on Facebook and Twitter.
Credits:
Images: Swansea University
Medscape Medical News © 2023

Cite this: 'Smart' Skin Patch the Future of Early Alzheimer's Diagnosis? - Medscape - Jan 27, 2023.