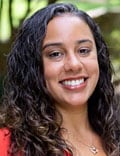 When I started medical school, I had not even heard of family medicine. Growing up in a large city, I always went to a pediatrician and then to a gynecologist. However, when I learned about the specialty of family medicine, it was exactly what I had always imagined a physician to be: a physician with "broad-scope medical training that allows them to flex a variety of skills in a variety of practice settings." The physician that communities need.

The family physicians I met in medical school and residency were able to nimbly provide prenatal care, manage an elder's chronic disease, diagnose and treat an acute respiratory illness, cast a fractured arm, counsel new parents and care for their newborn, and perform a Pap smear and insert an intrauterine device all in one day! The family physicians I met were not only clinicians but leaders of medical schools, legislative advocacy, and health system administration. I was hooked! I have always wanted to be a physician with influence beyond the confines of the examination room, and family medicine fit that aspiration.
Within months of beginning medical school, I chose to specialize in family medicine. Everything I learned and every clinical rotation I completed reaffirmed that decision. However, I also found myself explaining to my peers, over and over, what it is that family docs do. Fast-forward years later and I still have to explain what I do to my family, peers in other specialties, and even my patients!
Here are some common misconceptions about family medicine. Some hear "family physician" and don't realize that family medicine is a board-certified clinical specialty; they instead think that "family physician" refers to any sort of physician who may have cared for one or more members of their family at any given time. A family physician is a primary care physician; this is not the same as a general practitioner, or "GP," as a GP does not complete residency training and is not certified by a specialty board. Time and time again when I meet a new patient, they are surprised to learn that they don't have to go to a gynecologist for a Pap smear or to a dermatologist for their annual skin check. They are even more surprised when we start to discuss the procedures I do in the office (for example, skin biopsies), or that I can care for them when they are sick and in the hospital.
Family physicians are primary care physicians certified by the family medicine specialty board to care for patients of all ages and identities, across the spectrum of their lives and within the context of their communities. Working to improve health at the population level is expressly part of our training. Research shows that a strong primary care workforce leads to better health outcomes, and family physicians are the backbone of that workforce. We work to keep patients healthy and collaborate with other specialties when appropriate. So, even if you're not a family physician, please share with your patients what it is that we do!
Follow Medscape on Facebook, Twitter, Instagram, and YouTube
Credits:
Lead image: Taskinceyhan/Dreamstime
Image 1: Alexa Mieses Malchuk, MD, MPH
Medscape Family Medicine © 2023 WebMD, LLC

Any views expressed above are the author's own and do not necessarily reflect the views of WebMD or Medscape.
Cite this: Alexa Mieses Malchuk. Family Medicine: Common Misconceptions - Medscape - Jan 30, 2023.