New data suggest that tumor-infiltrating lymphocytes (TILs) and immune-related gene expression signatures can help predict pathologic complete response (pCR) and event-free survival (EFS) in early-stage HER2+ breast cancer. Associations for predicting pCR were stronger for several immune signatures, particularly B-cell-related signatures, than for TILs.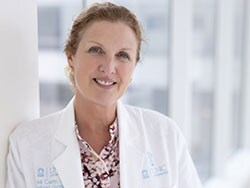 "Measuring immune activation, which can be done by TILs and immune RNA signatures, predicts a patients' response to chemo and anti-HER2 therapies, as well as relapse rates," reported study author Lisa Anne Carey, MD, deputy director of clinical sciences at the Lineberger Comprehensive Cancer Center at the University of North Carolina at Chapel Hill.
"We found that when both were available, they both worked, but several of the immune gene signatures outperformed TILs. Moreover, you also get additional information from RNA analyses, like the intrinsic subtype of the tumor. This information may be able to help us choose the most effective treatment with the fewest side effects," she said.
The study was published online on January 5 in JAMA Oncology.
Approached for comment, Paolo Tarantino MD, research fellow at the Dana Farber Cancer Institute in Boston, Massachusetts, who was not associated with the study, agreed with its main findings. "Both TILs and gene expression profiles predicted pathologic complete response very well, although the most important outcome, EFS, was only predicted by iGES," he noted.
He highlighted the limitations of TILs, explaining that they are not yet used for selecting treatments in HER2+ breast cancer in his clinical practice because few data are available and because of problems with concordance among pathologists. "We're aware of the prognostic value of TILs in the HER2+ disease, but we're not yet at the point where we can use them for clinical decision-making," Tarantino told Medscape Medical News.
Study Details
The study involved an analysis of data from 305 patients with early HER+ breast cancer (mean age, 50) who had participated in two clinical trials ― the Cancer and Leukemia Group B (CALGB) 40601 trial (16 weeks' treatment with paclitaxel in addition to trastuzumab, lapatinib, or both) and the PAMELA trial (18 weeks of neoadjuvant treatment with trastuzumab and lapatinib).
The team found that in both studies, TILs were significantly associated with pCR. In addition to TILs, 36 immune signatures were significantly associated with higher pCR rates. A multivariable Cox model, which was adjusted for clinicopathologic factors and intrinsic subtype, revealed that the immunoglobulin G signature was independently associated with EFS, while TILs were not.
Tarantino emphasized that this research is a crucial step in tailoring treatments for HER2+ breast cancer patients and explained how use of gene expression signatures could work in conjunction with the latest HER2+ breast cancer treatments.
"Among the most powerful agents recently tested in HER2+ breast cancer is trastuzumab deruxtecan, an anti-HER2 antibody drug conjugate that has shown unprecedented benefits in metastatic HER2+ breast cancer. This compound is currently under testing in the adjuvant setting (DESTINY-Breast-05 phase 3 trial) and also in the neoadjuvant setting (DESTINY-Breast-11 phase 3 trial), and there's optimism regarding its potential role in these setting. However, this treatment is also associated with adverse events, like nausea, vomiting, and also potentially life-threatening pulmonary toxicity. Gene signature testing may help identify which patients are at the highest risk of recurrence and are worth exposing to these risks and which patients may instead be cured by a deescalated regimen," he said.
Patients who are identified as being at lower risk through gene signature testing might be treated with "just one chemotherapy, paclitaxel added to trastuzumab and pertuzumab, a well-tolerated regimen that has shown encouraging activity in small phase 2 studies and that is being currently tested in the large COMPASS HER2+ trial."
The study's results are limited by the fact that it is a retrospective study and that patients were treated with neoadjuvant lapatinib, which is a "nonstandard" therapy for HER2+ breast cancer, according to Tarantino. Further limitations of the study relate to the original studies from which the data were culled. The 40601 trial included data on EFS, whereas PAMELA did not. Conversely, anti-HER2 all-biologic treatments were given in the PAMELA trial, but the 40601 trial included both chemotherapy and anti-HER2 drugs. In both trials, trastuzumab was the main anti-HER2 drug, and it was used along with lapatinib, which Carey pointed out is not approved to treat early breast cancer.
Although gene expression signatures may be more powerful as predictive and prognostic tools, Carey noted that an important takeaway message from this study for oncologists and public health officials is that "in many resource-constrained arenas, expensive RNA studies are not feasible. Fortunately, much more affordable TILs can also work to help tailor the best treatments for early-stage HER2+ breast cancer.
No relevant financial relatinships were disclosed.
JAMA Oncol. Published online January 5, 2023. Full text
Myles Starr is a medical journalist based in New York City.
For more news, follow Medscape on Facebook, Twitter, Instagram, and YouTube.
Credits:
Lead image: Dreamstime
Image 1: UNC Lineberger Comprehensive Cancer Center
Medscape Medical News © 2023

Cite this: Immune-Related Biomarkers Can Help Guide HER2+ Breast Cancer Tx - Medscape - Jan 24, 2023.