A genome-wide association study (GWAS) of suicidal thoughts and behaviors (SITB) has identified significant cross-ancestry risk loci.
The findings provide further evidence of a genetic basis for SITB.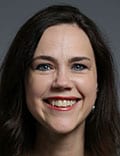 "It's really important for us to continue to study the genetic risk factors for suicidal behaviors so we can really understand the biology and develop better treatments," study investigator Allison E. Ashley-Koch, PhD, professor in the Department of Medicine at Duke University Medical Center, Durham, North Carolina, told Medscape Medical News.
The findings were published online December 14 in JAMA Psychiatry.
SITB Heritability
Suicide is a leading cause of death, particularly among individuals aged 15-29 years. Whereas the global rate of suicide has decreased by 36% in the past 20 years, the rate in the United States has increased by 35%, with the greatest rise in military veterans.
Twin studies suggest heritability for SITB is between 30% and 55%, but the molecular genetic basis of SITB remains elusive.
To address this research gap, investigators conducted a study of 633,778 US military veterans from the Million Veteran Program (MVP) cohort. Of these, 71% had European ancestry, 19% had African ancestry, 8% were Hispanic and 1% were Asian. Just under 10% of the sample was female.
Study participants donated a blood sample and agreed to have their genetic information linked with their electronic health record data.
From diagnostic codes and other sources, researchers identified 121,211 individuals with SITB. They classified participants with no documented lifetime history of suicidal ideation, suicide attempt, or suicide death as controls.
Rates of SITB differed significantly by ancestry – 25% in those with African or Hispanic ancestry, 21% in those with Asian ancestry, and 16.8% in those with European ancestry. Rates also differed by age and sex; those with SITB were younger and more likely to be female.
In addition to age and sex, covariates included "genetic principal components," which Ashley-Koch said accounts for combining data of individuals with different ethnic/racial backgrounds.
Through meta-analysis, the investigators identified seven genome-wide, significant cross-ancestry risk loci.
To evaluate whether the findings could be replicated, researchers used the International Suicide Genetics Consortium (ISGC), a primarily civilian international consortium of roughly 550,000 individuals of mostly European ancestry.
The analysis showed the top replicated cross-ancestry risk locus was rs6557168, an intronic single-nucleotide variant (SNV) in the ESR1 gene that encodes an estrogen receptor. Previous work identified ESR1 as a causal genetic driver gene for development of posttraumatic stress disorder (PTSD) and depression, both of which are risk factors for SITB among veterans.
The second strongest replicated cross-ancestry locus was rs12808482, an intronic variant in the DRD2 gene, which encodes the D2 dopamine receptor subtype. The authors noted DRD2 is highly expressed in brain tissue and has been associated with numerous psychiatric phenotypes.
Research suggests DRD2 is associated with other risk factors for SITB, such as schizophrenia, mood disorders, and attention deficit hyperactivity disorder (ADHD), but DRD2 could also contribute to suicide risk directly. The authors noted it is highly expressed in the prefrontal cortex, nucleus accumbens, substantia nigra, and hippocampus.
Outstanding Candidate Gene
The study revealed a cross-ancestry GWS association for rs10671545, a variant in DCC, which is "also an outstanding candidate gene," the investigators write.
They note it is expressed in brain tissue, is involved in synaptic plasticity, axon guidance, and circadian entrainment, and has been associated with multiple psychiatric phenotypes.
Researchers also found what they called "intriguing" cross-ancestry GWS associations for the TRAF3 gene, which regulates type-1 interferon production. Many patients receiving interferon therapy develop major depressive disorder and suicidal ideation.
TRAF3 is also associated with antisocial behavior, substance use, and ADHD. Lithium — a gold standard treatment for bipolar disorder that reduces suicide risk — modulates the expression of TRAF3.
Ashley-Koch noted the replication of these loci (ESR1, DRD2, TRAF3, and DCC) was in a population of mostly White civilians. "This suggests to us that at least some of the risk for suicidal thoughts and behaviors does cross ancestry and also crosses military and civilian populations."
It was "exciting" that all four genes the study focused on had previously been implicated in other psychiatric disorders, said Ashley-Koch. "What gave us a little more confidence, above and beyond the replication, was that these genes are somehow important for psychiatric disorders, and not any psychiatric disorders, but the ones that are also associated with a high risk of suicide behavior, such as depression, PTSD, schizophrenia and ADHD."
The findings will not have an immediate impact on clinical practice, said Ashley-Koch.
"We need to take the next step, which is to try to understand how these genetic factors may impact risk and what else is happening biologically to increase that risk. Then once we do that, hopefully we can develop some new treatments," she added.
"Valuable and Noble" Research
Commenting for Medscape Medical News, Elspeth Cameron Ritchie, MD, Chief of Psychiatry at Medstar Washington Hospital Center, Washington, DC, said this kind of genetic research is "valuable and noble."
Researchers have long been interested in risk factors for suicide among military personnel and veterans, said Ritchie. Evidence to date suggests being a young male is a risk factor as is feeling excluded or not fitting into the unit, and drug or alcohol addiction.
Ritchie noted other psychiatric disorders, including schizophrenia, depression, and bipolar disorder, are at least partially inherited.
She noted the study's findings should not be used to discriminate against those who might have the identified genetic loci without clearer evidence of their impact.
"If we were able to identify these genes, would we start screening everybody who joins the military to see if they have these genes, and how would that impact the ability to recruit or retain personnel?"
She agreed additional work is needed to determine if and how carrying these genes might impact clinical care.
In addition, she pointed out that behavior is influenced not only by genetic load but also by environment. "This study may show the impact of the genetic load a little bit more clearly; right now, we tend to look at environmental factors."
The study was supported by an award from the Clinical Science Research and Development (CSR&D) service of the Veterans Health Administration's Office of Research and Development. The work was also supported in part by the joint US Department of Veterans Affairs and US Department of Energy MVP CHAMPION program.
Ashley-Koch reported grants from Veterans Administration during the conduct of the study. Several other co-authors report relationships with industry, nonprofit organizations, and government agencies. The full list can be found with the original article. Ritchie reports no relevant financial relationships.
JAMA Psychiatry. Published online December 14, 2022. Abstract
For more Medscape Psychiatry news, join us on Twitter and Facebook
Credits:
Lead Image: Science Photo Library/Getty Images RF
Image 1: Duke University Medical Center
Medscape Medical News © 2022 WebMD, LLC

Send news tips to news@medscape.net.
Cite this: More Evidence Suicidal Thoughts, Behaviors Are Genetically Based - Medscape - Dec 29, 2022.