Quitter's Day is January 19. This is the date when most fitness-related New Year's resolutions fizzle out, according to an analysis of 98.3 million fitness app users. Because health resolutions are the most popular New Year's goal, clinicians will be at the front lines of our patients' eager expectations for 2023.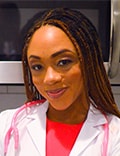 Sadly, we'll also be there for the disillusionment and disappointment when lofty goals such as "Get to my best health," "Exercise 30 minutes a day," and "Lose 30 pounds in 30 days" don't go as planned. However, achieving New Year's resolutions is possible with an effective approach.

Here are six helpful tips you can use to empower your patients to stick to their New Year's resolutions.
Set Winning Goals
A practical goal is the foundation of a successful resolution. It's beneficial to encourage goals that:
Approach, don't avoid. Studies show that people attain approach-oriented goals more often than avoidance goals. Approach-oriented plans focus on desired positive outcomes. On the contrary, avoidance goals focus on what to eliminate. For example, rather than saying, "I won't eat any sugar," an approach-oriented goal would be "I will increase my fruit and vegetable intake by swapping my sugary snacks for fresh fruits or vegetables."
Get SMART. The goal "get to my best health" is already set up for defeat because it's not SMART. A SMART goal is "specific, measurable, attainable, relevant, and time-sensitive." Encourage patients to transform vague goals into more precise plans. "Get to my best health" may become "I will improve my diabetes control by decreasing my A1c at least 1 point every 3 months through a reduced-carbohydrate eating plan."
Are self-generated. I've found that self-generated goals are more helpful than telling someone what to do. Clinicians can effectively explain why a plan is beneficial to reinforce motivation. It's helpful to use motivational techniques in the goal-setting process.
Prepare
Often, people dive into New Year's resolutions without properly preparing physically or mentally. Preparation is an essential step for lasting change. Two key ways to prepare are:
Mindset. Ditch perfectionism. Perfectionism leads to an "all or none" mindset that leaves people inadequately prepared for the inevitable setbacks. Instead, tell your patients that they can still stick to their goal even if they miss 1 or 2 days. I keep a 48-hour rule for movement (exercise). If it's been more than 48 hours, I must do at least 1 minute of physical activity. This rule has helped me stay consistent on my fitness journey for over 8 years.
Medical. During the pandemic, many people missed routine screening. Before patients start any health-related New Year's resolution, it's essential to ensure that their baseline health is at goal. For weight loss goals, it's also helpful to evaluate for conditions that may make it harder to lose weight, such as insulin resistance, metabolic syndrome, polycystic ovary syndrome, and more.
Encourage Small Steps Over Great Leaps
I jokingly say, "Habits are like rubber bands": The quicker you try to change your habits, the faster they snap back to where you started. To make lasting changes, patients need a firm plan to prevent returning to the starting point. Part of that plan is breaking big goals into smaller steps. For instance, instead of saying, "I'll follow a reduced-carbohydrate eating plan," they can set a goal: "I will decrease my daily carbohydrate intake by 25 g every 3 days until I reach my daily carbohydrate goal." If they aren't tracking macronutrients, they can use the portion size or serving approach — ie, "I will decrease my portion size of XX food until I reach the recommended portion size." Or "I'll slow down when I eat so I can sense when I am physically full." These small steps make meaningful milestones to celebrate while striving for the final goal.
Small steps also make goals easier to reach. Manageable goals are helpful because procrastination and quitting are common with more challenging tasks.
Your patients should keep in mind that small actions' impact increases over time. For example, that 10-minute workout may not seem like much, but the cumulative effect of 1 year of 10-minute workouts can have a significant impact.
Support
Having support can help New Year's resolutions stick. The same study on goals found that participants who effectively stuck to their New Year's resolutions had:
Personal support. Ask patients, "Who is someone in your life who can support you with your goal?" Participants in the study identified a specific person to keep them accountable for their goal.
Professional support. Successful study participants also received information on the benefit of support, information about overcoming hurdles, and monthly follow-up visits. If you can't provide this level of support in your clinical setting, connect patients with free support groups and online sources of support. One resource is the Diabetes Prevention Program (DPP), a national program with locations throughout the country. Find your local DPP here.
Enjoy the Journey
It's no secret that most people quit things they don't enjoy. While many changes are associated with uncomfortable transitions, your patients can find ways to increase enjoyment. For instance, they can get an exercise buddy or add fun music to their workout. Encourage them to celebrate their wins each day by keeping a "win journal." I used to give my patients stickers as rewards. It may surprise you, but I've learned that adults still smile when they get stickers. Encourage patients to find a beneficial nonfood reward system for meeting goal milestones.
Embrace Setbacks as Lessons
Perfection isn't required for progress. For example, a study of DPP participants' food tracking found that logging food 66% of the time was enough to lose an average of 10 pounds. The most crucial factor is that patients keep trying even if they get off track. Encourage patients to explore "What did I learn? How will I restart with this new information?"
The new year provides a unique opportunity for transformation. Although the statistics would suggest otherwise, I remain optimistic. With the right tools, New Year's resolutions can become "This Year's Accomplishments." Of course, change starts within the hearts and actions of our patients. But as clinicians, we have an abundance of tools to be partners and catalyze change.
I wish you and yours a new year that amazes you!
Sylvia Gonsahn-Bollie, MD, DipABOM, is an integrative obesity specialist who specializes in individualized solutions for emotional and biological overeating. Connect with her at www.embraceyouweightloss.com or on Instagram @embraceyoumd. Her bestselling book, Embrace You: Your Guide to Transforming Weight Loss Misconceptions Into Lifelong Wellness, is Healthline.com's Best Overall Weight Loss Book 2022 and one of Livestrong.com's picks for the 8 Best Weight-Loss Books to Read in 2022.
For more diabetes and endocrinology news, follow us on Twitter and Facebook
Follow Medscape on Facebook, Twitter, Instagram, and YouTube
Credits:
Lead image: Constantine Johnny | Dreamstime.com
Image 1: Dr. Sylvia Bollie
Medscape Diabetes © 2023 WebMD, LLC

Any views expressed above are the author's own and do not necessarily reflect the views of WebMD or Medscape.
Cite this: 6 Tips to Empower Patients to Stick to Their Resolutions - Medscape - Jan 03, 2023.