Upstart scrubs manufacturer Figs Inc, whose fashionable medical apparel has disrupted the $66 billion global scrubs market, last month won a 4-year court battle against a larger competitor.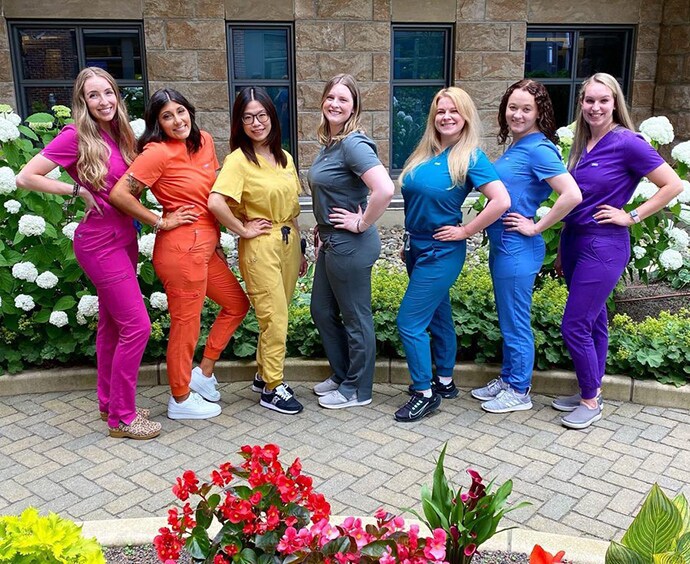 But it's not out of the legal woods yet, as the Santa Monica–based company faces investor lawsuits and a "strong sell" opinion from a financial analyst leery of its future.
It's all just background noise for Figs' legions of fans. Since the company's founding in 2013, healthcare workers have become increasingly loyal customers as they cast off traditional hospital-issued scrubs for stretchy, slim-fitting uniforms they say are far more comfortable.
The stories are rampant in online forums — traditional scrubs are boxy, scratchy, and oversized and are made of unforgiving textiles that feel better suited to cheap upholstery. So when co-founders Trina Spear and Heather Hasson began offering scrubs that more closely resembled active wear, it sent a tremor through the marketplace.
"Your uniform tells the world who you are and what you do. It is a symbol of safety, identity and unity," Figs told healthcare workers as it advertised its comfy, durable material embedded with antimicrobial and liquid-repelling compounds. Marketing directly to consumers, Figs swiftly adapted its products to meet customer requests, including adding zippered pockets.
Word spread in clinics, hospitals, and medical schools. As surgeons, nurses, and residents posted selfies of themselves on Instagram and other social media to show off their new look, the company quickly partnered with medical social media "influencers" boasting tens of thousands of followers.
But as Figs' sales exploded and the company attracted more than $60 million in investor funding, old-school medical apparel makers began to take a closer look at the disruptive upstart.
Now Figs' investors are scrutinizing the company too, as pandemic-related supply chain problems have cratered the company's share price.
Legal Storm Clouds
Chief among the rivals has been Careismatic Brands, which includes traditional names like Cherokee, Dickies, and Scrubstar. Formerly known as Strategic Partners Inc (SPI), the medical apparel and uniform manufacturer filed a federal lawsuit in 2019 accusing Figs of false advertising and misleading business practices and seeking more than $120 million in lost profits and punitive damages.
After nearly 4 years of litigation, during which the court rejected several of Careismatic's claims, a jury in November deliberated for a day before rejecting all the remaining claims as "not valid." Careismatic executives say the company likely will appeal that verdict.
The suit against Figs wasn't unique. SPI has also filed against other rivals.
In 2016, the company lost a suit against Vestagen Protective Technologies Inc, which it had accused of false advertising about the performance of its scrubs. But SPI won a $5.3 million trademark infringement case against scrubs maker Koi Design, which filed for bankruptcy in 2019.
A Figs spokeswoman said the Careismatic suit was an attempt "to litigate FIGS out of the market rather than compete fairly.
"I just think it's a price of success," said Figs Chief Legal Officer Todd Maron, who formerly was Tesla's top lawyer. "When you're successful and innovative and disruptive, people will try to take you down."
"How Do We Attack Them?"
During the trial, Figs published a website outlining its defense and accusing Careismatic of using the courts to harass an upstart competitor. Calling the lawsuit a fishing expedition, the site notes that Careismatic filed more than 900 demands for documents and took depositions from more than 100 Figs witnesses — including the ex-boyfriends of Figs' two female co-founders/co-CEOs.
Internal Careismatic emails published on the site show that former CEO Mike Singer was determined to block Figs' advance in the market. In May 2016, an internal email said of Figs: "They're already targeting every one of our brands hard," to which Singer responded: "How do we attack them?"
As Figs ramped up a video marketing campaign in 2017, Singer wrote in an email: "We are getting our asses kicked. Where are our brand and product videos for us and our retailers to share about product and fit?"
Chief among the lawsuit's allegations were that Figs scrubs did not have the antimicrobial properties that the company claimed. During the trial, however, evidence was presented that both Figs and Careismatic were using the same antimicrobial agent — Silvadur, which contains molecules of silver.
A spokesman for Careismatic said in an email response to Medscape that the company no longer uses Silvadur. He said the lawsuits against both Vestagen and Figs were brought to stop "false health and safety claims both companies made that deceived and endangered healthcare workers.
"Careismatic Brands takes its position as a leader in the medical apparel industry seriously." The company filed suit to "force FIGS to stop making false claims, and ensure a fair and transparent marketplace. We succeeded in this regard, and we are pleased that healthcare workers finally have access to the truth about FIGS scrubs. We will continue to pursue all legal options available to us."
Figs' Maron celebrated the court win as full vindication.
"This verdict is a powerful win, not only for Figs but for fair competition," he said. "This marks the end of a nasty, four-year campaign against Figs, engineered by...Singer and based on outright falsehoods. SPI has sued competitors at least twice before in similar situations, and we felt it was important to stand up for the truth when confronted with a baseless lawsuit."
Shareholders Lawsuits Loom
But that's not the last legal hurdle Figs must clear. Now the lawsuits are shifting from the company's scrubs to how Figs conducts its business.
Three days before the jury's verdict in the Careismatic case, shareholders filed a class action lawsuit accusing Figs of misleading investors about its ability to meet customer demand.
Then, on December 9, a second class action suit was filed alleging that Figs made false and misleading statements in its offering documents, including inflating its revenue, when it filed for its initial public offering in May 2021 and again during its secondary public offering 4 months later.
The first suit focuses on supply chain problems that began in 2021 during the pandemic. In its IPO filing, Figs assured investors that, owing to its in-depth knowledge of its online customers, it could maintain an efficient and steady supply chain through predictable sales despite the pandemic.
But, the suit alleges, Figs had to increasingly use expensive air freight instead of the cheaper overseas shipping on which it had previously relied. Despite saying that its use of air freight had peaked during the fourth quarter of 2021, the suit says, Figs instead ramped up air freight shipments heading into 2022.
In May 2022, the company announced disappointing financial results in part because of supply chain problems. "For the rest of the year, we plan to significantly increase our use of air freight to reduce our exposure to these unpredictable transit times," the company said in its quarterly earnings call. Shares, which were sold at $22 during the IPO, since have plummeted into single digits.
The second suit alleges that Figs deliberately overstated its ability to secure repeat customers and failed to disclose that the company was making choices "independent of, and directly at odds with, its purported data-driven inventory approach."
Analyst Criticism
Adding additional pressure, a New York–based forensic research and short-selling firm in September issued a "strong sell" opinion against Figs.
In its report, Spruce Point Capital Management said that it believes Figs has developed a "share structure benefiting insiders" and that the company "has a history of exaggerating key financial and business claims, including historical revenue figures by 82%, gross margins by 2,040 basis points, and its total addressable market potential by 135%." The firm also said it has found evidence at Figs of poor governance and a dysfunctional organization leading to employee mistrust.
Citing ongoing litigation, Figs declined through a spokeswoman to comment.
During the company's earnings call in November, however, co-founder and co-CEO Trina Spear briefly discussed the SPI verdict, saying that "it's a profound feeling to finally have our day in court.
"After three weeks of trial, the jury unanimously found in our favor on every single issue," she noted. "They found that we did nothing wrong. And as painful as this experience was, I'm glad that justice was served.... [I]t showed us how much Figs has revolutionized this industry."
For more news, follow Medscape on Facebook, Twitter, Instagram, and YouTube.
Credits:
Images: Emily Duff/Twitter
Medscape Medical News © 2022

Cite this: Battle of the Scrubs: Popular Upstart Defeats Competitor in Court but Faces New Investor Scrutiny - Medscape - Dec 27, 2022.