SAN DIEGO – Proper patient selection and setting realistic expectations are the keys to enhancing results with fractional radiofrequency (RF) microneedling devices, according to Catherine M. DiGiorgio, MD.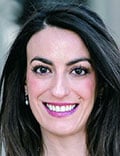 Most core fractional RF microneedling indications – acne scars, rhytides, skin tightening – require multiple treatments, DiGiorgio, a laser and cosmetic dermatologist who practices in Boston, said at the annual Masters of Aesthetics Symposium. "That's an important expectation to set for your patients," she said. "You also want to select depth and density parameters based on pathophysiology of the condition being treated, and combination treatments always provide the best results. So, whether you're treating someone for acne scars or rhytides, you want to treat them for their erythema or their dermatoheliosis. The same goes for skin tightening procedures."
Many nonpolar and bipolar devices are available for use, most of which feature adjustable depths and energies. Tips can be insulated or noninsulated. Generally, the insulated tips are safer for darker skin types because the energy is not delivered to the epidermis. However, the Sylfirm X device from Benev has a noninsulated tip but is safe for all skin types because the energy is delivered from the tip of a conically shaped needle and moves proximally but never reaches the epidermis, said DiGiorgio. Continuous wave mode is used for tightening and wrinkles while pulsed mode is used for pigment and vascular lesions.
Treatment with most fractional RF microneedling devices is painful so topical anesthesia is required. DiGiorgio typically uses topical 23% lidocaine and 7% tetracaine. The downtime varies depending on which device is being used. For anesthesia prior to aggressive fractional microneedle RF treatments such as with the Profound RF for skin tightening, DiGiorgio typically uses a Mesoram needle with a cocktail of 30 ccs of 2% lidocaine with epinephrine, 15 ccs of bicarbonate, and 5 ccs of saline. "More aggressive RF procedures can result in bruising for 7 to 8 days," she said. "It can be covered with makeup. Wearing masks during the COVID-19 pandemic have also helped patients cover the bruising."
In her clinical experience, the ideal patient for skin tightening with fractional RF microneedling has mild to moderate skin laxity that does not require surgical intervention. "Nonsurgical treatments provide nonsurgical results," she said. "If a patient comes in holding their skin back and there is a lot of laxity, this is not going to be the right treatment for that person."
DiGiorgio offers fractional RF microneedling in the context of a full-face rejuvenation. She begins by addressing volume loss and dynamic rhytides with injectables prior to skin tightening devices such as fractional RF microneedling or ultrasound-based tightening devices such as Sofwave or Ulthera (also referred to as Ultherapy). "You can add an ablative fractional to target deeper rhytides or pigment-targeting laser to address their dermatoheliosis, which will enhance their results," she said. "Finally, you can follow up with a thread lift two weeks after the microneedle RF to achieve greater skin tightening. If the thread lift is performed before the microneedle RF, you want to wait about 2 months because the microneedle RF can damage the thread."
Despite the limited efficacy for tissue tightening with fractional RF microneedling, "it's a good alternative to lasers, especially for darker skin types," she said. "Combination treatments will always enhance your results."
DiGiorgio disclosed that she is a member of the advisory board for Quthero. She is also a consultant for Revelle and has received equipment from Acclaro.
This article originally appeared on MDedge.com, part of the Medscape Professional Network.
Credits:
Lead image: Mheim301165/Dreamstime
Image 1: Dr Catherine M. DiGiorgio
© 2022 Frontline Medical Communications Inc.

Cite this: For Optimal Results, Fractional RF Microneedling Requires Multiple Treatments - Medscape - Dec 21, 2022.