Medical students surveyed for a recent Medscape report pleaded with their medical schools to pay greater attention to the quality of lectures during the preclinical years and to the consistency of clinical rotations later.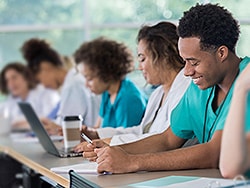 The Medical Student Lifestyle Report 2022 gathered medical students' assessments of the quality of their education and asked about their lives through the 3- to 4-year grind.
Preclinical Years
Medical schools would do well to pay closer attention to the organization and presentation of lectures during the first 2 years, a number of survey respondents said.
"My preclinical years were dominated by lecturers reading off of their 100- to 200-slide PowerPoint presentations, not finishing the lectures, and then stating we were still responsible for the topics that weren't covered," said one medical student who hopes to practice internal medicine.
A student pursuing psychiatry added, "The lectures presented information in a very disorganized way that required additional time for me to organize."
And a medical student aiming for anesthesiology said, "The quality of lectures varies dramatically (some too broad, some far too detailed)."
A number of medical students worried about gaps in their preclinical instruction that could leave them unprepared for the USMLE Step 1 test, enough so that they argued that medical schools could shift some of this instruction to online providers.
"Between the lack of a multiple-choice test that would help prepare me for the boards and some mandatory courses that seemed pointless or poorly developed, I was not prepared in pre-clinical years to do well on Step 1," lamented a student who hopes to become an orthopedic surgeon.
Clinical Years
Another respondent wants medical schools to take a deep-dive look at their clinical rotations with an eye toward consistent practical education.
"At my institution, there is very little consistency across clinical rotation sites," said a student aiming to specialize in orthopedic surgery. "This makes it difficult when you have a rotation of average quality, but you hear about other students getting substantially more experience."
"There is no set curriculum during clinical year," another medical student argued. "What you gain from clinical experiences simply depends on what attendings and residents are on. Thus, learning experiences are inequitable."
"It's tough for schools," conceded a student hoping to work in emergency medicine, "not to teach to the board exams while ensuring we get that clinical readiness." Even so, several respondents said decisions by medical schools, such as switching from lectures to concept maps and illness scripts, forced them to buy third-party study materials for the USMLEs.
For more news, follow Medscape on Facebook, Twitter, Instagram, and YouTube.
Credits:
Images: E+/Getty Images
Medscape Medical News © 2022

Cite this: Med Students React: How to Improve Lectures and Rotations - Medscape - Dec 15, 2022.