In March 2020, at the beginning of the COVID-19 pandemic, use of HIV prevention and care services dropped but soon bounced back to prepandemic levels, report researchers from the Centers for Disease Control and Prevention (CDC).
The numbers of HIV tests and of people prescribed preexposure prophylaxis (PrEP) dropped in spring 2020, then rose steadily through 2021. The CDC researchers also note a similar fall and rise in HIV diagnoses, as well as stable numbers of prescriptions of antiretroviral therapy (ART).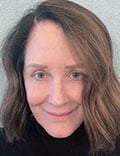 "Access to testing decreased with business and nonemergency healthcare venue closures, stay-at-home orders, and [limited] financial access due to loss of employer-sponsored health insurance, but rebounded by the summer and throughout 2020," lead author Karen Hoover, MD, medical epidemiologist in CDC's Division of HIV Prevention, told Medscape Medical News.
Assessing Pandemic Impact on HIV Care and Prevention
The systemic resilience of HIV services during the COVID-19 pandemic suggests patients have absorbed and accepted educational messages about HIV risk and the cadence of seeking testing and treatment.
Increasing the uptake of HIV services is fundamental to the US goal of ending the HIV epidemic. HIV testing, PrEP, and ART are foundational to achieve crucial milestones, such as a 90% decrease in new HIV infections by 2030.
In March 2020, the COVID-19 pandemic was declared a US national emergency. Public health measures were enacted to reduce the risk of spreading SARS-CoV-2, including the closure of many businesses and nonemergency healthcare services in jurisdictions across the country, the authors write.
Access to routine healthcare, such as HIV testing, became extremely limited. Unemployment tripled, reducing access to employer-sponsored health insurance, which affected patients' ability to access healthcare.
To assess the impact, CDC researchers tracked key indicators of HIV service uptake and outcomes for 2019–2021. They used a combined dataset from two large commercial laboratories (LabCorp and Quest) and two large tracking systems (IQVIA Real World Data Longitudinal Prescription Database and the National HIV Surveillance System).
The researchers estimated service use, outcomes, and trends by quarter year. Their estimates included the number of HIV tests, PrEP prescriptions, HIV-positive diagnoses, linkages to HIV care, and clients with suppressed viral load. The year before the COVID-19 pandemic, HIV tests per quarter had hovered from 2.0–2.5 million, and the number of PrEP prescriptions appeared to increase steadily toward 200,000 per quarter.
Down Briefly, Then Steady Rise
Once COVID-19 began to restrict access, data show a sudden drop across almost all indicators. The researchers observed that HIV testing and PrEP prescriptions dropped in the second quarter of 2020 (April–June).
However, by the following quarter (July–September 2020), service indicators rebounded to prepandemic levels, and the prepandemic growth pattern resumed.
For example, between the first and second quarters of 2020, the total number of HIV tests recorded dropped 32%, from about 2.5 million to 1.7 million, but by the third quarter, HIV testing had recovered to about 2.3 million and continued to grow (see figure).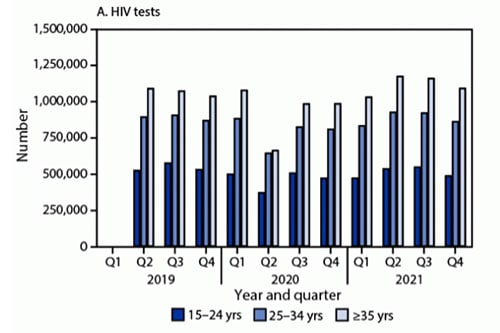 HIV tests by age group — United States 2019–2021.
"As we started to understand more about modes of transmission, with the easing of restrictions, the use of masks, and eventual availability of vaccines, communities started to reopen," Hoover said in an interview. "These factors led to more confidence going to healthcare venues for nonemergency services." She commented that trends in HIV testing and PrEP prescriptions during the early pandemic appeared to be more sensitive to disruption than trends in HIV treatment.
Innovative Care Delivery
Hoover and her team hypothesized about the role played by providers who explored innovative service delivery outside traditional clinical settings to facilitate access to testing, ART, PrEP, and adherence support. For example, self-test kits and telehealth, as well as pharmacists trained to address ART initiation and monitoring, ensured robust services during the public health emergency.
"Health departments and community-based organizations conducted local outreach to key populations and hosted events in the community, including Pride events and community fairs [to promote] HIV testing and PrEP referrals and education," said Hoover.
Data appear to show no significant variation in the extent of observed decreases in HIV diagnoses by race, ethnicity, or transmission group, but other indicators, such as PrEP prescriptions, were unable to be linked to indicators of race and ethnicity.
"COVID-related closures affected all populations," continued Hoover, who acknowledged the need to improve the collection of data on race and ethnicity to further understand health disparities in HIV service provision.
Data Gaps in Race and Ethnicity
"It's an excellent study which I think is a really important contribution, and I think it has many strengths," Douglas Krakower, MD, Division of Infectious Diseases, Beth Israel Deaconess Medical Center, Boston, told Medscape Medical News. "It's good that they were able to capture race for new diagnoses, but for PrEP prescribing, in terms of the preventive side ― that still remains a question in my mind for the field to grapple with."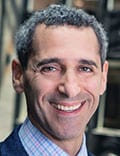 Krakower noted that although the large scale and scope of the national pharmacy datasets were reassuring, the data were unable to capture prescriptions issued outside mainstream pharmacy systems, such as through nonretail routes serving people who may have more tenuous access to care. The researchers may have missed trends among subpopulations at the highest risk for disengagement in PrEP care.
"Particularly because we know that the use of PrEP in this country has been inequitable by geography, race, and ethnicity,...we would ideally [need to] know how the differences have played out by race," he said.
The study datasets cover more than half the US laboratory tests and more than three quarters of US prescriptions from retail and mail-order pharmacies, but the authors note the data are not nationally representative. The large national datasets mask innumerable variations by location and socioeconomic status, as well as race and ethnicity, which other studies have shown affect access to HIV services and health outcomes and which are not consistently documented across all indicators and datasets.
For future studies, federal initiatives are underway to require and standardize the collection of data on race and ethnicity and to modernize the public health data system and associated infrastructure.
MMWR Morb Mortal Wkly Rep. Published December 2, 2022. Full text
Katie D. Schenk, PhD, @skibird613 is an infectious disease epidemiologist based in Washington, DC.
For more news, follow Medscape on Facebook, Twitter, Instagram, and YouTube.
Credits:
Lead image: iStock/Getty Images
Image 1: Dr Karen Hoover
Image 2: CDC
Image 3: Harvard Medical School
Medscape Medical News © 2022

Cite this: National Data Show HIV Services Resilient in COVID-19 Pandemic - Medscape - Dec 13, 2022.