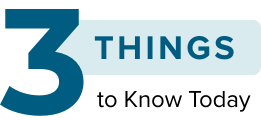 Racial Disparities in Maternal Child Health: Money Isn't Everything

Race matters more than money in maternity outcomes, according to new findings that connected financial records to birth and death certificates. Even in the highest income bracket, low birthweight and prematurity were 1.5 times higher for infants of Black parents than for infants of White parents in the lowest income bracket.
Persistent patterns: Non-Hispanic Black women are 3.3 times more likely than non-Hispanic White women to die of pregnancy-related causes, according to prior research. That number persists over time and across age groups.
Racism, not race: Structural racism is the driving factor in these disparities, according to experts, and more needs to be done to desegrated neighborhoods and equalize care. "This is racism and not race —There isn't an underlying biologic reason why Black people should have worse pregnancy-related outcomes," said one expert.




Patients With Cancer Missing Out on Genomic Testing, Targeted Therapy

Genomic testing and targeted therapies are underutilized in oncology, according to a new editorial in The New England Journal of Medicine. Gaps in clinical practice all along the cancer care spectrum may be to blame, including difficulty obtaining tissue for testing, lack of time to order or review tests, and lack of expert personnel. Precision cancer care is applied unevenly, with these gaps occurring more commonly for oncologists in rural communities or solo practices.
Testing: There are about 27 molecular biomarkers that have diagnostic tests approved by the FDA, and more than 90 targeted therapies that have received regulatory approval for use in eligible patients. But only 22% of patients receive molecular test results, according to a study that analyzed data on 38,000 stage IV patients. And only 3% were treated with targeted therapy.




Breaking Bad News During IVF: How to Soften the Blow

An IVF pregnancy has a 21.3% chance of succeeding, according to the CDC, which means that doctors often have to deliver heartbreaking news to patients. These key strategies can help soften the trauma of a failed pregnancy attempt or a miscarriage.
Take responsibility: Doctors should deliver bad news, not care teams. Even if everyone has had empathy training, it's important for patients to hear from the person who oversees their care. Layering information can also be useful, which could translate to sending notes of meetings with patients or providing links to addition resources online, including support groups.
Ask, then listen: Ask early on how patients prefer to communicate and to receive difficult news. This can help set up successful communication later on. It's also important to give patients time to process bad news and ask questions. Make time for difficult discussions, and schedule follow-ups on next steps on the patient's timeline, not yours.
For more news, follow Medscape on Facebook, Twitter, Instagram, and YouTube
© 2022 WebMD, LLC

Send comments and news tips to news@medscape.net.
Cite this: Racism in Maternity Outcomes; Gaps in Precision Cancer Care; Better Ways to Break Bad News in IVF - Medscape - Dec 12, 2022.