A California nurse practitioner was fined nearly $20,000 for false advertising and fraud after referring to herself as "Dr Sarah" and failing to file necessary business paperwork, according to a settlement announced on November 14.
Last month, the San Luis Obispo County, California, District Attorney Dan Dow filed a complaint against Sarah Erny, RN, NP, citing unfair business practices and unprofessional conduct.
According to court documents, California's Medical Practice Act does not permit individuals to refer to themselves as "doctor, physician, or any other terms or letters indicating or implying that he or she is a physician and surgeon…without having…a certificate as a physician and surgeon."
Individuals who misrepresent themselves are subject to misdemeanor charges and civil penalties.
In addition to the fine, Erny agreed to refrain from referring to herself as a doctor in her practice and on social media. She has already deleted her Twitter account.
The case underscores tensions between physicians fighting to preserve their scope of practice and the allied professionals that US lawmakers increasingly see as a less expensive way to improve access to healthcare.
The American Medical Association and specialty groups strongly oppose a new bill, the Improving Care and Access to Nurses Act, that would expand the scope of practice for nurse practitioners and physician assistants.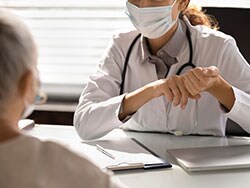 Court records show that Erny earned a doctor of nursing practice (DNP) degree from Vanderbilt University, Nashville, Tennessee, and that she met the state requirements to obtain licensure as a registered nurse and nurse practitioner. In 2018, she opened a practice in Arroyo Grande, California, called Holistic Women's Healing, where she provided medical services and drug supplements to patients.
She also entered a collaborative agreement with ob/gyn Anika Moore, MD, for approximately 3 years. Moore's medical practice was in another county and state, and the physician returned every 2 to 3 months to review a portion of Erny's patient files.
Erny and Moore terminated the collaborative agreement in March, according to court documents.
However, Dow alleged that Erny regularly referred to herself as "Dr Sarah" or "Dr Sarah Erny" in her online advertising and social media accounts. Her patients "were so proud of her" that they called her doctor and her supervising physician instructed staff to do the same.
Dow said Erny did not clearly advise the public that she was not a medical doctor and failed to identify her supervising physician. "Simply put, there is a great need for healthcare providers to state their level of training and licensing clearly and honestly in all of their advertising and marketing materials," he said in a press release.
In California, nurse practitioners who have been certified by the Board of Registered Nursing may use the following titles:
Certified Nurse Practitioner.

APRN-CNP.

RN and NP.

A combination of other letters or words to identify specialization, such as adult nurse practitioner, pediatric nurse practitioner, obstetrical-gynecological nurse practitioner, and family nurse practitioner.
Legal Landmines Abound
As educational requirements shift for advanced practice clinicians, similar cases will likely emerge, said Grant Martsolf, PhD, MPH, RN, FAAN, professor at the University of Pittsburgh School of Nursing, Pittsburgh, Pennsylvania.
"Scope of practice is governed by states [so they] will have to figure [it] out as more professional disciplines move to clinical doctorates as the entry to practice. Pharma, [physical therapy], and [occupational therapy] have already done this, and advanced practice nursing is on its way. [Certified registered nurse anesthetists] are already required to get a DNP to sit for certification," he said.
More guidance is needed, especially when considering other professions like dentists, clinical psychologists, and individuals with clinical or research doctorates who often call themselves doctors, Martsolf said.
"It seems that the honorific of "Dr" emerges from the degree, not from being a physician or surgeon," he said.
Beyond the false advertising, Dow alleged that Erny did not file a fictitious business name statement for 2020 and 2021 — a requirement under the California Business and Professions Code to identify who is operating the business.
Steph Weber is a Midwest-based freelance journalist specializing in healthcare and law.
For more news, follow Medscape on Facebook, Twitter, Instagram, and YouTube.
Credits:
Images: Fizkes/Dreamstime
Medscape Medical News © 2022

Cite this: Nurse Practitioner Fined $20K for Advertising Herself as 'Doctor Sarah' - Medscape - Nov 21, 2022.