When patients with cancer need chemotherapy at Texas Oncology in Austin, Debra Patt, MD, tries to manage their expectations.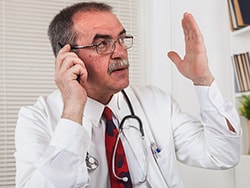 "I tell them that it will probably take 2 weeks to start treatment because we have to go through all the steps," she said.
But while the oncologist waits for insurers' prior authorizations, she may see patients' conditions deteriorate. "Cancer can grow quickly, and sometimes you have to make a decision," she said.
She has started a patient on chemotherapy without prior authorization when she knew that the patient would die if she didn't act quickly.
When that happens, Patt's practice requires her to sign a letter stating that she would personally pay for the therapy if the patient's insurance didn't pay.
"Thankfully, this has been a rare event and the insurance company paid for it," Patt said. "But the uncertainty of whether they would pay was stressful for me."
Patt says it's common for her to request seven prior authorizations for each patient with breast cancer. The standard of care for localized advanced breast cancer includes an echocardiogram, a bone and CT scan, intravenous infusion with three chemotherapy drugs and two supportive care drugs, surgery, and two types of radiation, Patt said.
"Each of these steps will require prior authorizations and will delay her getting appropriate care," she said.
More than 200 physicians who responded to a recent Medscape poll note similar experiences. They said that insurers denied up to 60% of their prior authorizations, and most believe that denials delayed treatment or diagnostic tests, putting patients in danger.
"Prior authorizations allow the insurance company to interfere with standards of patient care and therefore increase cost, morbidity, and mortality risks," said one Medscape poll respondent.
Ramy Sedhom, MD, a medical oncologist and palliative care physician at Penn Medicine Princeton Health in Plainsboro, New Jersey, told Medscape that an older patient with gastric cancer and comorbidities died while waiting for his health insurance plan to approve a reduced chemotherapy regimen that he proposed.
"Long story short, he was never able to seek treatment and then transitioned to hospice," Sedhom said. "It was one of those situations where there was a 3- to 4-week delay in what should have been standard care."
According to a 2021 survey by the American Medical Association (AMA), 93% of physicians reported care delays associated with prior authorizations and one third reported that the delays caused serious problems, such as hospitalization, birth defects, disability, and even death.
Volume of Prior Authorizations Increasing
Physicians also reported in the Medscape poll that they find the volume of prior authorizations challenging. About 1 in 5 said that they dealt with more than 41 prior authorizations weekly.
Patt says that she has noticed an uptick in prior authorizations in the past 5 years. "We see that many cancer services — imaging, chemotherapy, supportive therapy, radiation treatment — all frequently require prior authorization," said Patt.
In March, a survey from the Medical Group Management Association, which included responses from executives representing over 400 group practices, found that 79% of respondents felt that prior authorization requirements had increased over the past 12 months.
"Prior authorization used to be applied only to new, costly, or high-risk services. Now, many insurers require authorizations for even routine care, which is inappropriate," said Terrence Cunningham, director of administrative simplification policy for the American Hospital Association.
Some Medscape poll respondents also complained about the overuse of prior authorizations.
"I would have no problem with prior authorizing expensive drugs or dangerous treatments, but I have trouble getting plans to pay for drugs like baclofen, which is cheap, effective, and as safe a drug as I can think of," one respondent wrote. "It has been on the market for longer than I've been alive (61 years). Some plans won't pay for it at all."
Another respondent complained that health plans inconsistently applied prior authorizations to medications.
"It is very annoying when a patient switches health plans and the health plan will not approve a medication that a patient has been taking with success for many years. It is not unusual to have to go through the prior authorization process with one insurer, and the following year have to go through the same process again when the patient switches to another insurer. It is annoying and a waste of time."
Cunningham points out that as prior authorizations increase, so do the resources that hospitals and physician practices need to address them.
Patt said that of Texas Oncology's 6000 employees, several hundred employees are dedicated solely to handling prior authorizations.
The AMA, American Heart Association, and American Association of Retired Persons support legislation in Congress that would streamline and speed up the prior authorization process for Medicare Advantage plans.
"It would automate the submission process and improve transparency for the medical necessity criteria that insurers use," said Cunningham.
The Improving Seniors' Timely Access to Care Act of 2021 passed the House with overwhelming support this summer and is now before the Senate, where it's likely to face some opposition. Whether or not Congress will pass the bill is uncertain.
Authorizations Take Critical Time Away From Patients
When insurance companies deny her requests, Patt asks for a peer-to-peer review with one of their physicians. Although she says that usually results in approvals, it's time-consuming.
Those reviews require that Patt spend frustrating hours away from seriously ill patients.
"I never know when these reviewers are going to call, so I have to drop everything to talk to them," Patt said. "At least once a week, I have to stop a conversation about chemotherapy or end-of-life with a cancer patient to talk to a doctor who is not a cancer specialist about what cancer therapy I should prescribe for my patients. It's ridiculous!"
Patt also drops everything for a peer-to-peer review because prior authorizations are only valid for a certain amount of time — often just 30-60 days. She waits to request prior authorization for surgery and radiation that come later so that they don't expire before they are needed.
"When I do a peer-to-peer review, I always have evidence to back up my decisions. I take the time to review the literature so I am prepared. But the process still delays care," she said.
Christine Lehmann, MA, is a senior editor and writer for Medscape Business of Medicine based in the DC area. She has been published in WebMD News, Psychiatric News, and The Washington Post. Contact Christine at clehmann@medscape or via Twitter @writing_health
For more news, follow Medscape on Facebook, Twitter, Instagram, and YouTube
Credits:
Lead image: Dreamstime
Image 1: Dreamstime
Medscape Medical News © 2022 WebMD, LLC

Send news tips to news@medscape.net.
Cite this: In Medscape Poll, Doctors Fume Over Harmful Delays in Prior Authorizations - Medscape - Nov 18, 2022.