Use of a novel "shared decision-making tool" resulted in a higher rate of patient satisfaction over the decision on whether to take oral anticoagulants for stroke prevention in atrial fibrillation (AF), a new study shows.
The ENHANCE-AF study was presented November 7 at the American Heart Association (AHA) Scientific Sessions 2022 by Paul Wang, MD, professor of medicine at Stanford University School of Medicine, Stanford, California.
It was also published online the same day in the Journal of the American Heart Association.
"We found that using our novel shared decision-making tool developed with low health literacy in mind resulted in less decisional conflict, which reflects how patients feel about their decision," Wang told theheart.org | Medscape Cardiology.
"We have demonstrated the potential impact of a brief educational intervention, enhanced by low-literacy information technology," the authors conclude in their report. "We suspect that the intervention's effect may have been facilitated by a low-literacy approach (minimal text, meaningful images, teach-back), enhanced by real-time engagement with a clinician. Use of this toolkit could be considered by clinicians in their decision-making discussions with patients around anticoagulation for stroke prevention in atrial fibrillation."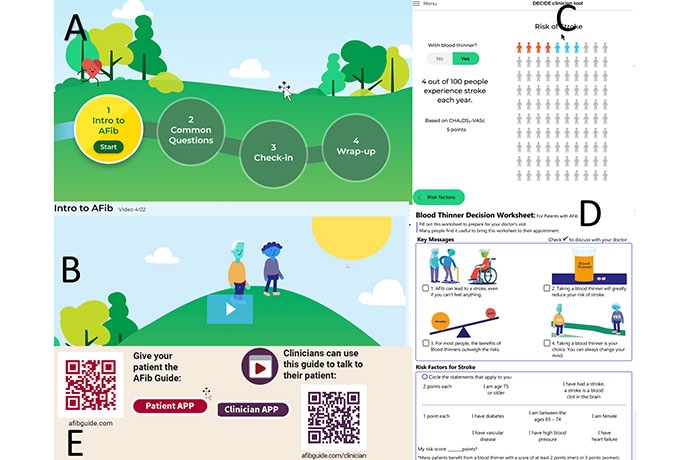 The shared-decision making tool app: (A) the patient website navigation screen, (B) the first page of a patient video, (C) a stroke reduction estimate, (D) a blood thinner decision worksheet for patients, (E) QR codes to the Patient and Clinician Tools.
Wang explained that many patients do not understand the stroke risk associated with AF and do not want to take anticoagulants because of the bleeding risk. "Patients voice a high amount of dissatisfaction with the process of trying to make this decision," he said.
Wang noted that the primary problem is the current practice for stroke prevention in patients with AF leads to therapy mismatched to patient preferences, wasted healthcare resources, and preventable adverse health outcomes.
"A sound decision-making process relies on patients having a sufficient knowledge of oral anticoagulation for treatment as well as adequate motivation to participate in making decisions," the authors state.
Wang and colleagues developed a novel decision-making tool using a process that involved patient interviews, patient centered design and patient testing. It is a web-based application that runs on a personal computer, phone, laptop, or tablet and is available in English or Spanish.
"A shared decision-making tool is designed to empower patients to have informed, meaningful, and collaborative discussions with their clinician about their health," Wang said.
The digital toolkit included animated and highly graphical videos with limited use of text. It also included interactive questions, with answers; a quiz to check on patient understanding; a worksheet for the patient to record questions for the clinician visit; and an online guide that the clinician may use to illustrate key messages about anticoagulation for stroke prevention in AF.
The ENHANCE-AF study was conducted from December 2019 through August 2022 at five sites in the United States. Its aim was to examine whether this shared decision-making tool was able to improve the decision-making process about anticoagulation and atrial fibrillation stroke prevention.
The study population included 1001 patients with non-valvular AF and a CHA2DS2-VASc score ≥ 1 for men or ≥ 2 for women. Overall, 73% of participants were non-Hispanic Whites, 4% Hispanic, 17% Black, and 4% Asian. Almost two thirds (64%) of participants had education through college or beyond. Approximately 48% of patients had either no history of anticoagulation use or were on it for less than 6 months.
In the intervention group (SDM), the participant used a digital shared decision-making tool with minimal assistance of a research study coordinator. The web-based application was administered using a tablet. After using the tool, the participant completed a worksheet to record any additional questions for the clinician visit. As part of the office visit, the clinician utilized a clinician version of the web-based app tool to highlight key AF anticoagulation learning points to the participant.
In the control arm, patients and clinicians followed usual clinical practice.
The primary endpoint was the Decisional Conflict Scale (DCS) scores at 1 month after the clinical visit when anticoagulation decisions were made. This primary endpoint was selected to reflect the participants' priority of what is most important to them.
Results showed that the DCS score was significantly lower in the intervention group (median 9.4 vs 16.4; P = .007), indicating a clinically relevant degree of decreased decisional conflict, Wang reported.
The secondary endpoint of 1-month Decision Regret Scale (DRS) score was also lower in intervention group (median 5 vs 10; P = .078). And the median AF knowledge score at 1 month was higher in the intervention arm, (median 7 vs 6, P < .001).
However, at 1 and 6 months there was no significant difference in the anticoagulant decision between the intervention and control arms.
"Both the DCS and DRS scales examine how patients feel about their decision, with lower scores indicating that patients are more comfortable with their decisions," Wang explained.
"We observed less decision conflict at 1 month. Prior studies indicate that for each unit increase in DCS score, participants are 19% more likely to blame their doctor for bad outcomes. Therefore, the degree of decrease in decisional regret observed in our study is clinically relevant," he commented.
"Our tool is easy to use and is widely available for use by patients and clinicians," he added. "This decision-making toolkit also has potential application to other clinical contexts, particularly technically complex issues where patient preference can affect the balance between benefits and harms."
Complex Decision
Discussant for the ENHANCE-AF study at the AHA's late breaking clinical trial session, Christine M. Albert, MD, professor of cardiology at Cedars-Sinai Medical Center, Los Angeles, California, said the decision on whether to take anticoagulants or not is a complex one.
"We know anticoagulation therapy for stroke prevention is highly effective, but we also know it is underutilized. Despite guidelines that strongly advocate anticoagulation for patients with AF at high risk of stroke, only 50% of patients are treated with anticoagulation, and the proportion is lower in underrepresented minorities," she reported.
Albert pointed out that clinicians have to explain the risk for bleeding with anticoagulants and that those at the highest risk for stroke are often at the highest risk of bleeding.
"The decision depends on the clear understanding of values that the patient places on bleeding vs stroke. This requires education, which takes time."
She noted that there are often misconceptions about anticoagulation and many patients do not have a discussion with a physician regarding such treatment, often because of time constraints. "This is why we need these decision aids."
Albert praised the ENHANCE-AF study investigators for designing a unique tool using patient input that was aimed specifically for patients with low health literacy.
"They showed benefits in the decision conflict scores despite the fact they were actually quite low in both groups, suggesting that the physicians involved were doing a very good job just with usual care," Albert commented.
Going forward, she suggested the tool be tested in populations with lower health literacy, and its impact evaluated on oral anticoagulation use in patient populations at a high risk for stroke. "And ultimately, we will need some larger scale studies to see if these decision aids can improve hard outcomes in AF," she concluded.
The shared decision-making tool is available at afibguide.com.
This work was funded by AHA Strategically Focused Research Network Grant and the Joe and Linda Chlapaty Stanford DECIDE Center. Wang reports no relevant financial relationships.
American Heart Association (AHA) 2022 Scientific Sessions: Presentation 19450. Presented November 7, 2022.
JAHA. Published online November 7. Full text
For more from theheart.org | Medscape Cardiology, follow us on Twitter and Facebook .
Credits:
Lead Image: Tetra Images/Getty Images
Image 1: Stanford Guide to AFib Stroke Prevention
Medscape Medical News © 2022 WebMD, LLC

Send news tips to news@medscape.net.
Cite this: Patient App Aids Decisions on Anticoagulants: ENHANCE-AF - Medscape - Nov 17, 2022.