The successful treatment of Pompe disease in utero for the first time may be the start of a new chapter for fetal therapy, researchers said.
A report published online November 9 in the New England Journal of Medicine describes in utero enzyme-replacement therapy (ERT) for infantile-onset Pompe disease.
The patient, now a toddler, is thriving, according to the researchers. Her parents previously had children with the same disorder who died.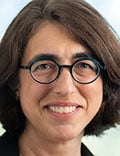 "This treatment expands the repertoire of fetal therapies in a new direction," Tippi MacKenzie, MD, a pediatric surgeon with UCSF Benioff Children's Hospitals and a coauthor of the report, said in a news release. "As new treatments become available for children with genetic conditions, we are developing protocols to apply them before birth."

MacKenzie codirects UCSF's Center for Maternal-Fetal Precision Medicine and directs the Eli and Edythe Broad Center of Regeneration Medicine and Stem Cell Research.
Pompe disease is caused by mutations in a gene that makes acid alpha-glucosidase. With limited amounts of this enzyme, dangerous amounts of glycogen accumulate in the body. Babies with infantile-onset disease typically have enlarged hearts and die by age 2 years.
The condition, which occurs in an estimated one in 40,000 births, is one of several early-onset lysosomal storage disorders. Patients with these diseases "are ideal candidates for prenatal therapy because organ damage starts in utero," the researchers said.
Newborn screening can lead to early initiation of treatment with recombinant enzymes, "but this strategy does not completely prevent irreversible organ damage," the authors said.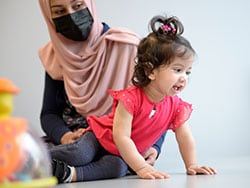 The patient in the new report received six prenatal ERT treatments at The Ottawa Hospital, in Canada, and is receiving postnatal enzyme therapy at CHEO, a pediatric hospital and research center in Ottawa.

Investigators administered alglucosidase alfa through the umbilical vein. They delivered the first infusion to the fetus at 24 weeks 5 days of gestation. They continued providing infusions at 2-week intervals through 34 weeks 5 days of gestation.
She is doing well at age 16 months, with normal cardiac and motor function, and is meeting developmental milestones, according to the news release.
The successful treatment involved collaboration among UCSF, where researchers are conducting a clinical trial of this treatment approach; CHEO and The Ottawa Hospital; and Duke University in North Carolina.
Under normal circumstances, the patient's family would have traveled to UCSF Benioff Children's Hospital Fetal Treatment Center to participate in the clinical trial, but COVID-19 restrictions led the researchers to deliver the therapy to Canada as part of the trial.
UCSF has received US Food and Drug Administration approval to treat Pompe disease and several other lysosomal storage disorders in utero as part of a phase 1 clinical trial with 10 patients. The other diseases are mucopolysaccharidosis types 1, 2, 4a, 6, and 7; Gaucher disease types 2 and 3; and Wolman disease.
Patients with Pompe disease might typically be diagnosed clinically at age 3-6 months, study coauthor Paul Harmatz, MD, with UCSF, said. With newborn screening, the disease might be diagnosed at 1 week. But intervening before birth may be optimal, Harmatz said.
Fetal treatment appears to be "revolutionary at this point," Harmatz said.
N Engl J Med. Published online November 9, 2022. Abstract
The research was supported by a grant from the National Institutes of Health. Sanofi Genzyme provided the enzyme for the patient.
For more news, follow Medscape on Facebook, Twitter, Instagram, YouTube, and LinkedIn.
Credits:
Lead Image: Maurice Ramirez/for UCSF
Image 1: CHEO Media House
Image 2: Maurice Ramirez/for UCSF
Medscape Medical News © 2022

Cite this: Treating Deadly Disease in Utero Called 'Revolutionary' Advance - Medscape - Nov 09, 2022.