Noninvasive ultrasound- and serum-based fibrosis biomarkers have similar prognostic performance to histology for nonalcoholic fatty liver disease (NAFLD), according to new findings presented at the annual meeting of the American Association for the Study of Liver Diseases.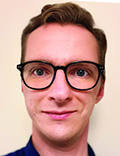 Fibrosis stages and liver stiffness measured by vibration-controlled transient elastography (LSM-VCTE) through FibroScan were significant predictors of event-free survival, said Ferenc Mozes, DPhil, a postdoctoral research assistant at the University of Oxford, England, who has worked on biomarker evaluation of nonalcoholic steatohepatitis (NASH) as a member of the Liver Investigation: Testing Marker Utility in Steatohepatitis (LITMUS) consortium.
"Liver histology is highly prognostic of liver-related outcomes in patients with NAFLD and NASH," he said. "Not just that, but liver histology is also accepted, and furthermore mandated by the FDA, as a surrogate endpoint in pharmaceutical trials for NASH."
However, liver histology is disadvantaged by sampling- and observer-dependent errors, he noted, as well as nonzero risk for patients. In recent years, researchers have hypothesized that noninvasive surrogate endpoints could be used as a way to speed up the development of new pharmaceutical treatments.
Mozes and colleagues evaluated the prognostic performance of histologically assessed liver fibrosis and three noninvasive tests (NITs): LSM-VCTE, Fibrosis-4 index (FIB-4), and NAFLD fibrosis score (NFS). They conducted an individual participant data meta-analysis, which first established the diagnostic performance of NITs in identifying patients with NAFLD who had advanced fibrosis (stages F3 and F4). The research team then expanded the search by reaching out to authors to ask for outcomes data and including studies with baseline LSM-VCTE and liver histology performed within 6 months, as well as at least 1 year of follow-up data.
The composite endpoint included all-cause mortality or liver-related outcomes such as decompensation of cirrhosis, hepatocellular cancer, liver transplantation, a model of end-stage liver disease (MELD) score higher than 14, or histological progression to cirrhosis. Participants were censored at the last follow-up time or at the occurrence of the first liver-related event.
Based on Kaplan-Meier survival analysis, participants were stratified into groups based on thresholds derived from the literature: fibrosis stage 0-2 (F0-2), F3, F4; LSM less than 10 kPa, LSM equal to or more than 10 kPa and less than 20 kPa, and LSM equal to or more than 20 kPa; FIB4 less than 1.3, FIB equal to or more than 1.3 and less than 2.67, and FIB4 equal to or more than 2.67; and NFS less than –1.455, NFS equal to or more than –1.455 and less than 0.676, and NFS equal to or more than 0.676.
The research team included 13 studies from Europe and Asia with data on 1,796 patients. The median follow-up time was 64 months, both from biopsy and LSM-VCTE. The fibrosis stages were typical of what would be seen in tertiary care.
Overall, 125 patients (7%) reached the composite endpoint. They tended to be older and more likely to have type 2 diabetes, higher fibrosis stages, and cirrhosis. Among those, 80 participants died, including 25 from liver-related mortality. In addition, 23 had ascites, 28 had hepatocellular cancer, and 31 progressed to cirrhosis or a MELD score greater than 14.
On the Kaplan-Meier curves, both the histology and noninvasive tests showed significant differences among the three strata for event-free survival probability.
Based on univariable Cox proportional hazard modeling, fibrosis stages F3 and F4 and continuous LSM-VCTE were significantly predictive of event-free survival probability. In multivariable models, fibrosis stage 4 and the two higher strata of LSM-VCTE were significantly predictive.
The study had several limitations, Mozes noted, by using cohort studies that weren't initially designed to evaluate prognostic performance. They also couldn't account for treatment effects and had no central histology reading. In addition, there may have been geographical variation in practice, as well as changes in practice over time as FibroScan technology improved in recent years.
"It turns out that stratifying patients by NIT score ranges can predict event-free survival probability," he said. "This could pave the way into considering noninvasive tests as surrogate endpoints in clinical trials."
In the ongoing study, Mozes and colleagues plan to look at additional aspects, such as MELD differentiation, histologic progression, and whether the NIT cutoffs differ from the current factors used to define advanced fibrosis. Future research should include longitudinal data and prospective studies, he added.
The study was sponsored by the LITMUS consortium, which has received funding from the Innovative Medicines Initiative 2 Joint Undertaking and the European Union's Horizon 2020 research and innovation program. Mozes disclosed no relevant financial relationships.
This article originally appeared on MDedge.com, part of the Medscape Professional Network.
Credits:
Lead image: Science Photo Library/Getty Images
Image 1: MDedge
© 2022 Frontline Medical Communications Inc.

Any views expressed above are the author's own and do not necessarily reflect the views of MDedge or its affiliates.
Cite this: Noninvasive Tests May Provide Prognostic Value in NAFLD - Medscape - Nov 08, 2022.